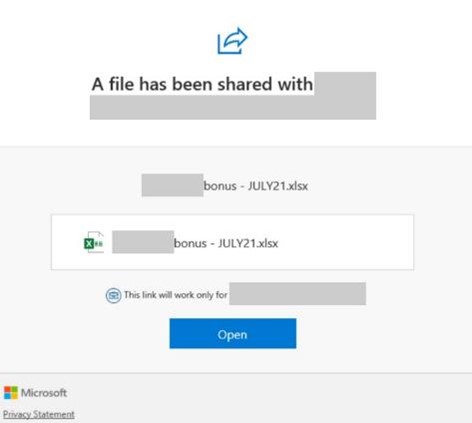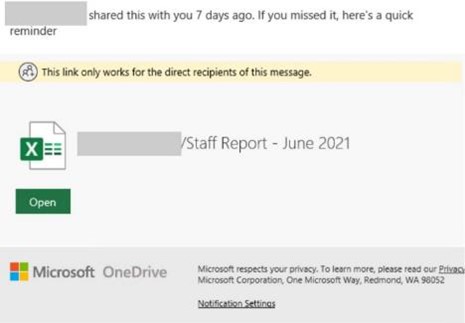 The goal is to get unsuspecting users of these platforms to click on phishing URLs that require them to sign-in to what they think is their file sharing platform, but it's a phishing page with bogus Microsoft branding.
According to the Microsoft Security Intelligence team, the phishing emails contain two URLs with malformed HTTP headers, with the first one being a Google storage resource directing victims to an AppSpot domain. After requiring the user to sign-in, they are taken to another Google User Content domain with an Office 365 phishing page. The second URL is in the notification settings and links back to a compromised SharePoint.
Unfortunately, July 2021 was not the first time there was malicious activity concerning SharePoint. Avanan, a software company that catches advanced email attacks, detected a phishing email scam in August 2018. The email included an embedded link which led to a SharePoint file posing as an access request to a OneDrive file. After clicking on the link, victims were directed to a landing page designed to steal their Office 365 credentials. Over a year later, Naked Security, Cofense, and PhisLabs detected similar phishing email campaigns designed to steal Office 365 credentials.
The reason why the attackers can go undetected for so long and slip past endpoint security software, is because they change the encoding mechanisms using different methods for each segment, switching between plaintext HTML code, escaping, Base64, ASCII, chars, and yes, even Morse code. The phishing email campaign is also known to use Google and Digital Ocean to host their phishing pages.
Indicators of Compromise (IoC's) for SharePoint Phishing:
'zreffertalt.com.com'
'zreffesral.com.com'
'kzreffertal.com.com'
'wzreffertal.com.com'
'refferal.comq'
'refferal.net'
'zreffertal.com.com'
'zrefferal.com.com'
'refferasl.com.com'
'zreffesral.com'
'zrefsfertal.com.com'
'irefferal.com'
'refferasl.co'
'zrefferal.com'
xls.HTML
xslx.HTML
Xls.html
.XLS.html
xls.htML
xls.HtMl
xls.htM
xsl_x.h_T_M_L
.xls.html
._xslx.hTML
._xsl_x.hTML
Avertium's Recommendations
Photo Copyright Phishing

Have a layered approach to email security by consistently sending phishing simulations designed to evaluate an employee's familiarity with email phishing attacks.

Use role-based training to familiarize employees with digital threats.

Keep employees aware of where photos and their origin in relation to the company. For example, are they the property of the company or have they been issued to the company by a licensed photographer?

SharePoint Phishing

Keep track of typo-squatted domains and contain disabled attachments that originate from outside of your organization.

Inventory all authorized hardware and software.

Photo Copyright Phishing & SharePoint Phishing

Install phishing filters in your email application

Make it easy for employees to report potential phishing emails

Do not click on links or open attachments in suspicious emails

Institute mandatory phishing awareness training for all employees.
Sources
MITRE TTPs
[T1598.001] Spearphishing Service
[T1598.003] Spearphishing Link
[T1213.002] SharePoint
[T1212] Exploitation for Credential Access
Supporting Documentation
https://github.com/microsoft/Microsoft-365-Defender-Hunting-Queries/blob/master/Email%20Queries/referral-phish-emails.md
https://twitter.com/MsftSecIntel/status/1421232634357714947
https://www.zdnet.com/article/microsoft-watch-out-for-this-sneakier-than-usual-phishing-attack/
https://securityintelligence.com/news/sharepoint-phishing-attacks/
https://www.econceptmarketingsolutions.com/scam-alert-beware-of-this-fake-email-claiming-copyright-image-infringement-on-your-website
https://www.avertium.com/flash-notice-avertium-detects-increase-in-stolen-images-phishing-campaign/
https://www.turboweb.co.nz/news/phishing-scam-alert-beware-an-email-claiming-to-be-a-copyright-infringement-from-a-photographer-or-illustrator
https://www.techtimes.com/articles/257873/20210310/if-you-see-an-email-similar-to-photo-copyright-takedown-request-it-is-scam.htm
https://thehackernews.com/2021/08/hackers-spotted-using-morse-code-in.html
https://www.sangfroidwebdesign.com/hack-prevention/phishing-alert-fake-email-claiming-copyright-infringement/
https://attack.mitre.org/techniques/T1598/003/
https://attack.mitre.org/techniques/T1598/001/
https://attack.mitre.org/techniques/T1213/002/
https://attack.mitre.org/techniques/T1212/
Note: The Avertium Threat Report analyzes one current threat that has been shared by threat intelligence networks across the globe. Used internally by the Avertium CyberOps Team, this report will outline a "top-of-mind" threat and how it ought to be addressed accordingly.
This informed analysis is based on the latest data available.