Any organization that transmits health information electronically, including health plans, healthcare clearing houses, healthcare providers, and a covered entity's business associates, must comply with the Health Insurance Portability and Accountability Act (HIPAA).
Yet one of the top problems these organizations face is failure to properly safeguard electronically protected health information (ePHI). One of the greatest challenges is the number of security measures that businesses need to deploy, often requiring several security point products that are costly to buy, and difficult to install and maintain.
HIPAA Log Monitoring Requirements
HIPAA requires event, audit, and access logging, and stipulates that it be kept for at least six years in order to be compliant.
IT departments must take a close look at their networks and monitor all aspects of the systems in order to identify risks before ePHI is breached or compromised. Violations of HIPAA can result in fines that many companies cannot afford to pay or suffer an effect on their credibility and reputation from which they cannot recover.
Meeting HIPAA Security Rule Standards with SIEM
The introduction of security incident event management (SIEM) technologies helps safeguard organizations against these possibilities. A SIEM alleviates many burdens of monitoring sensitive datasets while also checking the boxes on several HIPAA Security Rule Standards.
SIEM technology can help healthcare organizations improve their security posture against these important HIPAA standards:
Identifies systems susceptible to known vulnerabilities, and ranks them as 'high', 'medium' and 'low' risk to aid prioritization - §164.308(a)(1) - Security Management Process
Monitors access attempts to critical files and data, and alarms when unauthorized attempts are detected. §164.308(a)(3) - Workforce Security
Captures all user account creation and modification activities - §164.308(a)(4) - Information Access Management
Identifies indicators of malware-based compromise and enables orchestrated responses that can be automated or manually invoked to isolate infected systems and block malicious domains - §164.308(a)(5) - Security Awareness and Training
Generates alarms on threats, classifying them across a kill-chain taxonomy to inform the risk level of that threat - §1164.308(a)(6) - Security Incident Procedures
Provides a fault resilient architecture that assures durability of all captured event and logs data from your environments - §164.308(a)(7) - Contingency Plan
Monitors for changes to Windows Group Policy and Office 365 policies that define automated logoff, session timeout, and access token timeout parameters - §164.312(a) - Access Control
Monitors for changes to Office 365 policies including Data Leakage Protection (DLP), information management, and more - §164.312(b) - Audit Controls
Detects through File Integrity Monitoring modification attempts to applications or online storage containing ePHI - §164.312(c)(1) – Integrity
Monitors for changes to Windows Registry or application configuration files that define encryption settings for protected health information - §164.312(e)(1) - Transmission Security
Managed Security Services Alleviate Burden
Managed security services or a hybrid on-premises/MSS approach can help carry the load of achieving HIPAA compliance by maximizing and augmenting your existing information security technology investment and your team's security capabilities to reach your organization's security program goals.
Avertium empowers IT professionals with our managed security services featuring SIEM technologies that can be tailored to an organization to adhere to compliance regulations such as HIPAA, PCI, ISO, and more.
Contact us to learn more about our managed security and HIPAA compliance services.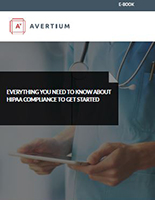 With Avertium, you get more rigor, more relevance, and more responsiveness. Don't just comply, download our guide to HIPAA compliance today and show no weakness.