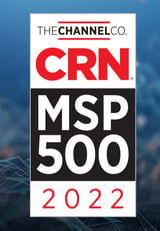 Phoenix, Ariz., February 14, 2022 – Avertium announced today that CRN®, a brand of The Channel Company, has named Avertium to its Managed Service Provider (MSP) 500 list in the Security category for 2022. CRN's annual MSP 500 list identifies the leading service providers in North America whose forward-thinking approaches to managed services are changing the landscape of the IT channel, helping end-users increase efficiency and simplify IT solutions, while maximizing their return on investment.
Avertium has been named to the Security 100 list for the sixth consecutive year, ranking among cybersecurity premium Managed Security leaders.


"The investment we have made in our Cyber Fusion Engine has allowed us to provide a truly unique approach to Managed Detection and Response (MDR) and Extended Detection and Response (XDR)," said Jeff Schmidt, Avertium Chief Executive Officer. "By fusing together the industry's best cyber technology with our unique threat intelligence, Avertium is unique in our ability to lead companies through the implementation of a multi-year cyber maturity strategy and provide the threat detection and response services that adapt, attack, and evolve with new threats."
"In addition to having to adjust their own business operations to account for the changed conditions during the pandemic, MSPs have also seen increased demand for their managed communications, collaboration, and security services," said Blaine Raddon, CEO of The Channel Company. "The solution providers on our 2022 MSP 500 list deserve credit for their innovative and game-changing approaches to managed services in these unpredictable times, as well as their ability to optimize operational efficiencies and systems without straining IT budgets."
The MSP 500 list will be featured in the February 2022 issue of CRN and online at www.crn.com/msp500.
__________________________________________________________________________________________________________________________________________
ABOUT AVERTIUM
Avertium is the security partner that companies turn to for end-to-end cybersecurity solutions that attack the chaos of the cybersecurity landscape with context. By fusing together human expertise and a business-first mindset with the right combination of technology and threat intelligence, Avertium delivers a more comprehensive, more programmatic approach to cybersecurity – one that drives action on the ground and influence in the boardroom. That's why over 1,200 mid-market and enterprise-level organizations across 15 industries turn to Avertium when they want to be more efficient, more effective, and more resilient when waging today's cyberwar. Show No Weakness®
ABOUT THE CHANNEL COMPANY
The Channel Company enables breakthrough IT channel performance with our dominant media, engaging events, expert consulting and education, and innovative marketing services and platforms. As the channel catalyst, we connect and empower technology suppliers, solution providers, and end-users. Backed by more than 30 years of unequaled channel experience, we draw from our deep knowledge to envision innovative new solutions for ever-evolving challenges in the technology marketplace. Visit The Channel Company.