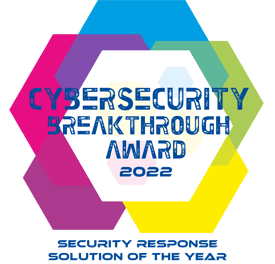 PHOENIX – Oct. 6, 2022 – Cyber fusion company Avertium's Fusion MXDR won "Security Response Solution of the Year" at this year's 6th Annual International CyberSecurity Breakthrough Awards. The CyberSecurity Breakthrough Awards annually puts a spotlight on the top innovators in various disciplines of information technology and cybersecurity.
This year's awards program consisted of more than 4,100 nominations from around the world. Nominees specialized in Cloud Security, Threat Detection, Risk Management, Fraud Prevention, Mobile Security, Email Security, and many other disciplines of information security.
"We are so incredibly pleased to be recognized with this award from CyberSecurity Breakthrough. We built Fusion MXDR with a broader perspective, and we believe the best cybersecurity programs are built on a strategic, planned, and adaptable journey – not a disparate collection of point technology. That is why Fusion MXDR is so much more than traditional MDR," said Jeff Schmidt, CEO at Avertium. "Not only have we set out to tear down the wall, so to speak, between professional and managed services, but we are also fusing threat-informed services with security operations to create a more effective response."
According to Schmidt, Fusion MXDR, Avertium's threat-informed, managed extended detection and response (MXDR) service, generates endpoint protection, security orchestration, and incident response automation in fusion with threat intelligence, attack surface monitoring, and vulnerability management into a sole MDR service. The service is supported by Avertium's Fusion Engine, which functions as an open architecture platform that combines security information and event management (SIEM) along with endpoint protection and response (EDR) technologies through the organization's unique advanced intelligence coordination. Fusion Engine uses a mathematical framework called Set Theory that creates a seamless threat progression methodology.
"Strategic programs, monitoring, endpoint protection, attack surface monitoring, compliance, and incident response do not have to be fragmented," said James Johnson, managing director, CyberSecurity Breakthrough. "By fusing insights from threat intelligence, security assessments, and vulnerability management into Avertium's MDR approach, Fusion MXDR represents a breakthrough platform that is a more informed, robust, and cost-effective approach to cybersecurity - one that is greater than the sum of its parts. Congratulations to the Avertium team for taking home a well-deserved 2022 CyberSecurity Breakthrough Award."
Schmidt says Fusion MXDR offers a variety of features and services to users. Its Threat Detection and Response service uses augmented intelligence and predictive analysis, threat management portals, and cloud and hybrid integrations, all while offering 24/7 monitoring, alerts, support, active threat hunting, and content packs tailored to customer needs.
"Threat Exposure also provides innovative analyses of multiple layers of threat intelligence and vulnerability scanning. Users can also examine integrated Governance, Risk, and Compliance (GRC) with the fusion engine," said Schmidt.
In addition to the innovative services Fusion MXDR provides, Schmidt explains standard platform health checks, continued engineering assistance, and routine updates and patching are included in the service, which also assigns users an account team dedicated to service delivery, executive sponsorship, and cyber maturity reports.
"The Fusion MXDR service provides a cost-effective solution to threat detection and response," said Schmidt.
Fusion MXDR supports XDR platforms such as LogRhythm, SentinelOne, Microsoft Defender, and Microsoft Sentinel. By creating accessibility to a multitude of platforms and being a leader in innovation, Avertium's service has climbed the rankings to become a leader in threat detection and response.
"The CyberSecurity Breakthrough Awards' recognition of the service as the 'Security Response Solution of the Year' highlights the revolution Avertium has led within the cybersecurity sector," said Schmidt.
More information can be found at https://www.avertium.com/fusion-mxdr.
__________________________________________________________________________________________________________________________________________
ABOUT AVERTIUM
Avertium is the security partner that companies turn to for end-to-end cybersecurity solutions that attack the chaos of the cybersecurity landscape with context. By fusing together human expertise and a business-first mindset with the right combination of technology and threat intelligence, Avertium delivers a more comprehensive, more programmatic approach to cybersecurity – one that drives action on the ground and influence in the boardroom. That's why over 1,200 mid-market and enterprise-level organizations across 15 industries turn to Avertium when they want to be more efficient, more effective, and more resilient when waging today's cyberwar. Show No Weakness®
ABOUT CYBERSECURITY BREAKTHROUGH
Part of Tech Breakthrough, a leading market intelligence and recognition platform for global technology innovation and leadership, the CyberSecurity Breakthrough Awards program is devoted to honoring excellence in information security and cybersecurity technology companies, products and people. The CyberSecurity Breakthrough Awards provide a platform for public recognition around the achievements of breakthrough information security companies and products in categories including Cloud Security, Threat Detection, Risk Management, Fraud Prevention, Mobile Security, Web and Email Security, UTM, Firewall and more. For more information visit CyberSecurityBreakthrough.com.
Take a look at how we help our customers with our latest

blog: Ransomware Lifecycle Attack