Avertium, The American Hospital Association, & LogRhythm came together to create "How to Raise Your Healthcare Organization's Game to Combat Cybercriminals"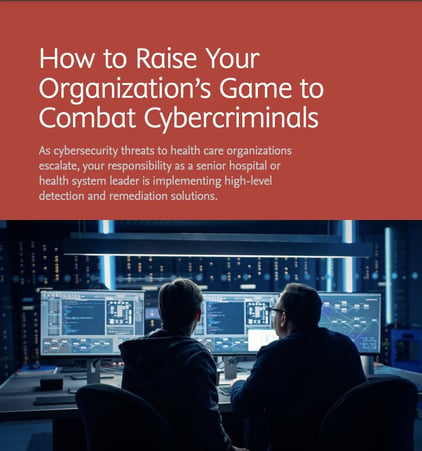 Over the past year, the frequency of cybercrime has increased across all industries… and healthcare is no exception. In fact, in a recent "State of Ransomware in Healthcare 2021" whitepaper developed by Sophos, the impact of ransomware targeted at healthcare institutions is staggering:
34% of healthcare organizations were hit by ransomware in the last year.
65% that were hit by ransomware in the last year said the cybercriminals succeeded in encrypting their data in the most significant attack.
34% of those whose data was encrypted paid the ransom to get their data back. However, on average, only 69% of the encrypted data was restored after the ransom was paid.
The average bill for rectifying a ransomware attack, considering downtime, people time, device cost, network cost, lost opportunity, ransom paid, etc. was $1.27 million.
Related Reading: Reducing the Ransomware Risk In Healthcare
It's probably why ransomware gangs like Ryuk have made hospitals a regular target. In fact, just in 2020 alone, Ryuk targeted at least 235 hospitals. (Becker's Health IT)

Related Reading: Ryuk is Back and Actively Targeting U.S.-Based Healthcare Organizations
Avertium discusses Hospital Cybersecurity at the 2021 American Hospital Association Leadership Summit
In response to this worrying trend, Avertium recently partnered with the American Hospital Association (AHA) to drive education and awareness around the importance of cybersecurity in hospitals.

At the 2021 American Hospital Association Leadership Summit, Paul Caiazzo, Avertium's Chief Information Security Officer (CISO) and SVP of Corporate Development gave a presentation on the importance of cybersecurity, where he discussed:
Threats facing hospitals
Steps hospitals can take to prevent a breach
How hospitals should approach and recover from a ransomware attack
You can watch Paul's presentation here:
How Hospitals can Adapt, Attack, and Evolve to Build Cybersecurity Resilience Against Ransomware
At this point, it's no secret that hospitals need to make cybersecurity a priority. And while 89% of healthcare organizations have a malware incident recovery plan, that's just not enough. The goal should be to prevent these attacks from ever happening in the first place.

In our latest whitepaper, 'How to Raise Your Organization's Game to Combat Cybercriminals,' experts in both cybersecurity and healthcare came together to discuss the best tactics, techniques, and procedures (TTPs) that hospitals and healthcare institutions can employ to understand what to protect and how to protect it.


"​​The responsibility of hospitals is to provide the best patient care. Today, this strategy needs to include safeguarding patients and their PHI from cyberattacks. Hospitals must understand that protecting the systems, applications, users, and data directly correlates to patient well-being. Cybercriminals have the means to access, halt operations, and manipulate life-saving equipment and patient profiles. The slight change to a patient's profile or a malfunctioning ventilator is a matter of life and death in a hospital setting."
- James Carder |Chief Security Officer and Vice President, LogRhythm Labs
In downloading the whitepaper, you'll learn nine ways to elevate your hospital or healthcare institution's cybersecurity program, including:
How to protect the data you have

- The information stored within hospitals is not material that can be erased and replaced. That's why they need to protect the personal information and PII of your patients should always be a top priority.

How to protect the data you share

- With each transfer of data, you expose yourself and the information at hand. To combat this requires more than typical rules and regulations, it requires technology that can defend your vulnerable data and extend that protection throughout your entire attack surface.

The importance of understanding your attack surface

- Every day, cyberattacks grow their sophistication. Channels of attack are more than just virus encrypted emails and phishing attempts. We discuss a few ways that you can ensure that your team has a comprehensive view of your attack surface.

Creating a culture of cybersecurity within your hospital or healthcare organization

- In order to fully optimize your cybersecurity, each member in your organization must be aligned behind a common goal of achieving cybersecurity resilience. In order to build a culture of cybersecurity, your team must understand the stakes, understand the threats, be equipped with the right tools, and have the right training.
Download 'How to Raise Your Healthcare Organization's Game to Combat Cybercriminals' today.