Who is BlackMatter?
Ransomware gangs threaten the security of companies and individuals daily. Over the past year, there has been a surge in ransomware attacks leading to long-lasting destruction. Barracuda researchers found a 64% increase in ransomware attacks, targeting health care, education, and businesses in industries such as (financial services, infrastructure, and travel, among others.
First reported by The Record, BlackMatter began making its presence known as a ransomware-as-a-service (RaaS) gang in July 2021. They claim to be a combination of the best qualities of DarkSide and REvil – two ransomware groups that are now defunct.
During the same month, the ransomware gang began posting ads on cybercrime forums (XSS and Exploit) to help them hack into large enterprise networks with revenues of $100m or more within the US, the UK, Canada, and Australia, offering to pay $100,000 for exclusive access. The gang is only interested in high-value networks that have between 500 and 15,000 hosts.
In May 2021, following law enforcement retaliation after the Colonial Pipeline ransomware incident attributed to DarkSide, ransomware ads were banned on cybercrime forums. Skillfully, BlackMatter found a way around the ban by advertising for "initial access brokers" instead of directly advertising its ransomware operation. If BlackMatter gains access to these networks, they could have the ability to encrypt operating system versions and architectures, such as:
Windows Systems (via SafeMode)
Linux (Ubuntu, Debian, CentOS)
VMware ESXi 5+ virtual endpoints
NAS devices (Synology, OpenMediaVault, FreeNAS, and TrueNAS)
Encrypting these operating systems means that BlackMatter ransomware could take over a company's internal systems and deploy their file-encrypting payload. The gang also has a website on the dark web called a leak site, and thehe intention is to publish stolen data from the victims of large enterprises if the hacked company chooses not to pay up in exchange for decryption.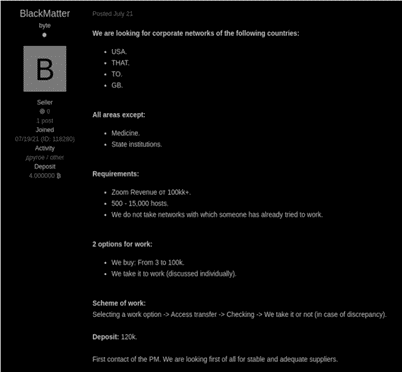 In August 2021, the Cyble research Lab discovered that BlackMatter has already started to make its rounds with exposing financial information. Pine Labs, an Indian merchant platform company providing financing and retail transaction technology, was recently attacked by the group. Not only did this ransomware attack affect multiple financial institutions that use Pine Labs services, but more than 500,000 unique records of contact information were exposed. In June 2021, BlackMatter also was successful in targeting several victims with ransom demands ranging from $3 to $4 million, eventually receiving a $4 million ransom from one victim to delete stolen data.
Ransomware Gangs – Cyberattacks on the Colonial Pipeline and Kaseya
In May 2021, a ransomware attack on a major US fuel pipeline, Colonial Pipeline, led to a supply disruption that made national headlines. The intrusion was the work of an affiliate of the ransomware-as-a-service (RaaS) ring, DarkSide. The attack was so disruptive that Colonial Pipeline had to shut down its operational technology (OT) network, cutting off much of the gasoline supply to the eastern United States.
The creators of DarkSide surfaced in the summer of 2020, claiming to have ethical standards which forbid them from targeting certain industries (non-profit organizations, healthcare organizations, hospitals, etc.). The gang also claimed that their goal was to make money, not create issues for society.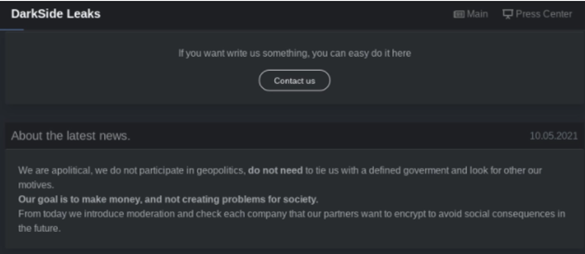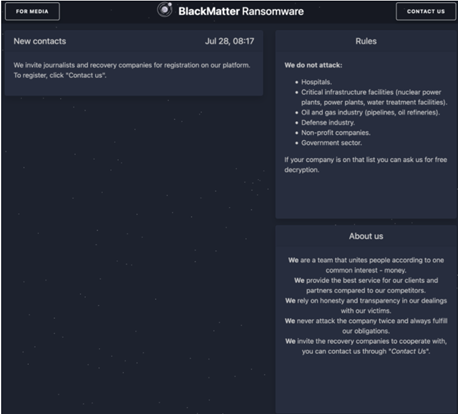 Some analysts are convinced that DarkSide and BlackMatter are one and the same due to the similarities between the goals of BlackMatter and DarkSide. Both groups have a set of rules that prohibits them from attacking critical infrastructure and both groups made it clear that their goal is to make money and "take care of their families". In addition to appearing to have the same goals, DarkSide and BlackMatter also use the same encryption algorithm – a custom Salsa20 matrix.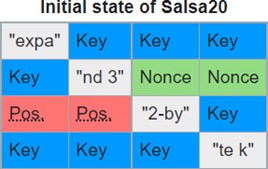 In July 2021, a different ransomware gang hit Kaseya, a US-based software provider. REvil, a Russia-linked ransomware gang, targeted Kaseya by using their own remote computer management tool, Kaseya VSA. The heist affected 60 of its managed service provider customers and more than 1,000 small and medium-sized enterprises.
At one point, it appeared as if REvil and DarkSide were working side by side for almost a year. However, since the attacks on Colonial Pipeline and Kaseya, both REvil and DarkSide seem to have vanished from the internet, or have they?
Ransomware Gangs – Link Between DarkSide, REvil and BlackMatter
According to ComputerWeekly.com, BlackMatter admitted that they were inspired by DarkSide and have previously worked with some of its affiliates, but they are their own entity with their own identity. Despite BlackMatter claiming to not be involved with DarkSide, researchers aren't so convinced.
It's no secret that, after high profile attacks, ransomware gangs tend to disband and rename themselves to evade law enforcement. Knowing this, researchers have been trying to figure out the connection between BlackMatter, REvil and DarkSide.
Threat intelligence firm, Flashpoint, learned that an unknown user with the handle "BlackMatter" announced the launch of "BlackMatter Ransomware" on two Russian forums. On July 19, 2021, the user stated, "The project has incorporated in itself the best features of DarkSide, REvil and LockBit." Flashpoint further discovered that REvil previously labeled their Windows Registry key "BlackLivesMatter", and that key name was present in the version of REvil used to attack Kaseya.
Additionally, ransomware expert Fabian Wosar confirmed that BlackMatter's encryption routines match DarkSide. BleepingComputer discovered a decryptor from the ransomware gang and gave it to Wosar to analyze. Wosar stated that the group used the same encryption methods that DarkSide used in their attacks.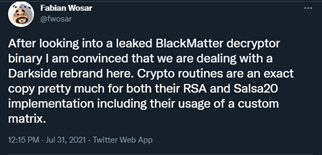 Our partner, Advanced Intel, also believes that members of ransomware gangs REvil and DarkSide are now affiliated with BlackMatter. In a report sent to Avertium, the company's researchers discovered a BlackMatter ransomware attack that utilized some of DarkSide and REvil's tactics.
On August 17, 2021, BlackMatter leaked critical information from a Louisville, Kentucky based law firm. The gang was able to access this information by compromising the firm's RDP (Remote Desktop Protocol)– the same method used in the cyberattack against Colonial Pipeline. Advanced Intel's research shows that DarkSide has specifically been initiating attacks by using infrastructural compromises including RDPs, VPNs, and VDNI to move from the target victim's perimeter to the core domain. After using RDP as an entry point, the group investigates the environment and network until they can quickly and silently steal major critical data. By deferring the encryption phase of attack, they position themselves to maximize damage and profit.
Advanced Intel also discovered that BlackMatter has a very developed set of victim access verification and attack moderations, which were created to prevent random attacks such as the one that occurred against Colonial Pipeline by a DarkSide affiliate. Because of these countermeasures, Advanced intel believes it is likely that former DarkSide leadership is behind the firm's breach.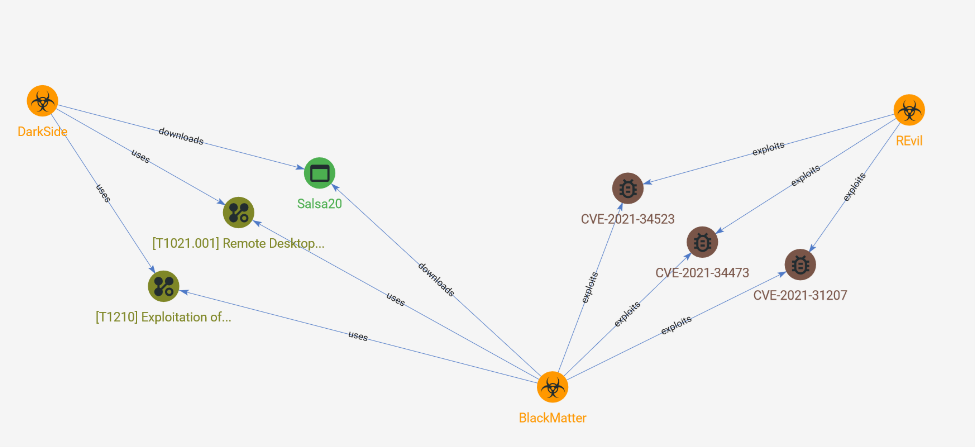 A representative from BlackMatter told the Recorded Future's expert threat intelligence analyst, Dimitry Smilyanets, that they learned several lessons from the supposed disbandment of REvil and DarkSide, believing that their exit had something to do with the "geopolitical on the world stage". The representative further stated that the group took the United States' offensive cyber operations and other political factors into account and are now confident that they can withstand those offensive cyber capabilities.
How is REvil linked to all of this? It appears that some of REvil's tactics are also incorporated by BlackMatter. Advanced Intel stated that the group even mimics REvil's ransom note. In the spring of 2021, REvil weaponized a novel attack vector for ransomware purposes, exploitation of software and protocol vulnerabilities.
Advanced Intel identified several zero-day vulnerabilities throughout Microsoft Exchange Server environments which were exploited and successfully used by REvil to conduct data exfiltration attacks. REvil was especially prominent in this method, using the server's CVE to compromise Acer's assets in March 2021. Advanced Intel considers these CVE's a likely attack vector for the compromised law firm.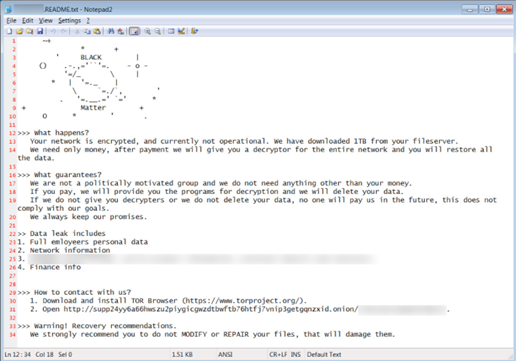 Recently, an organization was hit by REvil in what appears to be a new attack. The victim was attacked by what looks like a patched REvil payload. Woser believes that whoever is behind this most recent attack may be affiliated with one or more ransomware-as-a-service operations. However, he does not believe the attacker is an original member of REvil, rather someone who just had access to the REvil source code.
While it is not clear if DarkSide and REvil have rebranded as BlackMatter, there are many similar characteristics between the ransomware gangs that make it hard to believe they haven't. What is clear is that BlackMatter has a different strategy than previous ransomware-as-a-service gangs and is in it for the long-run.
Indicators of Compromise (IoCs) – DarkSide
Rumahsia[.]com
dark24zz36xm4y2phwe7yvnkkkkhxionhfrwp67awpb3r3bdcneivoqd.onion
f6fba207c71d1f53f82d96a87c25c4fa3c020dca58d9b8a266137f33597a0b0e
3ba456cafcb31e0710626170c3565aae305bc7c32a948a54f0331d0939e0fe8a
4d03e3db39adaf57df53181429706aa854878026
156335b95ba216456f1ac0894b7b9d6ad95404ac7df447940f21646ca0090673
2715340f82426f840cf7e460f53a36fc3aad52aa
f587adbd83ff3f4d2985453cd45c7ab1
baroquetees[.]com
176.103.62.217
Indicators of Compromise (IoCs) – REvil
e2a24ab94f865caeacdf2c3ad015f31f23008ac6db8312c2cbfb32e4a5466ea2
d55f983c994caa160ec63a59f6b4250fe67fb3e8c43a388aec60a4a6978e9f1e
8dd620d9aeb35960bb766458c8890ede987c33d239cf730f93fe49d90ae759dd
2093c195b6c1fd6ab9e1110c13096c5fe130b75a84a27748007ae52d9e951643
e1d689bf92ff338752b8ae5a2e8d75586ad2b67b
d56cc8832fbf9af171359f34847588afbeb41249
656c4d285ea518d90c1b669b79af475db31e30b1
5162f14d75e96edb914d1756349d6e11583db0b0
a47cf00aedf769d60d58bfe00c0b5421
7ea501911850a077cf0f9fe6a7518859
Indicators of Compromise (IoCs) – BlackMatter
bc1qlv2qdmylyuw62zw8qcd4n3uh84cy2edckv3ds7
379ebd1eff6f8685f4ff72657626bf6df5383d87
ba375d0625001102fc1f2ccb6f582d91
72ed32b0e8692c7caa25d61e1828cdb48c4fe361
10d6d3c957facf06098771bf409b9593eea58c75
a55bc3368a10ca5a92c1c9ecae97ced9
3f9a28e8c057e7ea7ccf15a4db81f362
6a7b7147fea63d77368c73cef205eb75d16ef209a246b05698358a28fd16e502
e48c87a1bb47f60080320167d73f30ca3e6e9964c04ce294c20a451ec1dff425
2c323453e959257c7aa86dc180bb3aaaa5c5ec06fa4e72b632d9e4b817052009
c6e2ef30a86baa670590bd21acf5b91822117e0cbe6060060bc5fe0182dace99
d9006d5c753c364b27388831f03332f404b719a66f344ce8b1a340da24e93d53
51.79.243.236
Mojobiden[.]com
206.188.197.206
7f6dd0ca03f04b64024e86a72a6d7cfab6abccc2173b85896fc4b431990a5984
22d7d67c3af10b1a37f277ebabe2d1eb4fd25afbd6437d4377400e148bcc08d6
e324a2c8fae0d26b12f00ac859340f8d9945a9c1
80a29bd2c349a8588edf42653ed739054f9a10f5
d0512f2063cbd79fb0f770817cc81ab3
598c53bfef81e489375f09792e487f1a
072158f5588440e6c94cb419ae06a27cf584afe3b0cb09c28eff0b4662c15486
b06e2455a9c7c9485b85e9bdcceb8078
a63304592f422656d7abcb086915f9e799ad4641
paymenthacks[.]com
Avertium's Recommendations
Maintain offline, encrypted backups of data and regularly test backups
Create, and exercise a basic cyber incident response plan and a communications plan
Mitigate internet-facing vulnerabilities and misconfigurations
Reduce the risk of phishing emails by enabling strong span filters and implementing a cybersecurity user awareness training program
Practice good cyber hygiene

Ensure antivirus and antimalware software signatures are up to date

Implement application allow listing

Ensure user privileged accounts are limited

Implement cybersecurity best practices
How to Respond to a Ransomware Attack
Contact Avertium for DFIR (Digital Forensics and Incident Response).
MITRE TTPs
[T1595] Active Scanning
[T1589] Gather Victim Identity Information
[T1590] Gather Victim Network Information
[T1190] Exploit Public-Facing Application
[T1133] External Remote Services
[T1040] Network Sniffing
[T1486] Data Encrypted for Impact
[T1039] Data from Network Shared Drive
[T1219] Remote Access Software
Terms
Ransomware – A form of malware used to encrypt files on a device, rendering any files and the systems that rely on them unusable. Ransomware attacks target and threaten to sell/leak data or authentication information if a ransom is not paid.
Initial Access Brokers – Individuals with access to hacked enterprise networks.
Ransomware-as-a-service (RaaS) – A subscription-based model that enables affiliates to use already-developed ransomware tools to execute ransomware attacks. Affiliates earn a percentage of each successful ransom payment. Ransomware as a Service (RaaS) is an adoption of the Software as a Service (SaaS) business model.
Salsa20 Matrix (also called a cipher) – A family of 256-bit stream ciphers designed in 2005.
Supporting Documentation
https://therecord.media/blackmatter-ransomware-targets-companies-with-revenues-of-100-million-and-more/
https://securityaffairs.co/wordpress/120611/malware/blackmatter-ransomware.html?utm_source=rss&utm_medium=rss&utm_campaign=blackmatter-ransomware
https://www.cisa.gov/stopransomware/ransomware-101
https://www.cisa.gov/sites/default/files/publications/CISA_MS-ISAC_Ransomware%20Guide_S508C_.pdf
https://blog.cyble.com/2021/08/11/blackmatter-ransomware-attack-impacting-multiple-financial-institutions/
https://venturebeat.com/2021/08/16/barracuda-network-ransomware-attacks-increased-64-over-the-past-year/
https://news.sophos.com/en-us/2021/08/09/blackmatter-ransomware-emerges-from-the-shadow-of-DarkSide/
https://www.computerweekly.com/news/252504921/BlackMatter-goes-on-the-record-about-DarkSide-and-REvil-links
https://www.bankinfosecurity.com/revil-ransomware-operation-returning-as-blackmatter-a-17160
https://therecord.media/an-interview-with-blackmatter-a-new-ransomware-group-thats-learning-from-the-mistakes-of-DarkSide-and-revil/
https://www.upguard.com/blog/what-is-ransomware-as-a-service#:~:text=Ransomware%20as%20a%20service%20(RaaS)%20is%20a%20subscription%2Dbased,Service%20(SaaS)%20business%20model.
https://www.bleepingcomputer.com/news/security/DarkSide-ransomware-gang-returns-as-new-blackmatter-operation/
https://www.crn.com/news/security/revil-ransomware-targets-acer-s-microsoft-exchange-server-source
https://cr.yp.to/snuffle/salsafamily-20071225.pdf
https://attack.mitre.org/techniques/T1595/
https://attack.mitre.org/techniques/T1589/
https://attack.mitre.org/techniques/T1590/
https://attack.mitre.org/techniques/T1190/
https://attack.mitre.org/techniques/T1133/
https://attack.mitre.org/techniques/T1040/
https://attack.mitre.org/techniques/T1486/
https://attack.mitre.org/techniques/T1039/
https://attack.mitre.org/techniques/T1219/
Note: The Avertium Threat Report analyzes one current threat that has been shared by threat intelligence networks across the globe. Used internally by the Avertium CyberOps Team, this report will outline a "top-of-mind" threat and how it ought to be addressed accordingly.
This informed analysis is based on the latest data available.