Continuing with our Cybersecurity Awareness series, Avertium answers the question, "What is Security orchestration, automation, and response (SOAR)?" and provides insight into three primary capabilities a SOAR implementation enables.
What Is SOAR?
SOAR is a process designed to automate and accelerate security operations, analytics and reporting. Research and advisory company Gartner was the first to innovate the term and apply a definition to SOAR:
"SOAR is a security operations analytics and reporting platform that utilizes machine-readable and stateful security data to provide reporting, analysis and management capabilities to support operational security teams."
SOAR is a response to the growing shortfall of skilled security professionals to manage the scope of the current IT environment: With no room for error in an increasingly challenging space for enterprises and small businesses, more effective security solutions are a necessity.
Related Reading: The Cybersecurity Talent Shortage: Myth or Truth?
SOAR-Enabled Capabilities
SOAR has the potential to revolutionize security operations, specifically the approach security teams take to handle alerts and threats. A SOAR implementation brings together three primary capabilities:
Threat and Vulnerability Management
Risk management and security enhancement begin with identifying and compensating for the threats that target vulnerabilities in your IT environment. Part of the process is knowing how to properly evaluate and rank threats, so that the most pressing ones are directed to the front of the remediation queue.
SOAR platforms help your security team respond to cyber-threats and systemic vulnerabilities with confidence and consistency. Scanning and identification are followed by risk categorization, which creates a foundation to apply patches, updates and other solutions in the most effective order. Subsequent reporting delivers additional data to fine tune the management process from start to finish. Automation is used to churn through the most labor-intensive processes, while your security team can prioritize tasks that require more sophisticated management.
Related Reading: What is a Vulnerability Assessment and Why Is It Important?
Security Incident Response
SOAR platforms are built with the fundamental understanding that faster, more efficient incident response is key to minimizing the duration and impact of events.
Incident response ideally blends components that are proactive and continuously query security data to hunt for suspicious activity and anomalies that could indicate a threat, as well as reactive and capable of containing incidents in a way that controls attacks, prevents further damages, and initiates recovery and remediation processes.
Automation is also critical to boosting response efficiency. Leveraging the power of advanced tools that automate manual tasks, sift through enormous volumes of data, and provide monitoring and reporting functions allows your security team to focus on high-value operations, including investigations, communication and management.
Webinar On Demand: 5 Essential Steps to Creating a Relevant Incident Response Plan
Security Operation Automation
As noted above, automation is a crucial capability in a security environment that features unthinkably vast volumes of data, sprawling systems that continuously grow in scale and complexity, and operations that are often global in scope.
Effective SOAR platforms are designed to be system agnostic and easily integrated with existing security infrastructures, so that enterprises and small businesses can have a central security hub that is comprehensive, dynamic and precisely tuned to relevant needs.
Machine intelligence-driven execution of security actions and tools relieves your team of the immense burden of manually responding to every data point or alert for suspicious activity or anomalous behaviors. A SOAR solution uses automated decision-making and workflow playbooks to manage routine enforcement, monitoring, auditing and reporting functions, while your team can focus on the most critical security operations facing your organization.
Related Reading: Is Artificial Intelligence (AI) in Cybersecurity the Ultimate Solution? Short Answer: No, and also Yes
The Human Element of SOAR
SOAR introduces new technologies and processes to your security stack; however, one factor remains constant: the human element. Any cybersecurity solution is only as effective as the planning, execution and management of the human security team in charge.
Realizing all the benefits that can accrue from a SOAR deployment requires your security team be completely aligned with organizational priorities and goals. SOAR platforms must be configured to operate within a defined set of use cases or playbooks, and the definition of those playbooks requires a thorough understanding of the operating environment, technical architecture, and common tasks.
Beginning with CIO/CISO leadership and progressing downward through the chain of operations and responsibilities, your security department must be committed to understanding their roles, taking ownership for responsibilities, leveraging the power of collaboration and communication, and demonstrating a results-focused view of success.
In that context, SOAR can meet its potential to be one of the most powerful security tools available to your arsenal.
Related Reading: Assessing Whether You Need Virtual CISO (vCISO) Services, and What to Expect
SOAR Solutions Are Available Today
Avertium provides expert-driven SOAR solution services needed to help your security team perform more effectively and productively. Increased efficiency and an improved security posture can deliver immediate ROI, regardless of your deployed infrastructure, devices and applications.
Contact us to find out how your organization can scale your security to meet evolving challenges and requirements, without increasing your investment or resource allocation.
We are experienced security partners for enterprises, just like yours, with a proven capability to precisely tailor service to meet individual needs.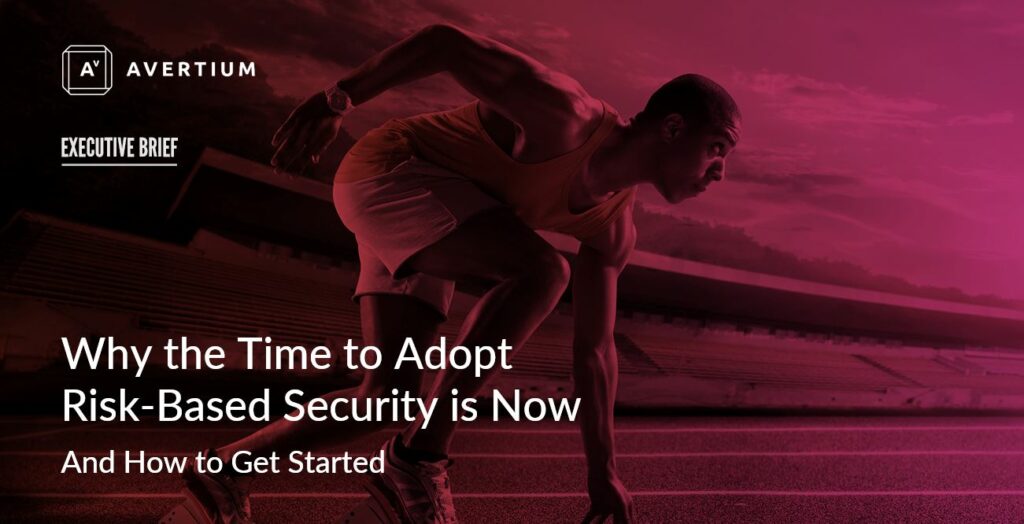 Adopting Risk-Based Security
Just because a control strategy works for one organization, does not mean it will work for all organizations. This eBrief teaches you how to craft a risk-based strategy, enabling your organization to become more proactive.