Identity services provider Okta recently conducted a survey that revealed 40% of sampled organizations "are currently deploying projects aligned with a modern, Zero Trust approach to security." Many of these projects are designed to replace legacy virtual private network (VPN) systems, which have been the go-to choice for secure remote access.
However, there's more to zero trust network access (ZTNA) technology than simply a VPN alternative. The ascent of ZTNA technology is being driven by its suitability to be applied throughout an organization, to support secure connectivity to all types of data and application resources.
Related Reading: Demystifying Zero Trust: What Is Zero Trust Security, and How Can It Bolster Your Environment?
Following are some of the use cases and benefits to take your zero trust beyond VPN replacement.
Deriving Full Value from Your ZTNA Deployment
Enterprises that explore beyond traditional ZTNA-in-place-of-VPN applications for value opportunities are discovering that micro-segmentation encompassing all IT resources and environments is a key target state for a fully realized ZTNA architecture. This allows value to be derived from multiple additional benefits, including:
Versatile Security Performance
Thinking zero trust architecture beyond VPN replacement and applied enterprise-wide can fulfill a variety of necessary roles, including:
Identity and access management (IAM)
Network access control (NAC)
Cloud access security broker (CASB)
User and entity behavior analytics (UEBA)
ZTNA offers the usual benefits of deploying a single solution in place of an unwieldy agglomeration of alternative tools including lower costs, less complexity, more convenience, and simplified management.
Related Reading: Monitoring Telework Security with Disappearing Network Perimeters
Attack Surface Reduction
If yours is one of the many organizations that has made the transition to a cloud or hybrid cloud environment, one challenge your security team is likely grappling with is the increase in the organization's attack surface. Introducing new environments, platforms and processes create gaps that can remain invisible in the absence of new controls. ZTNA can be an effective platform for introducing those controls and reducing attack surface size.
Example: Many organizations are not locked into a single cloud services provider, but are using more than one based on the need to access specific functionality. Migrating users and data between these environments expose the organization to a wider variety of threats.
ZTNA can homogenize security policies and controls across varied environments to consistently enforce policies based on role, resource, application, or other relevant attributes, and effectively shrink the attack surface to a more manageable size.
Impede Lateral Movement Threats
Perimeter protection is no longer the focus of security efforts. Its importance has been eclipsed by the realization that attackers moving laterally within target systems – in search of more sensitive data and increased privileges – is a more prevalent threat. Micro-segmentation via ZTNA helps impede lateral movement by containing a breach to the individual segment initially penetrated.
Example: An attacker who penetrates a network will typically search for juicier targets, exploring for the most valuable data. Micro-segmentation discourages lateral migration and limits potential damage. Attempts to improperly maneuver laterally are likely to alert monitoring tools to the suspicious activity, which accelerates response and reduces incident duration.
Related Reading: How to Leverage Your SIEM to Detect and Respond to Ransomware
Improve Your Compliance Posture
Micro-segmentation enables your organization to more easily and effectively achieve compliance goals. Some IT infrastructure segments contain more highly regulated data, which is subject to elevated standards for monitoring and control. Isolation allows you to apply enhanced controls to these segments, which enables a simplified process for maintaining compliant usage.
Example: Effective PCI cloud security compliance represents a challenge to many organizations, which struggle to demonstrate that systems that handle cardholder data are truly segregated from beyond-scope systems. Micro-segmentation supports tools with sophisticated labeling functionality, which allows for continuous examination and management of the PCI environment. Examining and adjusting specific controls down to the process level provides a suitable tool for visibility and control that meets PCI standards, without burdening beyond-scope systems with unnecessary security operations.
Related Reading: Make PCI Compliance Easier; Automate PCI DSS Requirement 11.2
Implement Enhanced Security for Critical Applications
You can more effectively manage persistent risk by deploying ZTNA-enhanced security for critical applications. Fully realized micro-segmentation throughout your organization allows an enhanced level of visibility that delivers practical security benefits, including:
Consistent security across heterogeneous platforms
Process-level granularity that allows the fine-tuning necessary to precisely align security policies with application logic
Consistent implementation of security policies throughout the full variety of data center and cloud environments
Example: Industry-specific applications and data may be subject to varying regulations, i.e. some elements may need to be PCI compliant, others may require HIPAA compliance, and all of them may need to meet standards set forth by GDPR. Micro-segmentation sustains a framework that allows organizations to easily adjust boundaries across multiple data environments to more easily accommodate disparate security controls. Simplified auditing and reporting are the icings on the cake. The alternative is to apply elevated controls across the board, which drains resources and creates operational friction.
Related Reading: 10 Ways Using SIEM Technology Can Automate Fulfilling HIPAA Regulations
Capture the Full Range of Value from ZTNA Beyond VPN Replacement
Avertium helps organizations transform ZTNA deployment from a simple security solution into a vital driver for sustained IT value. Contact us to learn more about micro-segmentation strategies that are custom-tailored to support your performance needs and accelerate your zero trust journey.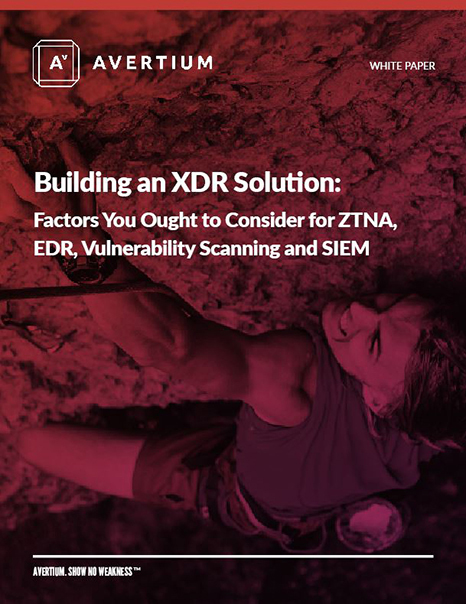 Building an XDR Solution: Factors You Ought to Consider for ZTNA, EDR, Vulnerability Scanning, and SIEM