Executive Summary
After 10 months of darkness, Emotet came back with a vengeance in November 2021 and installed malware on Windows systems. TrickBot was used to install Emotet, and the botnet was spammed in multiple email campaigns to deploy the malware. The campaigns relied on reply-chain emails to persuade victims into opening malicious attachments disguised as Word/Excel documents or password-protected ZIP files.
After the attacks, Emotet went dark for several months – a pattern they maintain. During the first quarter of 2022, Emotet re-emerged using new Emotet variants that employed old and new techniques to trick victims into clicking on malicious links and enabling macros and other malicious content.
TA542 (also known as Mummy Spider) is the threat group behind the prolific botnet. There is substantial evidence that the group gradually changes their behavior, adjusting techniques to avoid detection and improve the likelihood of victims opening their spam emails. Let's take a look at Emotet's evolution, their new tactics and techniques, and why botnets are a threat to organizations everywhere.
emotet's evolution
As previously stated, Emotet has a history of disappearing and re-emerging. Discovered in 2014, Emotet is a botnet of Eastern European origin and has evolved multiple times. According to Trend Micro, the botnet began as a banking Trojan before evolving into a malware downloader. From there, Emotet added more features such as a spamming module and other mechanisms to increase efficiency and evade detection.
By 2019, Emotet was being used in a spam campaign that involved over 14,000 spam emails. The emails were intended to deliver malware called Nymaim. This malware was a downloader for Nozelesn ransomware, a secondary payload. The campaign focused on sending out a large number of emails.
The threat actors also hijacked older email threads and revived them with new replies. The spam then appears to be part of an existing email exchange instead of being sent as new messages. TA542 used emails from an attack in November 2018. Emotet is known for selling access to compromised machines as a part of its malware-as-a-service (MaaS) operation. Both Conti and Ryuk are among threat actors who have used Emotet in their attacks.
In January 2021, law enforcement from Germany, Lithuania, France, Canada, the U.S, the Netherlands, and Ukraine worked together to take control of Emotet's infrastructure from the inside. As a result, law enforcement was able to disrupt the malware's operation. According to Europol, Emotet's infrastructure involved hundreds of servers across the world, with each one having different functionalities in order to manage the computers of infected victims – to spread to new victims, to serve other criminal groups, and to make the network more resilient against takedown attempts.
Emotet dismantled after the takedown but resurfaced in November 2021. Our technology partner, AdvIntel, stated that their return was influenced by Conti's operators. The operators behind Conti wanted to continue their relationship with TA542 due to the botnet malware playing an important role in the ransomware's initial access phase.
Previous Tactics & Techniques
In November 2021, after 10 months of inactivity, Emotet was seen by a cyber security researcher spamming multiple email campaigns to infect devices with the malware. As previously stated, the campaigns used reply-chain emails to trick victims into opening malicious attachments disguised as Word/Excel documents or password-protected ZIP files. Reply-chain email attacks are another form of social engineering where the attacker sends a malicious email from a genuine, but stolen email account. Some of the reply-chain emails discovered included a missing wallet, a canceled meeting, and even political donations.
During this time, there were two malicious documents being distributed. The first document was an Excel attachment asking the victim to click on "Enable Content" to view the contents. The second document was a Word attachment that said the document was in "Protected" mode and users needed to enable "content and editing" to view it. However, after the victim opened the attachments, they enabled malicious macros that launched a PowerShell command that then downloaded the Emotet loader DLL from a compromised WordPress site.
After being downloaded, Emotet configured a startup value under the following: HKCU\Software\Microsoft\Windows\CurrentVersion\Run.
This startup value allowed the malware to launch upon Windows startup. Emotet then ran silently in the background, waiting for commands to execute to from its Command and Control (C2). The commands were used to steal email account information, to spread the malware to other computers, or to install additional payloads like TrickBot.
new tactics & techniques
By the first quarter of 2022, Trend Micro and Proofpoint observed a significant number of infections across different industries within various regions. Those regions impacted by Emotet included Japan, Europe, and Africa. It is suspected that TA542 targeted profitable industries such as education and manufacturing to attract other threat actors as potential customers for their MaaS operation.
In March 2022, during the U.S. tax season, Emotet was seen pretending to be the Internal Revenue Service (IRS) and sent fake tax forms and fake federal tax returns to targets. The tax documents were distributed as Word and Excel documents containing malicious macros. Once opened, the victim was tricked into enabling macros that downloaded the Emotet malware onto their computer.
Image 1: Top 25 Countries Targeted by Emotet
Source: AdvIntel
After Emotet was installed, the malware stole the victims' emails to use for future reply-chain attacks by sending further spam emails. This had the potential to ultimately install other malware that could lead to a Conti ransomware attack on the victim's compromised network.
In May 2022, Trend Micro observed a surge in Emotet spam campaigns using new and old techniques to trick victims into accessing malicious links and enabling macros. The researchers at Trend Micro found that new Emotet samples still contained the same initial downloader as the one found in previous campaigns. However, they also found Excel 4.0 macros in a more recent sample.
By July 2022, Emotet was still being reported by researchers as the most prevalent malware. By this time, researchers noticed Emotet implemented new features and improvements, such as a credit card stealer module and adjustments to its spreading systems.
According to Check Point, TA542 was using Snake Keylogger (credential stealer) in June 2022, but the group decided to decrease its use. The group has replaced Snake Keylogger with XMRig, an open-source CPU software used for cryptocurrency mining. In June 2022, Emotet was seen using the mobile malware Mailbot, which they are currently still using.
Avertium's Cyber Threat Intelligence team analyzed new samples of Emotet and found that the delivery technique used for these files were via zip file, saved to OneDrive, and shared via a link in an email. This method helps to avoid malware scanning tools by concealing the final payload. In the sample we examined, the zip file contained 4 identical .xll files with slightly different names.
Image 2: .xll Files in the Zip Folder

Source: Avertium's Cyber Threat Intelligence Team
XLL files are special Dynamic Link Libraries (DLL) that provide additional functionality to extend the capabilities of Excel. This can be checked using the Linux file command or viewing the raw headers of the files. When an xll file is double clicked, it will be loaded and executed by excel. This is a useful way for threat actors to avoid dependance on macros.
Image 3: File and sha1sum Comparison of the .xll Files

Source: Avertium's Cyber Threat Intelligence Team
So far, Emotet has been observed distributing a low volume of malicious emails and testing their new techniques. We now know this is likely due to Microsoft disabling macros. The low volume of emails could be an indicator for a potentially massive phishing campaign in the near future.
recent attacks
AdvIntel observed Emotet attacking several organizations throughout 2022. According to their research, they observed a total of 1,267,598 Emotet infections worldwide. Activity from Emotet peaked between February and March, kicking off during the start of the Russian-Ukraine conflict.
Also, in June and July of 2022, the botnet's usage was attributed alongside post-Conti groups such as Quantum and BlackCat. AdvIntel also stated that from November 2021 to Conti's dissolution in June 2022, Emotet was an exclusive Conti ransomware tool. The ransomware group Roy/Zeon has also been seen utilizing Emotet as a dropper for ransomware.
Image 4: Emotet Infection Rate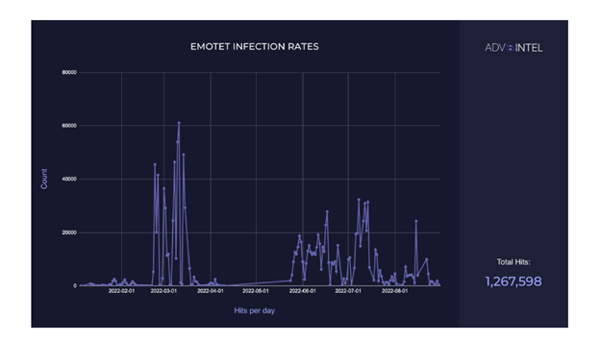 Source: AdvIntel
On August 8, 2022, AdvIntel confirmed that two education entities in Kansas City were infected with the botnet. Additionally, on August 12, 2022, it was confirmed that the botnet infected seven organizations within the financial, legal, and manufacturing sectors. The largest organization in AdvIntel's breach pulse was a finance firm in India with an annual revenue of $9 million.
Image 5: Emotet Taxonomy Attack Flow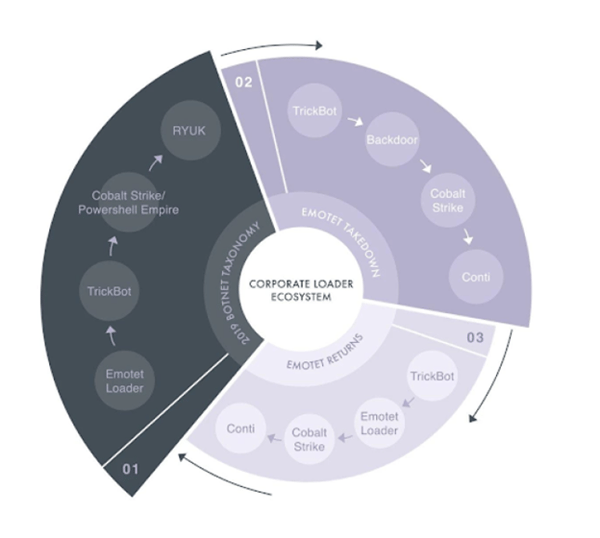 Source: AdvIntel
microsoft blocking macros
In October 2021, Microsoft confirmed they would block macros from the internet by default in Microsoft Office applications. According to Microsoft, VBA macros are a common way for malicious actors to gain access and deploy malware or ransomware. To improve security, Microsoft changed the default behavior of Office applications to block macros in files that come from the internet.
As a result of Microsoft's security improvement, when users open an Office file that contains macros via email, a security risk message is displayed notifying the user that Microsoft has blocked macros from running. As a result of this change, threat actors like those behind Emotet are starting to move away from exploiting Microsoft Office macros.
The security provider "Expel" released new research surrounding this topic in August 2022. They found that the initial attack vector in 55% of pre-ransomware incidences during the first quarter of the year were from macro-enabled Word documents or Excel 4.0 macro documents. That incidence number fell to 9% during the second quarter of the year after Microsoft started blocking macros – a 46% decrease.
Now that Microsoft's new feature has changed the threat landscape, threat actors have pivoted to using HTML application (HTA), shortcut (LNK), and ISO files to gain initial entry to enterprise networks. Moving forward, organizations will need to keep an eye out for those kind of files attached to emails.
According to Sentinel Labs, LNK files are becoming extremely popular among threat actors for malware deployment and persistence. The researchers observed intense advertising of new versions of the mLNK and QuantumBuilder tools for building malicious LNK files in the dark web. The QuantumBuilder and mLNK tools allow adversaries to build malicious LNK files conveniently.
Emotet has been constantly evolving since its creation in 2014. While the disabling of macros by Microsoft will help to slow the spread, we can already see the developers testing new techniques to increase infection rates. In order to combat threats such as these organizations need to take a layered approach to security, ensuring that if one defense fails there is another to back it up.
Emotet is particularly challenging as it will change payloads for different campaigns, moving from credential harvesting, to cryptomining to banking trojan depending on which is providing the greatest return. Avertium is continuing to monitor trends in the malware space and tracking changing tactics. At this time, threat actors using HTA, LNK, and ISO files are still effective in tricking users to open their attacks. Some actions that can be taken to help prevent these file types are:
Unregister ISO file extensions in Windows Explorer. Windows won't recognize the file if it is unregistered, thus preventing users from accidentally executing malware if they click on a malicious file.

Because phishing is one of the most common ways employees accidentally download malicious files, deploy a secure email gateway (SEG) to monitor emails for signs of an attack. SEGs can filter malicious emails by providing a solution that is deployed at the mail server.
How Avertium is
Protecting Our CUSTOMERS
It's important to get ahead of the curve by being proactive with protecting your organization, instead of waiting to put out a massive fire. Avertium offers the following services to keep your organization safe:
Increasing visibility within your environment

is crucial when trying to prevent or mitigate a potential attack from botnets like Emotet. Avertium offers

EDR protection

through SentinelOne, Sophos, and Microsoft Defender.



SentinelOne prevents threats and extends protection from the endpoint to beyond. Find threats and eliminate blind spots with autonomous, real time, index-free threat ingestion and analysis that supports structured, unstructured, and semi-structured data.


Our Partners, Microsoft and Sophos, also offer endpoint protection. Sophos can help secure your environment by protecting and prioritizing potential threats. Microsoft Defender provides real-time threat detection, as well as firewall and network protection. The program comes standard with Windows.



Avertium also offers

user awareness training

and

phishing simulation campaigns

using KnowBe4.
Penetration testing

will help your employees understand malware and will help prevent attacks. It's easier for an organization to avoid malware if employees understand the "what" and "why" behind it.
Avertium offers VMaaS to provide a deeper understanding and control over organizational information security risks. If your enterprise is facing challenges with the scope, resources, or skills required to implement a vulnerability management program with your team, outsourced solutions can help you bridge the gap.
Avertium's Recommendations
Block communication to C2s to prevent Emotet from dropping payloads on compromised devices.
Apply security patches to your devices when they are released.
Provide awareness training for employees regarding the dangers of phishing emails.
Ensure that your employees are aware of what botnets could look like and how to avoid any links that may be hazardous.
Work with the right Managed Security Service Provider (MSSP) that is able to consistently monitor and combat vulnerabilities in your attack surface.
Regularly check schedule backup routines – this includes integrity checks and/or offsite storage.
MITRE Map
Emotet

Indicators of Compromise (IoCs)
New Emotet IP Addresses
234.2[.232]

234.21[.73]

9.116[.246]

54.89[.58]

118.115[.99]

176.232[.124]

55.222[.11]

30.40[.196]

91.7[.5]

91.76[.89]

254.140[.238]

227.42[.236]

15.201[.15]

143.187[.147]

172.212[.216]

165.152[.127]

207.28[.33]

23.45[.86]

50.0[.91]

43.46[.182]

70.28[.102]

75.201[.2]

132.242[.26]

182.225[.142]

232.117[.186]

193.124[.41]

232.188[.93]

100.24.[231]

122.66[.193]

197.109[.175]

59.226[.45]

56.131[.28]

106.112[.196]

126.146[.25]

69.222[.101]

65.88[.10]

16.142[.56]

68.99[.3]

99.115[.35]

172.253[.162]

104.251[.154]

212.193[.249]

56.128[.118]

104.106[.96]

111.227[.137]

4.135[.165]

8.212[.130]

157.82[.211]

84.80[.182]

44.20[.25]

126.111[.200]

218.30[.83]

242.150[.244]

94.166[.162]

114.109[.124]
Hashes
0102166f5148a12ab7f503b52337a68f

0168bbe72780def8098bbec4f72487b5

196bb3d50113e0f8af16634ec06266e2

27e8527bd11df4e8b28012a9559c7cf6

2a0d5f0a16800cab48b9e934762f4bff

2e10b11effcf71f450ea0ba74cb072de

3f94ae29a90ee05fe872cdadc3804a13

438ae93e8e79f5aa1fde4df8da3586b2

4f61fa04b44a86f852bd5d41d518660b

585667db6b255e5ea87cedc6af796949

8722dfe74062e4fe82902e7e90c469ac

8b7914d6e2e7fd2d08e54a336d943b95

e958840b7dba65e16b50015e26ba4e49

fce0034a078407063df4343964c2f461

ff0ee3e531b7e0ed820e15f0fc675e4b

37fc44529452f234e714bcc1820ffaf66bc30cb4

41575120f40f6c4936c0ba262d558bf08fa25eff

46a0515e48938151efcd4dfc4abf15d610becf7b

4be300a01c6d11120fcc277e0b62523eedcc2538

6fd4a069b72236b1c842ac4b8ebd509d1f85fa8c

768bd066476b81379758c1e7f5d733b1c08695bf

860879aab43dc0af0b4531df0db712c838d9a162

c0e0b7f101e681ca90a86a37b3a8db9620aca05c

ccaef99976bbd4f3c09978a7a9ea6e7ee4ec2b42

ceb00bbf764423285eb4a5f6c3aeb8b0c5eead1a

e29a35b7620660549b3bc2b19a3adf7213d0a6fa

f48e592042bd73d5e38dc3bcb430ec3cce2702c3

f50b6c9e7a4db58ad93e2a83baf2197a5519452b

f5de283a8afd231ce769721ff1c42c27eb99610d

fd56df930972e755effa3030361c6975897b6887

021f94e166b2081342c1f184ac3697b067626d07f44899e0e8cf0a44644401ad

03dd0a294f5686a3b6396e367f3489c0a6fafcabfdb4996840d9a5fcc7157421

412a79efbeadd5928465d1ff9b0da28c80605393ce7348abe19460910186c4aa

4c7d042c9f08708b99f630b21d2b34728dabde2331110b766465ea6a513130e4

57e14a6beb49329165057d51a2d5120774c8094639c493c97c1320fb9a9558f2

5d3c1f725cd6074778f1ba9cf0fc576c2d41594a4f4b786a528818ffbf1876d1

6b2e52cc4a323fa3363965044db4a333eb5d7e84bcac89953119aefd16b9f23c

7b166ddb1c6ead1135b763671172463126e77c93c89a8bea3f1ddfc8df90b61e

888a9ccbe278a2d7898189d14e6fbcadd9bf184f1850ccbdf5b7d0345b097367

9a0e5c39d692256e45a343911f269a46acd4f03d2ec937142ecac03c8b7a81a0

9bdfff47da46f2dde07603682efcad8bfb1beb58ec1d8dbafc8f8ddaa86114d0

a546388efe68b719d3c94e38af5650be0f12dcb5275f0a3006688b0d4b39b704

b0c6511eead772dc0ca8a17d5b41235aaaf002dd0307411154332aa9feb7bfbd

b916719c597f7b16d97141776036469016fc1927b3b78b93f2f179adcfee9474

f93357e0aefaa4a721c99f1dfa33b768aa7f354ab7bee99258a08fb238f9bd71
Domains
skbroadband[.com]

skbroadband[.com]

hetzner[.de]

dreamscapenetworks[.com]

co[.id]

cabletelco[.com]

dcc[.bg]

godaddy[.com]

ovh[.com]

ovh[.com]

com

skbroadband[.com]

bpstudios[.com]

Contabo[.com]

Szerverplex[.hu]

Ionos[.com]

Prohost[.kg]

Ovh[.com]

co[.id]

co[.id]

maxhost[.vn]

co[.th]

ishangroup[.com]
Supporting Documentation
AdvIntel Intelligence Team. (2022, September 6). AdvIntel 2022 Emotet Trends. New York, New York ; AdvIntel.
Bruised but Not Broken: The Resurgence of the Emotet Botnet Malware (trendmicro.com)
Further Emotet Evolution: Operators Hijacking Existing Email Threads to Deliver Malware - Security News (trendmicro.com)
Tackling the Growing and Evolving Digital Attack Surface 2022 Midyear Cybersecurity Report (trendmicro.com)
Macros from the internet are blocked by default in Office - Deploy Office | Microsoft Docs
World's most dangerous malware EMOTET disrupted through global action | Europol (europa.eu)
Emotet botnet disrupted after global takedown operation (bleepingcomputer.com)
Flash Notice - Emotet Botnet is Back with New Spam Campaigns (avertium.com)
Emotet malware campaign impersonates the IRS for 2022 tax season (bleepingcomputer.com)
Ransomware gangs move away from exploiting Microsoft Office macros | VentureBeat
Emotet retains hold as most prevalent malware (digit.fyi)
https://www.sentinelone.com/labs/who-needs-macros-threat-actors-pivot-to-abusing-explorer-and-other-lolbins-via-windows-shortcuts/
APPENDIX II: Disclaimer
This document and its contents do not constitute, and are not a substitute for, legal advice. The outcome of a Security Risk Assessment should be utilized to ensure that diligent measures are taken to lower the risk of potential weaknesses be exploited to compromise data.

Although the Services and this report may provide data that Client can use in its compliance efforts, Client (not Avertium) is ultimately responsible for assessing and meeting Client's own compliance responsibilities. This report does not constitute a guarantee or assurance of Client's compliance with any law, regulation or standard.
COPYRIGHT: Copyright © Avertium, LLC and/or Avertium Tennessee, Inc. | All rights reserved.
Related Resource:
Emotet Botnet is Back with New Spam Campaigns