bianlian ransomware E
xecutive Summary
Emerging in August 2022, BianLian became known as a ransomware that encrypted files within minutes. BianLian's name derives from an ancient dramatic art that originates in China. Artists move about a stage in brightly colored outfits and masks and completely change the face of the masks with a swipe of a fan – within a blink of an eye.
BianLian was written in Golang and was compiled as a 64-bit Windows executable. During 2022 and 2023, BianLian wreaked havoc on various industries, including media and entertainment, manufacturing, and healthcare. As of March 13, 2023, BianLian has listed 118 organizations as victims on their extortion website, with the majority (71%) coming from the United States.
At its peak, BianLian utilized methods to evade analysis by making API calls that could cause crashes in sandboxes or automated analysis systems. It aimed to encrypt all drives detected on infected devices, and once the encryption process was finished, it erased itself. The ransomware was quite successful until a team of researchers and analysts at Avast developed a decryptor for BianLian and made it publicly available. In this report we will examine the impact of the released decryptor and why it is most likely only a temporary setback.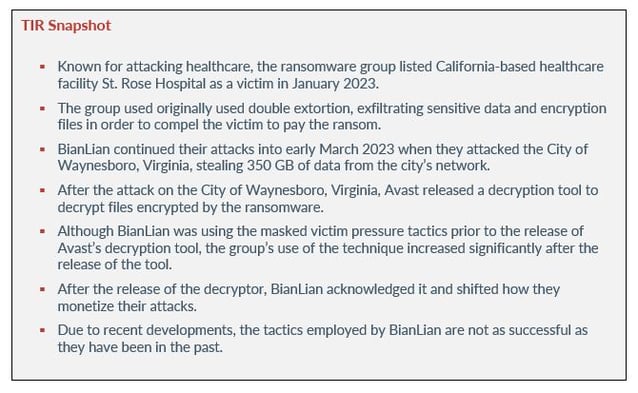 bianlian
BianLian emerged in August 2022, but its most significant impact was observed in 2023. Known for attacking healthcare, the ransomware group listed California-based healthcare facility St. Rose Hospital as a victim in January 2023. The hospital is known as a designated cardiac arrest center in Alameda County and has a revenue of $100 million.
Image 1: Top Industry Attacks by BianLian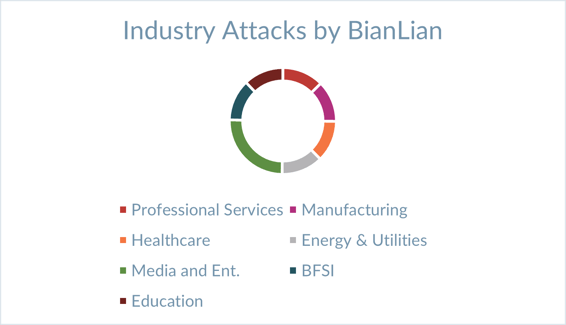 BianLian are a financially motivated group that will leak stolen data if they are not paid. After stealing 195 GB of staff and patient data, the ransomware group threatened to leak emails, project details, medical records, and accident reports.
BianLian continued their attacks into early March 2023 when they attacked the City of Waynesboro, Virginia, stealing 350 GB of data from the city's network. The data included reports, investigations, and internal police station fileserver files. At that time, the group was still operating as a ransomware group, stealing data before encryption.
Unlike most ransomware encryptors which use asymmetric or public key encryption (where different keys are used for encryption and decryption). The BianLian encryptor used the symmetric AES256 algorithm (Golang package AES).This mean that the same key is used for encryption and decryption, and the key was stored in the encryptor. . The Avast team were then able to recover the encryption key and use it to write a new decryptor.
decryptor + new operation model
Not long after the attack on the City of Waynesboro, Virginia, BianLian's ransomware operation was thwarted when Avast released a decryption tool to decrypt files encrypted by the ransomware. The tool is on Avast's website and is free to download. The researchers at Redacted have been keeping a close eye on BianLian's activities, releasing a report on March 16, 2023. The researchers noticed that while the group has not significantly changed their tactics and techniques, they have changed their approach to pressuring victims to pay ransoms.
BianLian uses a custom backdoor written in Golang, to maintain access to victim networks, rather than the general remote access tools used by most ransomware groups. Slight changes have been made to the backdoor over time, such as updating different support libraries and attempting to stay undetected in some cases, yet the core functionality of their backdoor remains unaltered.
The researchers at Redacted also noticed that they have seen many cases where the malware is created shortly after the activation of the command and control (C2), while in other instances, the order is reversed. Consequently, when a C2 is detected, it is likely that BianLian has already infiltrated the victim's network. They also observed that BianLian tends to bring around 30 new C2s each month. For example, in the first half of March, they started with 11 C2s. Additionally, the average time that a C2 remains active is about two weeks.
After the release of the decryptor, BianLian acknowledged its release and shifted how they monetize their attacks. Instead of encrypting files and threatening to leak data, they are focusing on convincing victims to pay a ransom in exchange for the group's silence. This means that the group is now operating as an extortion group and not as a ransomware group. BianLian promises that after payment, they will not make the data public or reveal the breach to anyone. They depend on their reputation, so they extend this assurance to victims.
"Our business depends on the reputation even more than many others. If we will take money and spread your information- we will have issues with payments in future. So, we will stick to our promises and reputation. That works in both ways: if we said that we will email all your staff and publicly spread all your data- we will." – BianLian (posted on their Tor site)
BianLian conducts research on victims to customize threats, citing legal/regulatory issues victims may face if a breach were made public. They even reference applicable law subsections. This extra effort indicates the criminal gang is attempting to apply maximum pressure to get their ransoms paid. The group has also been increasingly using a tactic of posting masked details about their victims on their leak site. This tactic involves posting varying degrees of detail about an organization, usually masking all but a few letters of the company's name, while still including details like the victim's industry, geographical location, and revenue numbers.
Although BianLian was using the masked victim pressure tactics prior to the release of Avast's decryption tool, the group's use of the technique increased significantly after the release of the tool. The group has posted details of masked victims more than half of the time since the tool was released.
Based on Avertium's experience, has been a significant decrease in organizations paying ransom to protect their data from being exposed over the past three years. This is supported by a companies such as Chainalysis, a blockchain analysis firm, who showed that ransomware payments experienced a significant decrease in the past year, dropping to [1]$456.8 million, the lowest figure in three years. This figure is 40% lower than the $765.6 million reported the year before.
At first glance, it seems that the drastic decrease in ransomware profits is due to a decrease in ransomware incidents, however, Kim Grauer of Chainalysis says that this may not be the case.
"The evidence suggests that the decline in attacker revenues is due to victims' increasing unwillingness to pay their ransom demands rather than a drop in the actual number of attacks. This reluctance can be attributed to a number of factors, ranging from more widespread utilisation of solutions such as backup and recovery that mitigate the impact of attacks, to a fear of running afoul of government regulations that prohibit the payment of ransoms to organisations that are potentially affiliated with sanctioned nations and groups." - Kim Grauer – Director of Research at Chainalysis
We expect to see BianLian develop a new encryptor, most likely using public-key encryption as their attempts to generate revenue purely by exfiltrating data and threatening it's release prove to far less effective than encryption.
[1] Ransomware payments fell to US$456.8 million in 2022 | TahawulTech.com
indicators of compromise (iOcs)
Backdoors
076e59781d0759de35022291c3d63bbf4227bd79561d80f52c9073a6278c5077

0772fb1102685def711ffe647080e1a9b6597fe60e8f1afe7b457ac97c6ac25e

16cbfd155fb44c6fd0f9375376f62a90ac09f8b7689c1afb5b9b4d3e76e28bdf

183b28fb93db1c907b32aa9fa2f83c7b0ebcc6724de85707a89e5d03c5be5d12

1cba58f73221b5bb7930bfeab0106ae5415e70f49a595727022dcf6fda1126e9

207078c70be916bb7d2ad4d206d2dca37406f84313f88699fa57fa9745a055bb

228ef7e0a080de70652e3e0d1eab44f92f6280494c6ba98455111053701d3759

38d6ec5f93f6722c3573989f1463fb1cba1c01c3a1a0579f329e0d625c57070b

42b0606aa2c765c0b0789b47ebd3a3f43144dc0c20b2ff6db648ac5feb0a37a3

45f76c5c5126501018f907f886dd23a56dd882ee7d4f41c41d732612b2e4da88

46fa9a69989b79b56495a1ece8a45d6d5ae43c600b8a13ef88f3eb9d84efda02

487f0d748a13570a46b20b6687eb7b7fc70a1a55e676fb5ff2599096a1ca888c

4ca84be5b6ab91694a0f81350cefe8379efcad692872a383671ce4209295edc7

53095e2ad802072e97dbb8a7ccea03a36d1536fce921c80a7a2f160c83366999

55016f61b9880be414cc4e1280d6bb620cfbe5e1e8e12e305a304d3dff7e209c

597c492a5af56d935d360fcfd2c1e89928dde492c86975f2c5cc33ec90b042ce

60b1394f3afee27701e2008f46d766ef466caa7711c45ddfd443a71efc39a407

61dfe2ccdc7cee55cf0530064499a52bf93bc6c3d8996ed013fcc5692e94c73a

667821f5996855bf83507fb1009f5d8d36c1258aa3c776106d453200f3bb0ed3

77617775dc6fa8b893607d52c3282ece1912bcdd0b583b418399af2eade249b8

7b15f570a23a5c5ce8ff942da60834a9d0549ea3ea9f34f900a09331325df893

93953eef3fe8405d563560dc332135bfe5874ddeb373d714862f72ee62bef518

93fb7f0c2cf10fb5885e03c737ee8508816c1102e9e3d358160b78e91fa1ebdb

96e02ea8b1c508f1ee3c1535547f9b89396f557011e61478644ae5876cdaaca5

a8e999a7a77d3b9846250a34ebda7d80ea83a79b3714b1f7ac8f92bc52a895fd

a92dd4885af317d36cd62dac31d0d5c93febd367e8f4412e7593fb48c9f34256

ac1d42360c45e0e908d07e784ceb15faf8987e4ba1744d56313de6524d2687f7

adefaad2a9c449d0e9fabb5035422a6ce31d0f26b0109a7c2911f570a6c74144

afb7f11da27439a2e223e6b651f96eb16a7e35b34918e501886d25439015bf78

b4249f2effb8dd651458c831d38155346c1e2d30b191bf37197ffa5164d25f7c

ba3c4bc99b67038b42b75a206d7ef04f6d8abaf87a76c373d4dec85e73859ce2

c62371f129d19707870c0f9a89b0f8a65970aed02537e358e532e4416bc8678e

dcc7115496faa0797c32bb6d5d823821f19f5177e09e05dbe0151a6b9e1edfb7

dd03ea7ba369fc9df641c09f29e4abcb8378b5a8dadd3d7c14d47449525f1716

e136d635de39d23cef600cc53efd671f1e8aba7d982bde152b21ea1f7c04703e

e7e097723d00f58eab785baf30365c1495e99aa6ead6fe1b86109558838d294e

ea5c88fe464562227f483e8fc4eb2cf43e98a897aaaa3e94de4d236d5dc6e7e7

f3a4fb09a0498e7ab3b33338ca6bc03460e43d437d9f3afbfc1a521c1029ff19

f3f3c692f728b9c8fd2e1c090b60223ac6c6e88bf186c98ed9842408b78b9f3c

f6669de3baa1bca649afa55a14e30279026e59a033522877b70b74bfc000e276

f84edc07b23423f2c2cad47c0600133cab3cf2bd6072ad45649d6faf3b70ec30
Encryptors
117a057829cd9abb5fba20d3ab479fc92ed64c647fdc1b7cd4e0f44609d770ea

3a2f6e614ff030804aa18cb03fcc3bc357f6226786efb4a734cbe2a3a1984b6f

46d340eaf6b78207e24b6011422f1a5b4a566e493d72365c6a1cace11c36b28b

7f91e10c39e0a77c83af3ef48061cbb73194c793f9c3c8bc7fa1aa0fc75eb385

f77433e517f493ca54e6a4603e51739053ebfac03d2764ad9d1f7e00cfadefa0
IP Addresses
223.0[.]85

234.118[.]129

238.35[.]26

94.160[.]243

232.2[.]41

99.133[.]112

161.48[.]51

152.203[.]94

123.119[.]100

157.43[.]44

86.163[.]228

53.186[.]224

144.145[.]126

85.156[.]83
how avertium is
protecting our customers
Even with anti-malware solutions installed, BianLian is a great risk to organizations. BianLian's evolving operating model makes organizations everywhere vulnerable to an attack. However, Avertium has advanced services that can help keep your organization safe:
Avertium recommends utilizing our service for DFIR (Digital Forensics and Incident Response) to help you rapidly assess, contain, eradicate, and recover from a security incident like a malware attack.


MDR provides an in-depth investigation into potential threats on an organization's network. Avertium's risk-based approach to managed security delivers the right combination of technology, field-validated threat intelligence, and resource empowerment to reduce complexity, streamline operations, and enhance cybersecurity resilience. If you need a more advanced security solution, MDR is the next step. MDR is an outsourced security control solution that includes the elements of EDR, enhanced with a range of fundamental security processes.


Avertium offers security consulting services to develop robust internal security policies.


Expanding endpoints, cloud computing environments, and accelerated digital transformation have decimated the perimeter in an ever-expanding attack surface. Avertium offers Attack Surface Management, so you'll have no more blind spots, weak links, or fire drills.


Avertium offers Zero Trust Architecture, like AppGate, to stop malware lateral movement.


Implement XDR as a prevention method. Our XDR is a combination of monitoring software like LogRhythm, Microsoft Azure Sentinel, or AlienVault, combined with endpoint protection such as SentinelOne. XDR platforms enable cybersecurity through a technology focus by collecting, correlating, and analyzing event data from any source on the network. This includes endpoints, applications, network devices, and user interactions.


Avertium offers user awareness training through KnowBe4. The service also includes Incident Response Table-Top exercises (IR TTX) and Core Security Document development, as well as a comprehensive new-school approach that integrates baseline testing using mock attacks.


Avertium offers Zero Trust Architecture, like AppGate, to stop malware lateral movement.
SUPPORTING DOCUMENTATION
Stung by Free Decryptor, Ransomware Group Embraces Extortion (bankinfosecurity.com)
BianLian Ransomware Gang Continues to Evolve | [redacted]
Virginia city claimed to be attacked by BianLian ransomware | SC Media (scmagazine.com)
BianLian Ransomware Encrypts Files in the Blink of an Eye (blackberry.com)
Decrypted: BianLian Ransomware - Avast Threat Labs
Ransomware group claims it has infiltrated Waynesboro city government, police data - Augusta Free Press
BianLian ransomware crew swaps encryption for extortion • The Register
A Deep Dive Into BianLian Ransomware (securityscorecard.com)
BianLian Ransomware Lists St Rose Hospital As Victim (thecyberexpress.com)
Ransomware payments fell to US$456.8 million in 2022 | TahawulTech.com
BianLian ransomware group shifts focus to extortion | CSO Online
APPENDIX II: Disclaimer
This document and its contents do not constitute, and are not a substitute for, legal advice. The outcome of a Security Risk Assessment should be utilized to ensure that diligent measures are taken to lower the risk of potential weaknesses be exploited to compromise data.

Although the Services and this report may provide data that Client can use in its compliance efforts, Client (not Avertium) is ultimately responsible for assessing and meeting Client's own compliance responsibilities. This report does not constitute a guarantee or assurance of Client's compliance with any law, regulation or standard.
COPYRIGHT: Copyright © Avertium, LLC and/or Avertium Tennessee, Inc. | All rights reserved.
Related Resource:
The Rise of Cyber Fusion - A Holistic Cybersecurity Approach