Executive Summary
Active since 2013, the APT Aoqin Dragon flew under the radar for ten years before researchers at Sentinel Labs identified their activity. Aoqin Dragon's primary focus is cyberespionage against targets in Vietnam, Cambodia, Hong Kong, Australia, and Singapore. Although the Chinese speaking threat actor is a small group, they are powerful and launched attacks against education, government, and telecommunications organizations while remaining invisible. Let's take a look at Aoqin Dragon's techniques, tactics, and how the group was able to go unnoticed for a decade.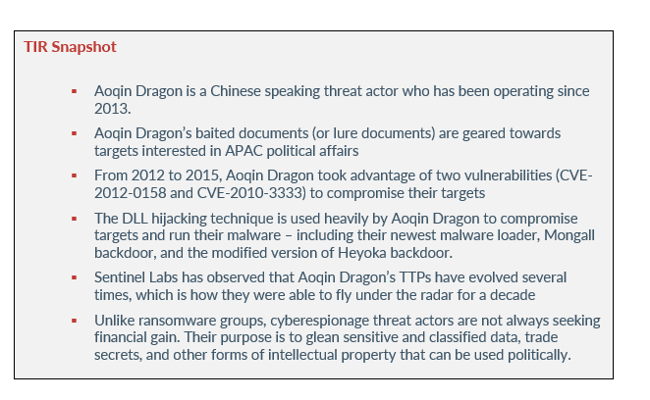 aoqin dragon
Aoqin Dragon is a Chinese speaking threat actor who has been operating since 2013. The group is known for using explicit themes to infect users, as well as using USB shortcut techniques to spread their malware and infect other targets. Aoqin Dragon's infection chain can be divided into three parts. They include:
The use of documents to exploit and trick victims into opening a malicious Word document to install a backdoor.



Luring victims into clicking on fake anti-virus icons or links to deploy malware in the victim's device.



Forging a fake removable device to trick victims into opening a malicious folder and installing malware on their system.
According to our technology partner, SentinelOne's research team, Sentinel Labs, Aoqin Dragon's baited documents (or lure documents) are geared towards targets interested in APAC political affairs. The documents also are not specific to one country but the entirety of Southeast Asia. Sentinel Labs also stated that because the group stayed in systems and networks long-term and were consistent with their attacks, they can assess that Aoqin Dragon's motives are purely cyber espionage with their activities aligning with Chinese government political interests.
tactics and techniques
From 2012 to 2015, Aoqin Dragon took advantage of two vulnerabilities (CVE-2012-0158 and CVE-2010-3333) to compromise their targets. CVE-2012-0158 is a vulnerability in Windows Common Controls that allows for remote code execution. CVE-2010-3333 is a stack-based buffer overflow vulnerability in Microsoft Office that could allow attackers to execute arbitrary code via crafted RTF data.
Fake file icons and executable files have been used by varying threat actors over the years and is an effective tool for APTs like Aoqin Dragon. When combined with intriguing email content and a catchy file name, Aoqin Dragon can socially engineer their attacks and entice victims to click on a malicious file.
Since 2018, Aoqin Dagon has used fake removable USB device shortcuts as their initial point of infection. Victims who click on the shortcut icon will install a malicious loader, which contains two payloads. The first payload downloads the malicious files to removable devices for spreading and the second is an encrypted backdoor that creates a remote shell and uploads files to the victim's machine. The second payload also downloads the files to Aoqin Dragon's command and control servers. The encrypted backdoor also embedded three C2 servers for communication. Here is the attack chain of one of their most recent campaigns:
To initiate malware, a removable Disk shortcut is made that contains a specific path



After the victim clicks on the fake device, "Evernote Tray Application" is executed. This is followed by the use of DLL hijacking to load the malicious encashrep.dll loader as explore.exe.



Once the loader is executed, it checks if it is in any attached removable devices.



If the loader isn't in the removable disk, it copies all modules under "%USERPROFILE%\AppData\Roaming\EverNoteService\". This includes the backdoor loader, normal files, and the encrypted backdoor payload.



The value "EverNoteTrayUService" is used by the malware to set the auto start function. One the victim restarts their computer, "Evernote Tray Application" is executed, and DLL hijacking is used to load the malicious loader.



The loader checks the file path and then decrypts the payloads. As we mentioned previously, two payloads are used in the attack chain – 1. The spreader (copies malicious files to removable devices) and 2. The encrypted backdoor (injects itself into rundll32's memory).
Aoqin Dragon also uses a custom backdoor that is more powerful than the previous one. The backdoor is a version of the Heyoka open-source project which uses spoofed DNS requests – creating bidirectional tunnel. Sentinel Labs stated that both backdoors have shell ability, but Heyoka is closer to a complete backdoor product.
Sentinel Labs stated that the main target type document formats Aoqin Dragon tries to find are Microsoft Word documents. Also, a script containing a "rar" command is embedded in the executable dropper with different fake security product icons. The dropper then employs a worm infection strategy using a removable device to infect malware into their victim's device and breach their network.
Image 1: Infection Chain Flow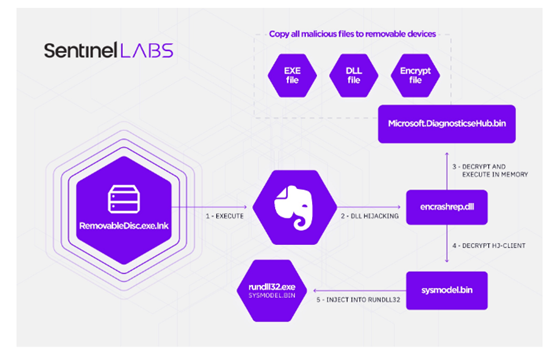 As you can see the DLL hijacking technique is used heavily by Aoqin Dragon to compromise targets and run their malware – including their newest malware loader, Mongall backdoor, and the modified version of Heyoka backdoor. According to Sentinel Labs, the Mongall backdoor is a small backdoor that goes back to 2013 when it was discovered by ESET. At that time, the threat actor using Mongall was targeting the Telecommunications Department and the Vietnamese government. Since then, Aoqin Dragon has been seen targeting Southeast Asia with an upgraded Mongall encryption protocol and Themida packer. Mongall isn't rich in features but it's still quite effective due to its ability to create a remote shell and upload files to a victim's machine.
The modified Heyoka backdoor is a different from Mongall and is based on the Heyoka open-source project. The backdoor was modified to be a custom backdoor using the DLL injection to deploy in the victim's environment. The debug log for Heyoka contains simplified Chinese characters, which indicates that the APT is Chinese speaking.
10 years the radar
Sentinel Labs has observed that Aoqin Dragon's TTPs have evolved several times, which is how they were able to fly under the radar for a decade. The means they once used to infect their targeted devices has changed. During their first few years of operation, the threat actor relied on the previously mentioned CVE's (CVE-2012-0158 and CVE-2010-3333). They were able to exploit these vulnerabilities due to their target's negligence with patching.
In 2018, Aoqin Dragon changed the way they targeted devices by utilizing fake removable devices as their infection vector. They've also used other techniques to stay incognito, such as DNS tunneling. This technique involves the manipulation of an internet domain name system to bypass firewalls. Sentinel Labs reported that over time, Aoqin Dragon slowly executed their fake removable disc technique, which was done to keep their malware from being detected and removed by security products.
Researchers expect Aoqin Dragon to continue to conduct cyber espionage operations. They also expect the threat group to continue to advance their tradecraft and their methods for evading detection.
financially motivated threat groups vs. cyber espionage threat groups
Cyber Espionage Threat Groups
Unlike ransomware groups, cyberespionage threat actors are not typically seeking financial gain. Their purpose is to glean sensitive and classified data, trade secrets, and other forms of intellectual property that can be used politically. The attacks can be motivated by money, but this is not the case for cyber espionage groups most of the time.
Cyber Espionage groups generally target large corporations, government agencies, academic institution, and other organizations that have valuable intellectual property and technical data that can be used by another organization or government. Here is a list of assets cyber espionage threat actors attempt to access:
Military intelligence

Salaries (bonus structures and other information related to finances)

Academic research

Intellectual property (blueprints or formulas)

Research and Development data and activity

Political strategies, affiliations, and communications

Client or customer lists and payment structures

Business goals and strategic plans
By obtaining access to the aforementioned list, threat actors can target organizations and wage a war between individuals, such as political leaders and government officials, as well as business executives. Most cyber espionage activity is placed under the advanced persistent threat (APT) umbrella. APTs are sophisticated and they generally establish an undetected presence on networks and systems so they can gather the information they need. Like Aoqin Dragon, cyber espionage APTs use social engineering to gather information from their target. Social engineering exploits human emotions (curiosity, fear, empathy, etc.) to trick victims into clicking on links or downloading malware.
Financially Motivated Threat Groups
Ransomware gangs and data extortion groups fall under the category for financially motivated attacks. They are motivated solely by money and their operations move much quicker than cyber espionage. These individuals operate like a business, going after a variety of industries such as healthcare, agriculture, government, education, and engineering. These threat groups usually do one of two things during their attacks: encrypt data and hold it ransom in exchange for a decryption key or exfiltrate data and threaten to leak it if a ransom is not paid.
Ransomware gangs like Conti and Hive are known for deploying ransomware into their victim's networks and systems. While they may go undetected at first, they don't stay that way for long and will expose themselves once they have encrypted their victims' data or gathered the information they need. Once the ransom is paid, they will provide their victims with the decryption key or will keep their sensitive information from being exposed – although they don't always keep their word.
How Avertium is
Protecting Our CUSTOMERS
Threat actors like Aoqin Dragon can gain unlimited access to networks and systems by remaining incognito for years, furthering reconnaissance. Avertium is here to keep your organization safe and to mitigate any attacks caused by APTs like Aoqin Dragon:
Avertium's Recommendations
Cybersecurity Education: Educate your employees on cyber security preparedness and the dangers of opening potentially malicious documents. Annual or quarterly training modules can help prevent threat actors from tricking employees into opening malicious email attachments.


Risk Analysis: Prevent an attack by ensuring your organization has a detailed defense strategy based on a risk analysis approach.


Tabletop Exercises: Have a good cyber incident response plan in place that has been tested with tabletop exercises.


Security Review: Be sure to review your cyber incident response plan and improve it every time it's tested on real cyber threats.
MITRE Map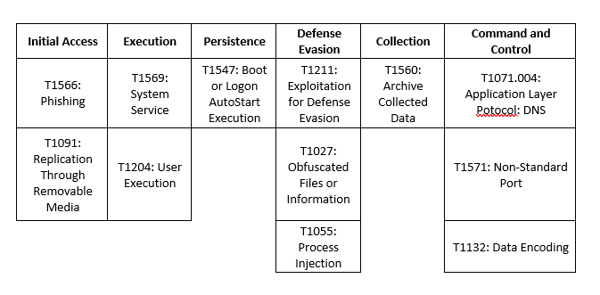 Indicators of Compromise (IoCs)
Mongall Domains
back[.]satunusa[.]org

baomoi[.]vnptnet[.]info

bbw[.]fushing[.]org

bca[.]zdungk[.]com

bkav[.]manlish[.]net

bkav[.]welikejack[.]com

bkavonline[.]vnptnet[.]info

bush2015[.]net

cl[.]weststations[.]com

cloundvietnam[.]com

cpt[.]vnptnet[.]inf

dns[.]lioncity[.]top

dns[.]satunusa[.]org

dns[.]zdungk[.]com

ds[.]vdcvn[.]com

ds[.]xrayccc[.]top

facebookmap[.]top

fbcl2[.]adsoft[.]name

fbcl2[.]softad[.]net

flower2[.]yyppmm[.]com

game[.]vietnamflash[.]com

hello[.]bluesky1234[.]com

ipad[.]vnptnet[.]info

ks[.]manlish[.]net

lepad[.]fushing[.]org

lllyyy[.]adsoft[.]name

lucky[.]manlish[.]net

ma550[.]adsoft[.]name

ma550[.]softad[.]net

mail[.]comnnet[.]net

mail[.]tiger1234[.]com

mail[.]vdcvn[.]com

mass[.]longvn[.]net

mcafee[.]bluesky1234[.]com

media[.]vietnamflash[.]com

mil[.]dungk[.]com

mil[.]zdungk[.]com

mmchj2[.]telorg[.]net

mmslsh[.]tiger1234[.]com

mobile[.]vdcvn[.]com

moit[.]longvn[.]net

movie[.]vdcvn[.]com

news[.]philstar2[.]com

news[.]welikejack[.]com

npt[.]vnptnet[.]info

ns[.]fushing[.]org

nycl[.]neverdropd[.]com

phcl[.]followag[.]org

phcl[.]neverdropd[.]com

pna[.]adsoft[.]name

pnavy3[.]neverdropd[.]com

sky[.]bush2015[.]net

sky[.]vietnamflash[.]com

tcv[.]tiger1234[.]com

telecom[.]longvn[.]net

telecom[.]manlish[.]net

th-y3[.]adsoft[.]name

th550[.]adsoft[.]name

th550[.]softad[.]net

three[.]welikejack[.]com

thy3[.]softad[.]net

vdcvn[.]com

video[.]philstar2[.]com

viet[.]vnptnet[.]info

viet[.]zdungk[.]com

vietnam[.]vnptnet[.]info

vietnamflash[.]com

vnet[.]fushing[.]org

vnn[.]bush2015[.]net

vnn[.]phung123[.]com

webmail[.]philstar2[.]com

www[.]bush2015[.]net

yok[.]fushing[.]org

yote[.]dellyou[.]com

zing[.]vietnamflash[.]com

zingme[.]dungk[.]com

zingme[.]longvn[.]net

zw[.]dinhk[.]net

zw[.]phung123[.]com
Mongall C2 Servers: IP Addresses
10[.]100[.]0[.]34 (Internal IPs)

10[.]100[.]27[.]4 (Internal IPs)

172[.]111[.]192[.]233

59[.]188[.]234[.]233

64[.]27[.]4[.]157

64[.]27[.]4[.]19

67[.]210[.]114[.]99
Mongall Hashes
SUPPORTING DOCUMENTATION
CVE - CVE-2010-3333 (mitre.org)
Aoqin Dragon APT targets entities in Southeast Asia and AustraliaSecurity Affairs
What is Cyber Espionage? – CrowdStrike
Chinese 'Aoqin Dragon' gang runs ten-year espionage spree • The Register
Aoqin Dragon | Newly-Discovered Chinese-linked APT Has Been Quietly Spying On Organizations For 10 Years - SentinelOne
Aoqin Dragon hacking group quietly spied on their targets for 10 years – Cyber Security Review (cybersecurity-review.com)
This hacking group quietly spied on their targets for 10 years | ZDNet
Chinese hacking group Aoqin Dragon quietly spied orgs for a decade (bleepingcomputer.com)
China-linked APT Flew Under Radar for Decade | Threatpost
Chinese-Linked APT Spying on Organizations for 10 Years (bankinfosecurity.com)
APPENDIX II: Disclaimer
This document and its contents do not constitute, and are not a substitute for, legal advice. The outcome of a Security Risk Assessment should be utilized to ensure that diligent measures are taken to lower the risk of potential weaknesses be exploited to compromise data.

Although the Services and this report may provide data that Client can use in its compliance efforts, Client (not Avertium) is ultimately responsible for assessing and meeting Client's own compliance responsibilities. This report does not constitute a guarantee or assurance of Client's compliance with any law, regulation or standard.
COPYRIGHT: Copyright © Avertium, LLC and/or Avertium Tennessee, Inc. | All rights reserved.
Related Resource:
An In-Depth Look at Iranian APT "MuddyWater"