Executive Summary of Sabbath ransomware
Just before 2021 ended, cyber security professionals stated that although organizations faced their fair share of ransomware attacks, those attacks would become more targeted and would continue well into 2022. They further predicted that ransomware operators would begin to use more sophisticated methods of extortion that would resemble nation-state advanced persistent threat attacks (APT), skipping data encryption and going straight to data exfiltration and extortion.
In December 2021, ransomware gang Sabbath left their mark when they publicly shamed a U.S. school on a dark web site because the school refused to pay their demanded ransom. The gang has flown under the radar for over a year for various reasons, but they recently made headlines because of their unique attack method. Instead of encrypting data and hoping for a big pay day, Sabbath simply steals data and extorts – a technique that is quite aggressive, yet lucrative.
As organizations attempt to stay two steps ahead of threats, cyber-criminal gangs, like Sabbath, are changing their tool kits and attack techniques to reflect those attempts. Sabbath has made it a point to target critical infrastructure with their attacks with no clear signs of slowing down. Let's take a look at Sabbath and why they've gone generally unnoticed for well over a year.
who is sabbath?
ERUPTION - JULY 2020
In order to understand who Sabbath is, we will need to breakdown how many name changes the group has undergone. Sabbath is a mid-sized ransomware gang that targets critical infrastructure like education and healthcare. They were originally known as UC2190, and first appeared in July 2020 under the branding name, Eruption. During that time, cyber security analysts at Mandiant observed Eruption deploying ROLLCOAST ransomware, but they did not see samples of ROLLCOAST submitted to VirusTotal. The names of the businesses Eruption targeted were never disclosed, nor were the ransom payments.
ARCANE - JUNE 2021
Eruption appeared to fall off the grid and all was quiet until June 2021. During that month, Eruption came back under a different name – Arcane. It was during this time that analysts observed the group targeting the education, health, and natural resources sectors in the U.S. and Canada. This was also the time that the group launched their public shaming website on the dark web in an attempt to further extort victims. Researchers observed the group extorting three victims via their public shaming website in June 2021 – their names were not disclosed.
Arcane has been in operation since 2020 and has victimized 12 organizations in North America, Seven in the United States, and at least two in Canada since that time. According to Tyler McLellan, Mandiant's principal analyst, Sabbath aka UNC2190 blurs the line between operator and affiliate and operates more along the lines of a temporary group.
"The operator appears to control how and where the ransomware is deployed, and the affiliate is providing the initial access and in exchange receives a cut of any ransom payment." said McLellan.
Again, during this time, there were no specific reports regarding who the group attacked and how much the group was paid in ransom money. The group went dark for a while, but it wasn't long before they re-emerged.
SABBATH - SEPTEMBER 2021
At this point, Arcane was still not on the public's radar, but they were certainly on the radar of cyber security professionals. In September 2021, Mandiant discovered the threat actors posting on the hacker forum, exploit[.in], seeking partners for their new affiliate ransomware program, but this time they were operating under the name Sabbath/54BB47h. The posts were written in Russian. Arcane was actively seeking people who had access to commercial networks. Sabbath offered to pay a percentage of the ransom received to people who could exfiltrate stolen data, delete backups, and carry out certain portions of their ransomware operations.
Fortunately, Mandiant dismantled that operation and started connecting the dots between all three groups. Between September and October of 2021, Mandiant discovered a public shaming website called "Sabbath" that was publicly shaming a Texas based school because the school refused the pay the ransom after Sabbath deployed ransomware into the school's network and systems. Sabbath even went as far as emailing students, teachers, and parents directly to apply further pressure on the school. Mandiant noticed that the group's new public shaming website looked almost identical to the site that Arcane published in June 2021. Both sites had the same text, content, and grammatical errors – with only minor changes to logo and color scheme.
Image 1: Sabbath Public Shaming Site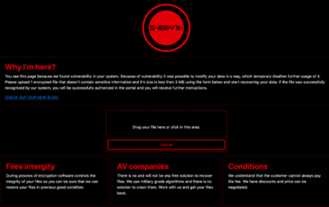 Source: Mandiant.com
Image 2: Arcane's Public Shaming Site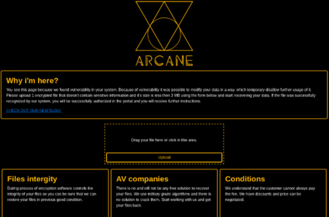 Source: Mandiant.com
Sabbath also targeted a wine manufacturer in Belgium; however, the amount of the ransom and ransom payment is unknown. Mandiant has also seen Sabbath's ransomware in India, Sweden, Germany, Mexico, and Japan – implying that Sabbath's activity may be global. Sabbath has utilized public data leaks to extort their victims to pay ransom demands.
TACTICS AND TECHNIQUES
As we mentioned earlier, Sabbath was observed (by Mandiant) deploying ROLLCOAST ransomware in July 2020. Mandiant also noticed that the ransomware is a Dynamic Linked Library (DLL) with no named exports. ROLLCOAST also encrypts files on logical drives attached to a system – with only one ordinal export 0x01 to avoid detection. According to Mandiant, Sabbath could have designed the sample this way to avoid detection and be invoked within memory, through Cobalt Strike BEACON provided to affiliates.
If a system language matches any of the language codes found below, ROLLCOAST will exit the system. Their malware begins by checking the system first to detect non-supported language code. Other ransomware families have adopted this style to avoid encrypting systems that could attract the attention of law enforcement in countries where the ransomware operator and affiliates are more likely to reside.
Image 3: Language Exclusions
Source: Mandiant.com
The way analysts concluded that the three groups were one in same was through Mandiant finding similarities in their techniques. By analyzing Sabbath's infrastructure, Mandiant was able to see the link between Eruption, Arcane and Sabbath.
Cobalt Strike BEACON
Unlike other ransomware affiliate programs, Sabbath provides their affiliates with pre-configured Cobalt Strike BEACON backdoor payloads. Sabbath has been operating for over a year and has only made minor changes to their strategies and tool kit. They recently introduced a commercial packer and rebranded their service offering. This is a good example of how well-known tools like Cobalt Strike BEACON can lead to lucrative and impactful attacks even if leveraged by smaller and unknown groups.
The use of Cobalt Strike BEACON to deploy ransomware is not unusual for ransomware gangs. What is unusual is a ransom affiliate program operator providing Cobalt Strike BEACON. This presents a challenge for attribution efforts while also offers additional avenues for detection. After bulk data is stolen as leverage, Sabbath then attempts to destroy backups.
NAME CHANGES
The constant name changes may be a technique Sabbath uses to continue their ransomware campaigns and to put up a front to obfuscate who is carrying out their operations. It minimizes attention to their campaigns and gives them leverage over generating more revenue.
These kinds of ransomware attacks will appear frequently over the course of 2022. Ransomware operators are focusing on servers, as well as cloud providers – making sure to weaponize the data they exfiltrate. Trying to stop the attacks from happening (or mitigate) can be a challenge for organizations that won't invest in securing their servers as much as they invest in securing their end points.
Sabbath has been able to keep their operations going while changing very few things about the way they attack. The fact that they don't have to change much says more about the level of cyber security within organizations than it does about Sabbath. It's important for organizations to go back to security basics and continue to be vigilant with protecting servers.
how avertium is protecting our customers
Avertium offers vulnerability management as a service (VMaaS) to remove any unnecessary applications and implementing XDR tools to prevent ransomware and phishing attacks. Include an EDR, MDR or XDR strategy to stop ransomware before it spreads.

You should also include a Zero Trust Architecture, like AppGate, to stop malware lateral movement.

Avertium offers DFIR retainers so your organization can respond quickly in the event of a breach.

Reach out to your Service Delivery Manager or Account Executive if you need assistance applying any of the above recommendations.
avertium's recommendations
Prioritizing network visibility is important. Avertium recommends:
Prevent lateral movement by implementing network hierarchy protocols with network segregation and decentralization.

Use whitelisting tools to audit or block command-line interpreters (AppLocker).

Rclone and other data exfiltration command-line interface activities can be captured through correct logging of process execution with command-line arguments.

Have security protocols in place for Veeam to avoid account takeover. Enabled backups decrease Sabbath's ransom demands and can lead to data recovery without you having to pay them.

Externally exposed RDPs are dangerous and can expose your organization to a DoS attack. Set up a VPN and only allow remote RDP access over the VPN as an extra layer of security.

Relying on outdated tools and point solutions will compromise your network or system. Better technology exists to detect complex attacks like Sabbath ransomware.

It's also recommended by Avertium and the FBI that your business require multi-factor authentication to remotely access networks. Implementing network segmentation and filtering network traffic to stop phishing emails from reaching victims is also helpful.

If your organization is impacted by a ransomware attack, the FBI and CISA recommend the following:

Isolate the infected system.

Turn off other computers and devices.

Secure your backups.
MITRE TTPs:
Indicators of Compromise (IoCs):
BEACON
probes[.space]

probes[.site]

datatransferdc[.com]

farhadl[.com]

markettc[.biz]

[space]

tinysidney[.com]

helpgoldr[.com]

franker[.com]

greentuks[.com]

79.55.129:443

146.166.24:443

147.230.221:2002

probes[.website]

cofeeloveers[.com]

doratir[.com]

gordonzon[.com]

probes[.site]

probes[.website]

79.55.129:80

141.84.182:443

147.230.137:3001

ef3363dfe2515b826584ab53c4bb7812

3357fd8d5a253b7d84101e902480bf2dd2f7773c

da92878c314307a5e5c9df687ec19a402d93126b3818e5fb6b7241ab375d1e12

f1b2f83aa08b8f6f01cac6bf686786d2

366390c3cd829d1172f02e564d35cfb2c667e9fc

0fb410b9a4d32a473b2ee28d4dc5e19a64524e107b980fc1ce8de2ad0dcc3302

6bd1a3849bb9d5f9ac5b4f4049081334

a0928456f12e909ec03eadce449bc80f120bfbf8

298662f3fed24d757634a022c16f4124919b653f8bf7717e4f7a5b7d741729c0

e94089ff2e0b93ce38076cca370cf8cc

dc3c26f305648a12484c17d6166397a002a93707

afd61168c1fae6841faa3860dca0e5839f1b7a3169184a1c04de5a9b88adfe5d

ac76d6c5c223688edf2d53745036d594

5972b873977912adf06203b61685f32a6ccb9eee

a053408747e9b32721d25c00351c4ce9286208e8714780416f18cbe2536672a9

64da229042dffddf5bb30a4a1d8b1f1e

3dc46fa5ebc87e8adcb6eaa0b407574506c957bb

b2ffd7d83e004308a97355a18529fe3528dcbbd7901fb28aaad9d46194469947

1789f6177300d503289c482910f223d9

5c3f297bab8a5e93aac91a9df920c54bee2c836d

e302a958856208adeab4ab3cd6d2991e644798fabd57bb187a0aede314a4baa0

dbfa3eb08d858d5bbb0cc72f497192b0

182e9d1026c63503aadb78bbc3788b7ba2cdb69a

8ddb23c90cb4133b4624127a1db75335a51e90d557c01e996ce33fe23f638e71

79c6c4329a36df20a6abf67b01352b20

fc7b3d8beab604cf47203f4f9a2aa8594bd54fb7

1bbb11e526141af7bafb5d4db3671b1a01bb277fda047920995c1f2a4cb6654c

6ae156c0a1900b6ff2c903a950d50dce

7b178842e1b53f163f869d9da3da32032fe29abb

1cd586852d2c06b0f7209c7a4da8f3d0de794f92e97b7c4405ad71c859dc2f50

b0333d840e136326a2bd612fcf73fff0

8467b4f784156f2e508a3fed0ef0b6ddcf330c0d

79b47780382f54ca039ad248d8241e42a7ed6b1e4b75af836890e4e46c0f8737

7669f00b467e2990be182584b341c0e

2eaa91f38461d708ee6e94ec2f738f3cdfb229b7

f4ac75a045acee2cadbe9fa0e02bfd4ab4124018e00193930966b8141351115f

60aec56cb2262ae46fc39c45fc814711

bb22515f2e8e4d5660dc8565869d966502a0123e

3edb237aeee6efad6f21f0f2c2037ec0f9f817197432de9759b0a772a4c8f311

f7e7201325892dcc287c60a0748edb16

35f02a778ea7504331ddd025f0d927e0773ffd31

a4891cc85802833d9a89e2522a42a7e3c8dc6de1d2bbed5945497ee4006c8ddb

c4a369880e3e5c3dc42ebf8cdacc9d6c

037889e6d714c7ff6341bdb8a8bebbddc21fc36e

756ed760cbf4b35054c78a75009f748f0f6cd5eb2cbd44bb3a2d964da3c419cf

98f2b23eb265d73a05b2cce17d53eba4

41cc9afc79aaee60f6436192c6582907e41d89f7

87cdcbc55aed4267f47a913b17f4bc697634bf633659c639f87a4dbf00f853c1

38667bc3ad2dcef35a5f343a5073e3f2

22cf10ec5047a86a49c1819c4943290321a29918

a8741f6f400c7fedfbdc7a298ab4a636be42d379eb4ecc3cccd81eadca09f8d0

aa2a14e1819f4b1cc685801e07186b0

101930bbec76ee4a147117cdfcb56aa2208a579d

5a6b7569c2b8e91f5bd8a67322af384cfad5ddaf3ea9de271093a0879b88c438

61bbe1c1b2aa40c0d8aa7e00c2c4f7b6

6eff4b7b5ccf92eb0f134591237fe1db7c71826a

f883f7d7c068b6f1eb62804591d748c28c584fbfb769628d9567c22aa00f26f6

0b6757090d9ebc8d497e71b177acf256

25b175a71906e354a24003803574c4420f02a82f

e25f2284fc6e80011587bf95829d8ff30ecae06a2d2bbe494d8af3bd05f9e43f
terms
Malware - any intrusive, unwanted software that is designed to compromise, damage, or destroy your computer, device, network, or the data contained within (example: viruses, trojans, adware, etc.).
Ransomware - malicious software that infects a device and stops users from accessing data and files until a ransom is paid.
Supporting Documentation
New ransomware group is third rebranding of gang that hit Canadian, U.S. targets: Report | IT World Canada News
Sabbath ransomware group rebrands, continues attacks (itbrief.com.au)
Sabbath Ransomware Targeting Healthcare, Mandiant Warns (healthitsecurity.com)
Hack 'Sabbath': Elusive new ransomware detected (techtarget.com)
Kitten.gif: Meet the Sabbath Ransomware Affiliate Program, Again | Mandiant
Ransomware Group Continually Rebrands to Slip Under Radar | Decipher (duo.com)
APPENDIX II: Disclaimer
This document and its contents do not constitute and are not a substitute for, legal advice. The outcome of a Security Risk Assessment should be utilized to ensure that diligent measures are taken to lower the risk of potential weaknesses be exploited to compromise data.
Although the Services and this report may provide data that Client can use in its compliance efforts, Client (not Avertium) is ultimately responsible for assessing and meeting Client's own compliance responsibilities. This report does not constitute a guarantee or assurance of the Client's compliance with any law, regulation, or standard.
learn what log4shell taught us about open-source security