Executive Summary of roaming mantis
Roaming Mantis was introduced in March 2018 after the Japanese media reported the hijacking of DNS settings on routers located in Japan. The hijackers were redirecting users to malicious IP addresses which then led to the installation of Trojanized applications (facebook.apk and chrome.apg) that contained an Android banking trojan. What started off as a banking trojan, has quickly evolved into much more. Let's take a look at Roaming Mantis and how mobile phishing campaigns develop into cyber threats for organizations.
roman mantis (2018-2021)
Between February and April 2018, researchers at Kaspersky Lab detected the Roaming Mantis more than 6,000 times with reports coming from just 150 unique users. This information suggested a disturbing event for some users, who were experiencing the malware in their network over and over again. Kaspersky Lab observed that more than half of the detections were targeting the Asian region. Because of the propagation of the malware via smartphones roaming between Wi-Fi networks, carrying and spreading infections, Kaspersky Lab decided to call the malware Roaming Mantis. Compromised routers were used to infect Android tablets and smartphones.
Tactics & Techniques
DNS hijacking helps distribute Roaming Mantis. DNS hijacking is when a victim attempts to access a website by way of a compromised router and is immediately redirected to a malicious website. The malicious website typically displays a URL that appears to look like the one you're trying to access, making you believe that it's genuine. In Roaming Mantis' case, when you go to the website, which is hosted on a rogue server, a popup message appears that asks you to update to the latest Chrome version for a better browsing experience.
At this time, the number of target locales for the Roaming Mantis campaign is four: Korean, Simplified Chinese, Japanese and English (based on Android devices), with the HTML code containing an identical message in Traditional Chinese and Simplified Chinese. There were also several short code comments within the HTML code that were in Simplified Chinese.

Image 1: HTML Source for Roaming Mantis
When a device is booted via the internet, Roaming Mantis requests permission to be notified. After it receives the notification, it then gains access to account information, SMS/MMS and calls, audio records, external storage, etc.
Source: SecureList.com
After Roaming Mantis is successfully installed, it overlays all other windows, with one carrying a message in broken English: "Account No.exists risks, use after certification". Then, Roaming Mantis starts its own webserver, rendering a spoofed Google authentication page.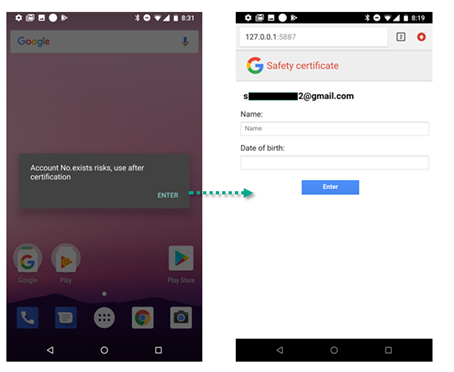 Image 2: Spoofing
This page was designed to trick victims into giving the threat actors behind Roaming Mantis access to their user accounts and eventually permission that grants access to the one-time codes needed for two-factor authentication. After analysis, Kaspersky Lab discovered that the malware contained references to application IDs that are popular in South Korea and linked to mobile banking and games.
Source: SecureList.com
One month after Kaspersky Lab published their report about the malware, Roaming Mantis added two dozen more languages to their attack list and improved the malware to attack devices running iOS. In 2018, Roaming Mantis' ultimate goal was to steal user and take control over compromised Android devices. At the time, the malware was most prevalent in South Korea, as Korean was the first language targeted in HTML. The DNS hijacking makes it difficult for victims to detect that they are being attacked by cyber criminals.
See the list of languages Roaming Mantis added to their list in 2018:
Arabic

Armenian

Bulgarian

Bengali

Czech

Georgian

German

Hebrew

Hindi

Indonesian

Italian

Malay

Polish

Portuguese

Russian

Sebo-Croat

Spanish

Tagalog

Thai

Turkish

Vietnamese

Ukrainian
roaming mantis (2022)
Fast forward to 2022, Roaming Mantis has expanded and is now attacking in France and Germany for the first time. This time, the goal for Roaming Mantis is to install Wroba (a banking trojan), which is spyware and banking malware. Wroba is capable of replacing real apps with malicious versions so that bank credentials can be stolen and used by threat actors – financial motivation.
Additionally, Roaming Mantis has now shifted from using Java as a programming language, to using Kotlin. There are also two new backdoor commands, allowing Wroba to exfiltrate galleries and photos from compromised devices. Why would anyone want random photographs? Have you ever taken a picture of your driver's license, insurance card, or debit card? Threat actors are willing to sift through massive amounts of images if it means they can receive just one pay day. They will also use stolen photos to blackmail their victims.
Tactics & Techniques
Roaming Mantis infects devices by sending a SMS text message to their victim. The language within the text tricks the victim into thinking that they are receiving a shipped package confirmation. They are then led to click on a URL, which redirects them to a phishing page designed to steal the victim's credentials.
For iOS victims, the application isn't downloaded. Instead, the malicious site displays a phishing page asking the victim to log back into the App Store immediately. The address that's used looks like a credible Apple site and attempts to reassure the victim that all is well.
Image 3: Spoofed Apple Page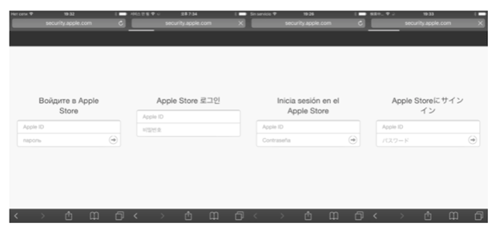 Source: Kaspersky.com
Not long after directing victims to the spoofed page, the threat actors ask for bank card numbers. If you are using a desktop computer or laptop, Roaming Mantis runs the CoinHive mining script, which mines cryptocurrency and distributes it directly to the attackers.
If you recall, our Threat Intelligence Report featuring Norton 360's built-in cryptominer, stressed how cryptocurrency mining can cause your computer to run slow and use enormous amounts of power. Threat actors run cryptocurrency miners on hacked computers, so they don't have to use their own resources – thus eventually destroying their victims' devices.
If an Android device is used, the victim will be redirected to a page that attempts to install malware disguised as an Android App. Here is a list of some of the apps used to deceive victims:
Image 4: Apps Roaming Mantis Impersonates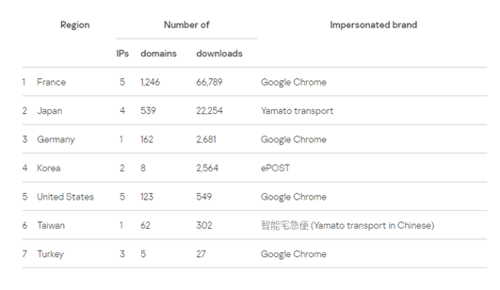 Source: Kaspersky Lab
To evade detection, Roaming Mantis threat actors use different obfuscation techniques in the landing page script. For example, the malware is now using a new method for retrieving the C2 by using the email POP protocol, as well as a command to assist in identifying research environments. Additionally, Roaming Mantis added a feature that avoids blacklisting – automatic generation of APK per download.
Right now, the malware appears to target France, Japan, India, China, Germany, and Korea. Researchers expect Roaming Mantis to continue in 2022 due to strong financial motivation. The threat actors behind the malware have used various malware families such as Heur: Trojan-Dropper.AndoidOSWroba. and other attack methods like smishing, phishing, and DNS attacks.
How Avertium is
Protecting Our CUSTOMERS
Phishing campaigns like Roaming Mantis can create chaos for your organization's cyber environment. As you can see, the malware began as a banking Trojan, but has evolved into much more and will continue to evolve. Roaming Mantis is the kind of threat that can easily penetrate your organization's systems and networks via vulnerable employees. Every day unsuspecting employees receive text messages from threat actors pretending to be CEOs or stakeholders. Because the threat actors behind Roaming Mantis are financially motivated, it's only a matter of time before Roaming Mantis makes its way into the U.S.
Don't become overconfident and assume that an attack like Roaming Mantis won't happen to you. Express the importance of being aware of phishing campaigns to your employees, especially during the onboarding process for new hires. Because people use their devices as their primary browsing source, it's important to share this information with your employees. Keep your cyber environment secure by inquiring about the following Avertium services:
Avertium offers Vulnerability Management to provide a deeper understanding and control over organizational information security risks. If your enterprise is facing challenges with the scope, resources, or skills required to implement a vulnerability management program with your team, outsourced solutions can help you bridge the gap.

Avertium offers Zero Trust Architecture, like AppGate, to stop malware lateral movement.

Avertium uses whitelisting tools like AppLocker to audit or block command-line interpreters.

Avertium offers user awareness training through KnowBe4

.

The service also Incident Response Table-Top exercises (IR TTX) and Core Security Document development, as well as a comprehensive new-school approach that integrates baseline testing using mock attacks.

Our partner, SentinelOne, offers Singularity Mobile as a way to combat mobile threats in real-time.
Avertium's Recommendations
To help prevent an attack
Install antivirus software on all devices – not just computer and laptops but smartphones and tablets as well.

Consistently update software on all devices.

If you have an Android device, disable the installation of applications from sources you don't recognize via the settings feature.

Beware of unofficial firmware downloaded from sketchy websites and update router firmware.

Change the default administrator on the router.
If your organization is attacked by Roaming Mantis
Change all passwords for compromised accounts and cancel all bank cards.

Via router settings, check the DNS server address. If it doesn't match the one given by your provider then you need to change it back to the correct address. You can do this by going to your ISP's website from a safe system.
MITRE TTPS

Indicators of Compromise (IoCs)
Roaming Mantis – 2022
0aaf6aa859fbdb84de20bf4bf28a02f1

19c4be7d5d8bf759771f35dec45f267a

2942ca2996a80ab807be08e7120c2556

4fbc28088b9bf82dcb3bf42fe1fc1f6d

527b5eebb6dbd3d0b777c714e707659c

5bafe0e5a96b1a0db291cf9d57aab0bc

ddd131d7f0918ece86cc7a68cbacb37d

1ec6768018b2a78115156517bff03485264ff529

c9f9c541920ca07912dd9686700dc86d5d1d2f57

1e41a9f204ed3bf567eb955f9dae119213cdf4fa3c6dacaa9bb21e95dace021f

30bdf42374a5bb6a83be08f9667e0a9395e411f911dab08d9c0814d30fb0e260
Roaming Mantis – 2018
44.37[.]112

166.1[.]124

168.193[.]123

14.50[.]146

14.50[.]147

136.111[.]66

136.179[.]5

136.76[.]200

240.14[.]44

ddns[.]net

hopto[.]org

03108e7f426416b0eaca9132f082d568

1cc88a79424091121a83d58b6886ea7a

2a1da7e17edaefc0468dbf25a0f60390

31e61e52d38f19cf3958df2239fba1a7

34efc3ebf51a6511c0d12cce7592db73

4d9a7e425f8c8b02d598ef0a0a776a58

808b186ddfa5e62ee882d5bdb94cc6e2

904b4d615c05952bcf58f35acadee5c1

a21322b2416fce17a1877542d16929d5

b84b0d5f128a8e0621733a6f3b412e19

bd90279ad5c5a813bc34c06093665e55

ff163a92f2622f2b8330a5730d3d636c

19e3daf40460aea22962d98de4bc32d2

36b2609a98aa39c730c2f5b49097d0ad

3ba4882dbf2dd6bd4fc0f54ec1373f4c

6cac4c9eda750a69e435c801a7ca7b8d

8a4ed9c4a66d7ccb3d155f85383ea3b3

b43335b043212355619fd827b01be9a0

b7afa4b2dafb57886fc47a1355824199

f89214bfa4b4ac9000087e4253e7f754

1bd7815bece1b54b7728b8dd16f1d3a9

307d2780185ba2b8c5ad4c9256407504

3e4bff0e8ed962f3c420692a35d2e503

57abbe642b85fa00b1f76f62acad4d3b

6e1926d548ffac0f6cedfb4a4f49196e

7714321baf6a54b09baa6a777b9742ef

7aa46b4d67c3ab07caa53e8d8df3005c

a0f88c77b183da227b9902968862c2b9


Supporting Documentation
Roaming Mantis uses DNS hijacking to infect Android smartphones | Securelist
Roaming Mantis infects smartphones through Wi-Fi routers | Kaspersky official blog
Roaming Mantis reaches Europe | Securelist
Roaming Mantis Phishing Campaign Targets European Users with Wroba Trojan - AlienVault - Open Threat Exchange
Roaming Mantis Swarms Globally, Spawning iOS Phishing, Cryptomining | Threatpost
Roaming Mantis SMSishing campaign now targets EuropeSecurity Affairs
'Roaming Mantis' Android Malware Targeting Europeans via Smishing Campaigns (thehackernews.com)
APPENDIX II: Disclaimer
This document and its contents do not constitute, and are not a substitute for, legal advice. The outcome of a Security Risk Assessment should be utilized to ensure that diligent measures are taken to lower the risk of potential weaknesses be exploited to compromise data.

Although the Services and this report may provide data that Client can use in its compliance efforts, Client (not Avertium) is ultimately responsible for assessing and meeting Client's own compliance responsibilities. This report does not constitute a guarantee or assurance of Client's compliance with any law, regulation or standard.
COPYRIGHT: Copyright © Avertium, LLC and/or Avertium Tennessee, Inc. | All rights reserved.
READ OUR LATEST BLOG >>>

THE ART AND SCIENCE OF THREAT HUNTING - A GUIDE TO PREVENTING CYBER ATTACKS

Learn what threat hunting is, what it has gained so much popularity, how your business can benefit from its true value, and more.