overview
A Windows zero-day vulnerability is allowing threat actors to use malicious stand-alone JavaScript files to bypass Mark-of-the-web security warnings. The Mark-of-the-web security feature is the Windows security warning that one sees when attempting to open a file from the Internet. Internet files can be harmful to your computer if opened from an unknown and untrusted source.
Image 1: Mark-of-the-Web Security Pop Up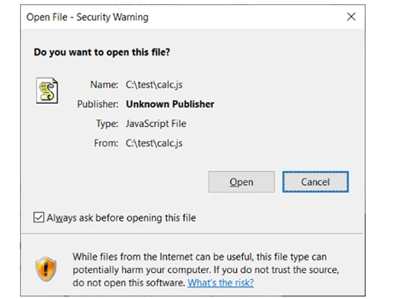 Additionally, Mark-of-the-web is utilized by Microsoft Office to determine if a file should open in Protected View, which disables macros. As of now, the security flaw does not have a CVE number or an official patch. Researchers from the HP threat intelligence team have observed threat actors infecting devices with Magniber ransomware using JavaScript files – specifically .JS files distributed as attachments or downloads that can run outside of a web browser.
After analysis, Will Dorman from ANALYGENCE discovered that the threat actors signed the JavaScript files with a malformed key. Signing with the malformed key stopped Microsoft from displaying the security warning, automatically executing the script to install the Magniber ransomware. With this technique, normal security warnings are bypassed by threat actors. Dorman believes that security flaw was present with the release of Windows 10.
The Mark-of-the-web vulnerability is concerning because threat actors have already started to exploit it in ransomware attacks. Microsoft stated that they are aware of the vulnerability and are investigating it. In the meantime, there is an unofficial micro-patch for the flaw issued by a third-party company called 0patch. The patch can be applied to the following Windows versions:
Windows 10 v1803 and later

Windows 7 with or without ESU

Windows Server 2022

Windows Server 2019

Windows Server 2016

Windows Server 2012

Windows Server 2012 R2

Windows Server 2008 R2 with or without ESU
How Avertium is
Protecting Our CUSTOMERS
Avertium offers

VMaaS

to provide a deeper understanding and control over organizational information security risks. If your enterprise is facing challenges with the scope, resources, or skills required to implement a vulnerability management program with your team, outsourced solutions can help you bridge the gap.



Avertium offers

user awareness training

through

KnowBe4

. The service also includes Incident Response Table-Top exercises (IR TTX) and Core Security Document development, as well as a comprehensive new-school approach that integrates baseline testing using mock attacks.
Minimizing the impact of a successful ransomware attack requires detecting it as early in the attack as possible. A

Security Information and Event Management (

SIEM

)

system can help an organization to accomplish this. Avertium offers a comprehensive SIEM-based approach that increases the potential for detecting a ransomware infection before it deploys. SIEM provides a holistic overview of a company's IT environment from a single point of view in terms of its specific security events, empowering teams to detect and analyze unusual behavior.
avertium's recommendations
It is advisable that you do not open documents from unknown or suspicious sources.

If you already are a 0patch user, the micro-patch is available on all online 0patch Agents. If you are new to the 0pach platform, you can create a new account

here

, where you can receive an automatic patch application without rebooting your device.
INDICATORS OF COMPROMISE (IOCS):
At this time, there are no known IoCs associated with the Mark-of-the-web vulnerability. Avertium's threat hunters remain vigilant in locating IoCs for our customers. Should any be located, Avertium will disclose them as soon as possible. For more information on how Avertium can help protect your organization, please reach out to your Avertium Service Delivery Manager or Account Executive.
SUPPORTING DOCUMENTATION
Exploited Windows zero-day lets JavaScript files bypass security warnings (bleepingcomputer.com)
Mark of the Web Windows Zero-Day Receives Unofficial Patch - Binary Defense
Microsoft Windows MotW flaw is being exploited in the wild; free micropatch is available via 0patch (mspoweruser.com)
Related Resource: An In-Depth Look at Vice Society Ransomware