Managed security service providers (MSSPs) use a wide range of tools and strategies to help organizations detect and respond to advanced threats with the capability to bypass existing controls. Two of the most effective are managed detection and response (MDR) and security information and event management (SIEM) solutions. This article explains what MDR and SIEM are, and how they can work together to provide you with a superior cybersecurity solution.
What Is Managed Detection and Response?
MDR is an advance over prior security solutions and one that offers organizations a more comprehensive set of features and more robust performance. At its heart, MDR is a superbly capable threat hunting process that builds on other processes and technologies as a foundation, adding in enhancements that optimize its capability to detect and disrupt attacks:
Cloud-managed security infrastructure
Host- and network-level investigation and response capabilities
Advanced analytics
Threat intelligence
24/7 human expertise availability
Advanced threats that can elude less capable solutions are well within MDR's seek-and-destroy space. MDR is ideally suited to small businesses, SMBs, and enterprises that need the full benefit profile of a security solution that combines machine learning, automated behavioral analytics, and good ole' fashioned human capabilities, conveniently packaged as an outsourced service.
Related Reading: Understanding the Difference Between an MSSP and MDR
What Is Security Information and Event Management?
A SIEM solution collects event logs and another telemetry from systems, devices, and processes on your network then uses automation to correlate that data and highlight any anomalous or suspicious behaviors that might be indicators of compromise. A well-tuned SIEM cuts through the noise generated by notoriously noisy security tools by enabling rapid identification of threats, enabling sound monitoring, analysis, and prioritization of response to suspected security issues.
SIEM casts an especially wide net and is also useful in more general applications. For instance, it can detect and resolve misconfigurations, operational deficiencies, and other engineering errors. SIEM can also help to pull zero trusts, vulnerability management, and EDR together into an all-encompassing security ecosystem. The benefits include faster detection and response, more efficient security operations, greater threat visibility, and a reduction in security breaches.
SIEM is a cost-effective and versatile solution: It works well for organizations that have in-house security analysts as well as MSSP teams trained to use its output and delivers a lot of security performance for a limited investment.
Related Readings:
The Case for Having Both MDR and SIEM
Ideally, your IT defenses should be multi-capable, layered, overlapping, and deep – no single tool has the capability to defend your entire information technology infrastructure. MDR and SIEM work well together and overlap suitably at the edges, which is ideal in a security environment that contains threats that increasingly lurk in liminal spaces and target marginal configurations and definitions.
The human factor is an integral component of MDR's excellent functionality, and SIEM is at its best when its power is harnessed by an experienced human security team. MDR and SIEM working in tandem provide the versatility, layering, and depth needed to successfully accomplish today's security demands.
Additionally, most regulatory compliance mandates require logging and monitoring of the devices within your environment. From PCI to HIPAA and everything in between, if you operate in an industry governed by a regulatory framework, it is virtually certain you need to be capturing logs via a SIEM.
Related Reading: In-house SOC or MSSP
But What if We Can't Have Both?
Sometimes the perfect world you want is out of reach – what then? In the case of an ideal MDR+SIEM solution, if barriers are standing in your way, there are alternatives available. If you don't have your own security team, you want at least an MSSP that can provide threat hunting, digital forensics and incident response (DFIR), and compliance, to meet your basic needs.
Less than that and you risk not meeting your compliance requirements or leaving your organization open to serious danger. If your compliance requirements dictate centralized log collection and auditing, your choice is clear as between MDR and SIEM, only SIEM accomplishes that objective.
MDR, SIEM, and More – Avertium Offers a Wide Range of Tailored Security Solutions
It's helpful to understand the distinctions between MDR and SIEM, however, it's more important to realize that they each work toward a common purpose, and in combination, they offer a solution with superior defensive capabilities. They perform optimally when they are integrated into a single cybersecurity platform.
Avertium provides the full range of MSSP solutions, and we can help your organization face the challenges of today's security environment. Contact us to learn more about how implementing an MDR+SIEM solution can create optimal visibility into your network, reduce risk exposure, and improve your security posture.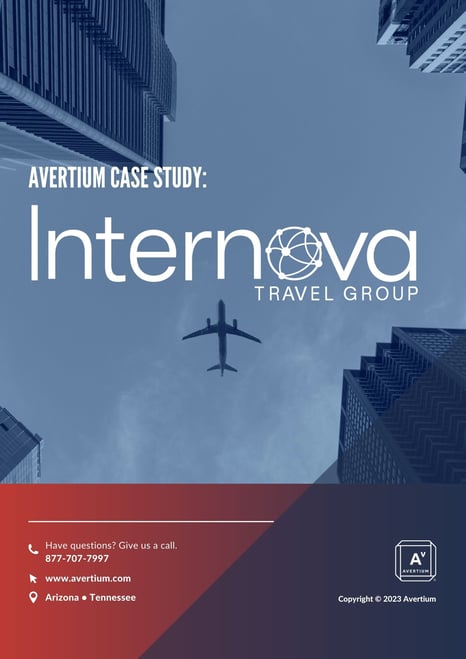 INTERNOVA TRAVEL GROUP CASE STUDY
Discover how Avertium helps unburden Internova Travel Group's security team to have the space to start focusing on more strategic cybersecurity priorities.