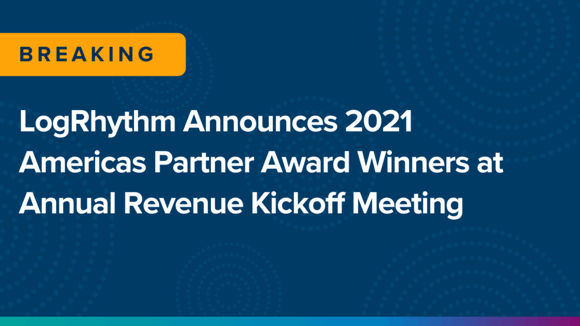 Phoenix, Ariz., January 20, 2022 – Avertium has been named "Managed Services Partner of the Year" by LogRhythm as part of LogRhythm's annual Partner Program awards. LogRhythm's annual awards recognize partners that "demonstrate a commitment to solving customers' critical challenges through the deployment and management of LogRhythm's NextGen SIEM Platform," according to a statement this week.
The 2021 Managed Services Partner of the Year award for Avertium follows being named LogRhythm's "Rising Star" partner in 2020.
LogRhythm's NextGen SIEM Platform is a key component of Avertium's Managed Detection and Response (MDR) service capabilities, which has grown since the two companies formed a partnership in 2018. Additionally, Avertium's Extended Detection and Response (XDR) service includes the fusing together of LogRhythm's NextGen SIEM Platform with the National Institute of Standards and Technology (NIST) Cybersecurity Framework and Attack Surface Management threat technology.
The two companies recently collaborated with the American Hospital Association to create a whitepaper that advises healthcare providers about preventing ransomware.
"We are grateful to LogRhythm for this recognition," said Jeff Schmidt, CEO of Avertium. "This award represents our commitment to provide context amidst the chaos of cybersecurity. LogRhythm plays an important role in many of our MDR, XDR, and threat-oriented services that make our customers' world a safer place."
__________________________________________________________________________________________________________________________________________
ABOUT AVERTIUM
Avertium is the security partner that companies turn to for end-to-end cybersecurity solutions that attack the chaos of the cybersecurity landscape with context. By fusing together human expertise and a business-first mindset with the right combination of technology and threat intelligence, Avertium delivers a more comprehensive, more programmatic approach to cybersecurity – one that drives action on the ground and influence in the boardroom. That's why over 1,200 mid-market and enterprise-level organizations across 15 industries turn to Avertium when they want to be more efficient, more effective, and more resilient when waging today's cyberwar. Show No Weakness®
ABOUT LOGRHYTHM
LogRhythm's award-winning NextGen SIEM Platform makes the world safer by protecting organizations, employees, and customers from the latest cyber threats. It does this by providing a comprehensive platform with the latest security functionality, including security analytics; network detection and response (NDR); user and entity behavior analytics (UEBA); and security orchestration, automation, and response (SOAR). Learn how LogRhythm empowers companies to be security first at logrhythm.com.