Executive Summary
In February 2022, CISA, the Federal Bureau of Investigation (FBI), the U.S. Cyber Command Cyber National Mission Force (CNMF), the United Kingdom's National Cyber Security Centre (NCSC-UK), and the National Security Agency (NSA) released a joint statement regarding their observation of Iranian government-sponsored APT MuddyWater and their malicious cyber activity. MuddyWater is known for cyber espionage, as well as other cybercriminal operations as part of Iran's Ministry of Intelligence and Security.
The threat actors have targeted several government and private sector organizations in the defense, oil and natural gas, local government, and telecommunications industries – focusing on Asia, Africa, Europe, and North America.
MuddyWater conducts broad cyber campaigns, exploiting publicly reported vulnerabilities and using open-source tools and strategies to gain access to their target's systems. Let's take a look at MuddyWater, their tactics, and their techniques, as well as the current state of cyber espionage.
IRANIAN APT "muddywater"
Also, known as MERCURY, Earth Vetala, Static Kitten, Seedworm, and TEMP.Zagros, MuddyWater is an Iranian APT and a subservient element within the Iranian Ministry of Intelligence and Security (MOIS). The group has been active since 2018 and has provided stolen data and access to the Iranian government by exploiting known vulnerabilities and using open-source tools to deploy their ransomware.
In November 2021, Cisco Talos observed a campaign targeting Turkey government entities, including the Scientific and Technological Research Council of Turkey – Tubitak. MuddyWater has three goals when conducting their attacks: cyber espionage, intellectual property theft, and ransomware attacks.
Cyber Espionage – this happens when a threat actor attacks an organization for political reasons. In MuddyWater's case, they support the political dominance of the nation-state in the Middle East, and they are partly motivated by nation-state interests.

Intellectual Property Theft – this is when threat actors rob companies or certain individuals of their inventions, patents, trade secrets, etc. MuddyWater accomplishes this by carrying out aggressive campaigns against government-affiliated institutions such as research companies and universities.

Ransomware Attacks – typically, ransomware attacks happen when a threat actor is seeking a ransom in exchange for a decryption key or stolen data. In MuddyWater's case, they have attempted to deploy ransomware such as Thanos on networks to do two things: Destroy evidence they were in a network or system, and 2. Disrupt operations of private organizations.
muddywater'S Tactics & Techniques – Turkish government
MuddyWater uses several malware variants such as PowGoop, Canopy, Small Sieve, POWERSTATS, and Mori. MuddyWater also uses malicious documents to deploy Remote Access Trojans (RATs) on vulnerable systems. According to Cisco Talos, MuddyWater plants a malicious macro in their documents that, once triggered, drops two WSF files on the endpoint. Additionally, MuddyWater uses DNS to contact the command and control (C2), while original contact with hosting servers is done via HTTP. PowerShell and Visual Basic scripting are used for their initial payload, in addition to LoLBins to assist in the initial stages of infection.
As we previously stated, MuddyWater was seen targeting Turkish government entities in November 2021. Cisco Talos observed that the campaign included malicious Excel documents (also known as XLS maldocs) and executables stored on a file hosting domain named "snapfile[.]org" that's delivered to victims via PDF documents with embedded links.
MuddyWater hosts the maldocs on attacker-controlled or public media-sharing websites which are downloaded by malicious PDFs. The PDFs are distributed via email and are designed to trick targets into downloading and opening them. Research shows that MuddyWater uses malicious PDFs as their entry point for their attacks. Additionally, a set of malicious Excel spreadsheet files were seen distributed with Turkish names, some masquerading as legitimate documents from the Turkish Health and Interior Ministries.
Image 1: Files with Turkish Names

Source: Cisco Talos
MuddyWater's maldocs include malicious VBA macros that are instrumental in the infection chain. This infection chain has three key artifacts on the infected endpoint. According to Cisco Talos, they include:
Registry is key for persistence.

Malicious PowerShell-based downloader script – this is meant to download and execute the next payload on the infected endpoint.

Malicious VB script (an intermediate component that is set up for persistence by creating a malicious Registry Run for the infected user).
muddywater's infection chain
As stated above, the delivery method for MuddyWater's malware is done by distributing malicious PDFs with embedded links. The first stage includes the target trying to open the PDF file, which then displays an error message that asks the target to click on a link to resolve the issue. After clicking the download button, the endpoint receives a second stage which is a Windows executable or a malicious XLS file.
Image 2: Infection Chain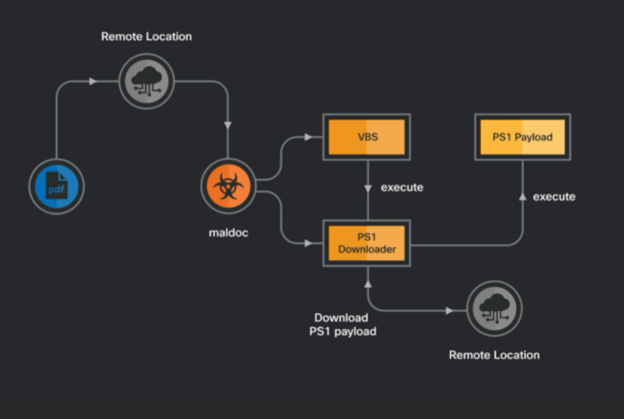 Source: Cisco Talos
Sometimes, MuddyWater uses decoy documents in the executable-based threat vector with content that's similar to the original PDF files disseminating the maldocs and executables. Malicious PowerShell scripts are downloaded and executed once the victim opens the document. In this infection chain, intermediate VBS scripts are replaced with a PowerShell implementation, which creates a directory in the victim's home folder. There are two PowerShell scripts stored in the directory:
Instrumentor script - activates next the next stage from a disk called .CloudCache.conf.

Downloader script – downloads the next stage from a remote location on an endpoint called .CloudDrive.conf.
In August 2021, MuddyWater deployed another version of the executable and targeted Pakistani entities. This version also included a decoy document followed by the use of a PowerShell-based downloader script. The Registry run key is used for persistence. It's unclear if the Turkish attacks in November 2021 were a continuation of Pakistani-related activity.
Image 3: Malicious Document Sent to Pakistan Victims

Source: Cisco Talos
In April 2021, MuddyWater was observed deploying a RAT and the EXE-based infection vector from the Pakistan attack. They were also seen targeting Armenia in June 2021 using the same types of Windows executable files. All of the above campaigns used an implementation of signaling tokens.
Image 4: MuddyWater Campaigns Observed by Talos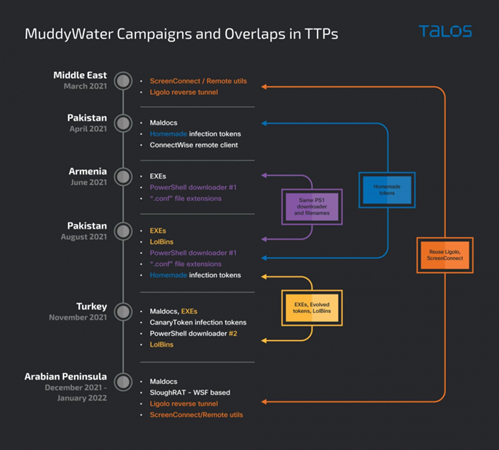 Source: Cisco Talos
is the Iranian APT "muddywater" a single actor?
Because MuddyWater has used a variety of lures and has targeted different geographic regions, cyber analysts are saying that MuddyWater is more than likely a conglomerate of subgroups and not a single threat actor. The sub-groups that Cisco Talos observed appear to operate independently and are motivated by espionage, intellectual theft, and destructive or disruptive operations based on their victims.
The Turkish, Pakistan, and other campaigns researchers observed, involve the same TTPs - which is evidenced by the gradual adoption of various techniques over time within the campaigns. Cisco Talos believes there are links between the various campaigns, including MuddyWater's migration of "techniques from region to region, along with their evolution into more advanced versions."
the state of cyber espionage & nation-state threat actors
Most nation-state threat actors' goal is cyber espionage, which makes them a serious threat to the U.S. and other countries. We previously mentioned that cyber espionage is primarily politically motivated and today's threat landscape is seeing this kind of cyber attack more frequently.
Although it can be difficult for law enforcement to crack down on nation-state threat actors, there has been some success in finding and arresting some groups. In March 2022, Avertium published a report featuring the nation-state threat actor APT40 and their espionage attacks on the maritime, robotics, and biomedical industries. The threat actor has focused their attacks on the U.S., Canada, Europe, the Middle East, and the South China Sea.
In July 2019, four members of the group were charged with attacking governments, universities, and various companies across the globe on behalf of the Chinese government. The four suspects were a part of a much larger operation that set up a company (Hainan Xiandun) as a front for their attack campaigns. According to the Intrusion Truth blog, Hainan Xiandun was under the direction of the Chinese Ministry of State Security (MSS), and an employee, Wu Shurong, worked as a hired hacker for the company. Shurong created malware and used it to compromise computer systems belonging to universities, governments, and companies.
The other three suspects were MSS officers who worked for the Hainan provincial department, their names are Ding Xiaoyang, Cheng Qingmin, and Zhu Yunmin. The U.S. alleged that the MSS has directed Bronze Mohawk's attack campaigns since 2011 – directing them to steal confidential business information for dissemination in China. Bronze Mohawk's attacks were conducted for the sole purpose of leaking sensitive information.
In 2021, President Biden stated that one of his goals was to strengthen the nation's cyber security and bring other countries together to combat cybercrime and improve law enforcement cooperation. President Biden also acknowledged that securing supply chains and maintaining strong cyber security best practices should be continued work. This statement came after the attack on Kaseya – a supply chain ransomware attack conducted by REvil. Although the Kaseya attack was a ransomware supply-chain attack, supply chain attacks and nation-state threat actors are often linked.
In March 2022, the FBI stopped the Russian-state Cyclops Blink botnet from attacking the U.S. Cyclops Blink is a modular malware that infects internet-connected devices via firmware updates – targeting WatchGuard and ASUS devices. Cyclops Blink is controlled by the Russian Federation's Main Intelligence Directorate and has compromised thousands of devices worldwide to date.
At the end of 2021, Security Week published an article stating that cyber espionage will remain a primary motive for nation-state adversaries in 2022.
"Hostile state activity will continue to focus primarily on espionage rather than on disruption and destruction. Several states, notably China, Russia, and Iran, will continue to conduct operations aimed at harvesting bulk data to support subsequent cyber operations and traditional espionage activities." – Security Week
How Avertium is
Protecting Our CUSTOMERS
Threat actors like MuddyWater can gain unlimited access to networks and systems, furthering reconnaissance. Avertium is here to keep your organization safe and to mitigate any attacks caused by APTs like MuddyWater:
Avertium's Recommendations to PROTECT AGAINST Iranian apt "muddywater"
Tabletop Exercises: Have a good cyber incident response plan in place that has been tested with tabletop exercises.

Security Review: Be sure to review the plan and improve it every time it's tested on real cyber threats.

Risk Analysis: Prevent an attack by ensuring your organization has a detailed defense strategy based on a risk analysis approach.

Cybersecurity Education: Educate your employees on cyber security preparedness and the dangers of opening potentially malicious documents. Annual or quarterly training modules can help prevent threat actors from tricking employees into opening malicious email attachments.
MITRE ATT&CK Threat Mapping
[T1548.002] Abuse Elevation Control Mechanism: Bypass User Account Control
MuddyWater bypasses UAC (User Account Control) by using various techniques. They do this to elevate process privileges on a system. The UAC allows a program to elevate privileges, giving MuddyWater the ability to perform a task under administrator-level permissions.
[T1560.001] Archive Collected Data: Archive via Utility
MuddyWater uses the native Windows cabinet creation tool, makecab.exe, to compress stolen data. The threat actor compresses the data before exfiltration via third-party utilities.
[T1509.001] Command and Scripting Interpreter: PowerShell
MuddyWater uses PowerShell commands and scripts for execution. PowerShell is an interactive command-line interface scripting environment found in Windows operating systems.
[T1509.003] Command and Scripting Interpreter: Windows Command Shell
MuddyWater abuses the Windows Command Shell for execution and is the primary command prompt on Windows systems. This can be used to control a system and can be invoked remotely via Remote Services. The threat actor also has a custom tool for creating reverse shells.
[T1555] Credentials from Password Stores
MuddyWater uses LaZagne (an open-source tool uses to cover passwords on a system) and other tools for credential dumping. The threat actor dumps passwords that were saved in their victim's email.
[T1041] Exfiltration Over C2 Channel
MuddyWater receives exfiltrated data through C2 infrastructure. This means that data is stolen by exfiltrating it over an existing command and control channel.
[T1589.002] Gather Victim Identity Information: Email Addresses
MuddyWater gathers their victim's identity information with spear-phishing emails. They have successfully targeted government employees with this method. MuddyWater uses the malicious PDFs as their entry point to their attacks. The PDFs are emailed to their victims.
Indicators of Compromise (IoCs)
Canary Tokens
oy80la8r9iyub22nbhb7wvxrk

kbu1xo0s8ktfxrzsn9iuei3e9

azp6ai8pg5aq0c619ur0qzi6h

o1txrtd8gn7i9rt159k5baoys

smnszrsk7gqjplt0j1idwjrcr

agsbmym5re3whgnd5a8kzntai

60ld4guht70xby71u3io4w43n

lmbvetj0iif8dwjgutckpppq3

kc7snpabrp9z0wp1p1klqgkr9

04p62zz698bdzv2fdbgupdm4j

mpei7e608jb22i90z9x8g0gdu

qut1gl1r6ywzgs1ts922sxtqv

09xzzwe761avzxxmyzi85r7hv

nx4fiakqe1gc02hrnlv8fyis4

b90963gx06jykhz61kv534zcm

bruhtg2dtbzk7j1fsttxga85e

d3g23n4gdcrep20q3wzm153xn

xxe2sm2rddhxfto9gjx25fo9c

gikx04xwvf3uu4af8ekrvfeoj
File Hashes
8d6ed63f2ffa053a683810f5f96c76813cdca2e188f16d549e002b2f63cee001

42aa5a474abc9efd3289833eab9e72a560fee48765b94b605fac469739a515c1

d3ecc4137fc9a6d7418b4780864baf64cf7417d7badf463dff6ea48cd455915b

9991b185c9e9732501e0c2bd841e32a4022f0735a0527150bc8e64ac363d409d

d9de66497ad189d785d7535ab263e92ffad81df20b903c5e1d36859b4ed38b6d

5cdc7dd6162a8c791d50f5b2c5136d7ba3bf417104e6096bd4a2b76ea499a2f4

26ed7e89b3c5058836252e0a8ed9ec6b58f5f82a2e543bc6a97b3fd17ae3e4ec

a8701fd6a5eb45e044f8bf150793f4189473dde46e0af8314652f6bf670c0a34

b726f4dd745891070f2e516d5d4e4f2f1ce0bf3ff685dc3800455383f342e54d

c9931382f844b61a002f83db1ae475953bbab449529be737df1eee8b3065f6eb

fcdd38ff378605c66333429d9df2242fbce25a5f69f4d6d4c11d9613bcb409b0

c13cb1c9277324534075f807a3fcd24d0d3c024197c7437bf65db78f6a987f7a

450302fb71d8e0e30c80f19cfe7fb7801b223754698cac0997eb3a3c8e440a48

b1e30cce6df16d83b82b751edca57aa17795d8d0cdd960ecee7d90832b0ee76c

921b4520b75fcd0071944a483d738223b222ba101e70f2950fbfbc22afbdb5d0

d7de68febbbdb72ff820f6554afb464b5c204c434faa6ffe9b4daf6b691d535f

8b9be9e4d18c5fc71cd12dbfd60ea41eb88a07497e96faa2ba20fdc929b32c0b

7dc49601fa6485c3a2cb1d519794bee004fb7fc0f3b37394a1aef6fceefec0c8

a69fee382cf86f9e457e0688932cbd00671d0d5218f8043f1ee385278ee19c8c

63e404011aeabb964ce63f467be29d678d0576bddb72124d491ab5565e1044cf

6910ddb58aee9a77e7bb9cadef9e6280a9b5b495edf0b6538cf8bdc1db8b1f4c

d851badfcf3b3a8b4210bdb33948d0d1d918ec6bf0f1f85cbae6bb8feec7cd74

aa72f1543d4a4e6ecbfc2da0167f5601c5c692bed73243cf01f616bc4af68afe

8f255a1f2e17828a5b9205d6991e2c85c3320311da28048785262396cbc568c7

cddd5514b7ed3d33ff8eaa16b7b71621ced857755246683e0d28c4650ea744bf

b4d0161ecab5a7847d325c88ce1a4fc2ca2e11fad0b77638b63ae1781c8b5793

f6569039513e261ba9c70640e6eb8f59a0c72471889d3c0eaba51bdebb91d285

28f2198f811bbd09be31ad51bac49ba0be5e46ebf5c617c49305bb7e274b198c

04d6ed9c6d4a37401ad3c586374f169b0aa8d609710bdcf5434d39e0fd4ed9bd

69e3a454c191ee38663112cf5358a54cca1229188087ed18e92bc9c59b014912

dc28b5e878152b5305b8d251019895caa56a7a95a68eccb89a6ecc41da8aadb9
IPs
74.131[.]16

118.167[.]120

118.164[.]165

118.164[.]195

118.164[.]213

202.242[.]84

199.133[.]149

119.170[.]124

118.164[.]165

236.212[.]22

245.81[.]135

141.27[.]211

hxxp://185.118.167[.]120/

hxxp://137.74.131[.]16:443/

hxxp://185.141.27[.]211:443/

hxxp://149.202.242[.]84:443/

hxxp://172.245.81[.]135:10196/Geq5P3aFpaSrK3PZtErNgUsVCfqQ9kZ9/ef4f0d9af47d737076923cfccfe01ba7/layer.jpg

hxxp://172.245.81[.]135:10196/Geq5P3aFpaSrK3PZtErNgUsVCfqQ9kZ9/Pan-op/gallery.jpg

hxxps://snapfile[.]org/d/c7817a35554e88572b7b

hxxps://snapfile[.]org/d/0c88a47c3160338bbb68

hxxp://snapfile[.]org/756a12c43a0fb8d56fbf

hxxps://snapfile[.]org/5bc3985cf17565a97dbd

hxxps://snapfile[.]org/55e1c83e920bb7dc949c

hxxp://canarytokens[.]com/about/d3g23n4gdcrep20q3wzm153xn/index.html

hxxp://canarytokens[.]com/tags/traffic/images/azp6ai8pg5aq0c619ur0qzi6h/

hxxp://canarytokens[.]com/tags/traffic/images/azp6ai8pg5aq0c619ur0qzi6h/post.jsp
Supporting Documentation
Iranian Government-Sponsored Actors Conduct Cyber Operations Against Global Government and Commercial Networks | CISA
Cyber Insights 2022: Nation-States | SecurityWeek.Com
Statement by President Joe Biden on Cybersecurity Awareness Month | The White House
Iranian Government-Sponsored Actors Conduct Cyber Operations Against Global Government and Commercial Networks | CISA
Iranian APT: New Methods to Target Turkey, Arabian Peninsula (bankinfosecurity.com)
Flash Notice: [New Malware] - CISA Warns of Renewed Russian Threat as New Activity is Seen in Ukraine (avertium.com)
FBI Disrupts Cyclops Blink Botnet Used by Russian Intelligence Directorate (hackread.com)
Intellectual Property (IP) Theft Definition & Examples | Awake Security
LaZagne, Software S0349 | MITRE ATT&CK®
MuddyWater targets Middle Eastern and Asian countries in phishing attacks | TechRepublic
U.S. says Iranian 'MuddyWater' cyber actors targeting various sectors worldwide | Reuters
Cisco Talos Intelligence Group - Comprehensive Threat Intelligence: Iranian APT MuddyWater targets Turkish users via malicious PDFs, executables
Biden Directs 'Full Resources' to Respond to Kaseya Ransomware Attack – MeriTalk
"Bronze Mohawk" & Cyber Espionage (avertium.com)
APPENDIX II: Disclaimer
This document and its contents do not constitute, and are not a substitute for, legal advice. The outcome of a Security Risk Assessment should be utilized to ensure that diligent measures are taken to lower the risk of potential weaknesses be exploited to compromise data.

Although the Services and this report may provide data that Client can use in its compliance efforts, Client (not Avertium) is ultimately responsible for assessing and meeting Client's own compliance responsibilities. This report does not constitute a guarantee or assurance of Client's compliance with any law, regulation or standard.
COPYRIGHT: Copyright © Avertium, LLC and/or Avertium Tennessee, Inc. | All rights reserved.
Related Resource:
[Threat Report] An In-Depth Look at Pandora Ransomware