Executive Summary
This month, the Cybersecurity and Infrastructure Agency (CISA) issued a warning about a data extortion group called Karakurt. The threat actor is also known as Karakurt Team and Karakurt Lair, and although most media outlets are reporting the group as "new", Karakurt has actually been active since 2021.
Karakurt has a variety of tactics, techniques, and procedures that make it difficult for defense and mitigation. They also skip the encryption process on compromised machines and files, and go straight for the extraction of data – holding the data until they receive their ransom payment. So far, the group has had victims in North America and Europe, and they have published several press releases or announcements shaming victims who haven't cooperated. Let's take a detailed look at Karakurt and why securing backups may not be enough to stop data extortion groups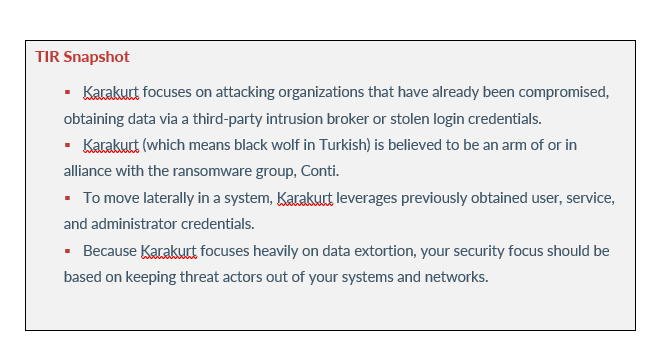 karakurt - Data extortion
As we stated previously, even though Karakurt has been called a new data extortion group, the group has been active since June 2021. In September 2021, Accenture Security observed Karakurt intrusion clusters, as well as multiple sightings within a short timeframe. At that time, Karakurt impacted over 40 victims and was specifically targeting small companies or corporate subsidiaries as opposed to large corporations.
Additionally, Karakurt focuses on attacking organization's that have already been compromised, obtaining data via a third-party intrusion broker or through stolen login credentials. After they obtain the data, they threaten to release it on their website that's only accessible through the dark web. If victims don't comply, they shame them publicly on the site by releasing sensitive data.
In December 2021, Karakurt claimed they had data from 40 victims between September and November of 2021. The names of the victims are not public. Karakurt promises to delete stolen data after payment is made but some victims reported that the threat actors didn't keep their promise.
link to conti
Karakurt (which means black wolf in Turkish) is believed to be an arm of or in alliance with the ransomware group, Conti. If you recall, Avertium's Cyber Threat Intelligence team mentioned Karakurt in a Threat Intelligence Report featuring Black Basta ransomware.
According to our partners, AdvIntel, Conti is currently rebranding as multiple ransomware groups and that the brand, not the organization, is shutting down. On May 19, 2022, Conti's official website went offline, as well as their negotiations service site. Conti's infrastructure (chat rooms, servers, proxy hosts, etc.) went through a massive reset.
The publicity function of Conti's blog is still active, but the operational function of "Conti News" (used to upload new data to force victims to pay) is defunct – including infrastructure related to data uploads, negotiations, and the hosting of stolen data. AdvIntel believes that Conti can no longer support and obtain extortion and that the shutdown was not spontaneous but calculated. May 19, 2022 is Conti's official date of death with their attack on Costa Rica being their final dance.
The attack on Costa Rica, which forced the country to declare a state of emergency, was Conti's way of keeping the illusion that they were still active and diverting everyone's attention, while working on their restructuring. During the diversion tactics, Conti's extension groups such as Karakurt were actively and silently attacking organizations.
Researchers observed that there was some overlap between some of Karakurt's attacks and Conti's attacks. The two groups use some of the same tools for exfiltration and leave behind a file listing of exfiltrated data (file-tree.txt) in their victim's environment. When remotely accessing victims' networks, both groups use the same attacker host name.
Image 1: Conti Compared to Karakurt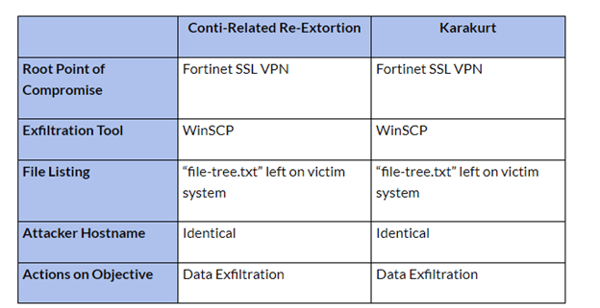 Source: ArcticWolf.com
n addition to using some of the same tools, Karakurt was observed sending large sums of cryptocurrency to Conti wallets. Chainanalysis, a blockchain analysis team, observed Karakurt moving 11.6 Bitcoin ($472,000) into a Conti wallet. They also observed several Karakurt victim payment addresses hosted by wallets that house Conti victim payment addresses.
tactics and techniques
Karakurt's initial access method is primarily via internet-facing systems on virtual private networks (VPN) using legitimate credentials. There isn't enough forensic evidence to determine how they obtain the credentials, but one possibility is through the exploitation of vulnerable VPN devices. All observed cases of those devices included inconsistent or absent use of multi-factor authentication for user accounts.
According to Accenture Security, Karakurt uses credentials, service creation, remote management software, and distribution of C2 beacons via Cobalt Strike to further their foothold and maintain persistence. Recently, the threat actors didn't deploy backup persistence by using Cobalt, but instead used the VPN IP pool or AnyDesk to allow external remote access to compromised devices.
To move laterally in a system, Karakurt leverages previously obtained user, service, and administrator credentials. They also leverage Mimikatz in at least one intrusion set, and leverage PowerShell to dump ntds.dit and exfiltrate it. Karakurt uses these techniques and tools to escalate privileges on an as needed basis.
Karakurt evades defenses by using pre-existing tools and techniques, as well as remote management software. Accenture Security noted that Karakurt avoids using common post-exploitation tools or commodity malware in favor of credential access. The approach allows the threat actor to evade detection and bypass security tools, such as EDR solutions.
If the previously mentioned tools aren't already on their victims' networks, the group downloads common remote management and file transfer utilities to support later exfiltration (AnyDesk, 7zip, etc.). WinZip and 7zip are using for compression, while Rclone or FileZilla (SFTP) is used for staging and final exfiltration to Mega.io cloud storage.
Why Backups Aren't Enough
When it comes to data extortion, backups are still important, but they won't be enough to keep your organization from losing valuable data to Karakurt. As we stated before, Karakurt is bypassing file encryption and is focusing on data exfiltration instead. This means that your security focus should be based on keeping threat actors out of your systems and networks.
Of course, backups are necessary and there will never be a time when they are not needed, but when a data extortion group like Karakurt blackmails your organization by threatening to leak sensitive data, backups mean little to nothing. Focusing on keeping intruders out of your cyber environment in the first place will give you more leverage over data extortion groups. Implementing an intrusion prevention system (IPS) is a cyber security best practice that will help keep your organization safe.
What is an IPS?
An IPS is an intrusion prevention system that offers protection for networks by detecting and preventing threats. The system constantly monitors the network for intrusion prevention mechanisms and also checks for potential malicious events. Once incidents are found, the IPS reports those incidents to system administrators and takes measures to prevent possible attacks. How does an IPS prevent attacks from succeeding? The IPS prevents attacks by using different response strategies including altering the security environment, stopping an attack itself, or altering the content of an attack.
The IPS operates by scanning traffic on a network, avoiding different risks such as:
Risk of viruses

Risk of worms

Risk of DDoS (Distributed Denial of Service) assault

Risk of assault by DoS (Denial of Service)

Risk of diverse types of vulnerabilities
Also, the IPS inspects any packet that passes through a network via real-time packet inspection. If a potential threat is observed, the IPS does one of the following:
Reprograms or reconfigures the firewall to stop a similar attack from happening in the future.

Deletes malicious content or replaces malicious content that persists on networks after an attack.

Terminates abused TCP sessions and blocks the offending source IP address or user account from accessing other network properties or target hosts.
If your organization implements an IPS strategy, there will be several benefits, including:
Your organization will reduce the risk of security incidents.

An IPS provides complex security for threats.

An IPS will notify system administrators immediately when suspicious behavior is observed.

An IPS reduces network maintenance for IT personnel

An IPS prevents threats, like DoS attacks, DDoS attacks, zero-day attacks, and brute-force attacks.


Is Data Extortion a New Trend?
Karakurt is the second data extortion group Avertium has covered in a short span of time. The first data extortion group that made headlines was Lapsus$. Avertium became aware of the data extortion gang Lapsus$ after they breached authentication company, Okta Inc. However, Okta Inc. was not the only organization that became a victim of Lapsus$. In March 2022, Lapsus$ breached Globant and then breached T-Mobile in April 2022, stealing the company's source code. Lapsus$ also breached Microsoft, Samsung, Ubisoft, and Nvidia.
Like Karakurt, Lapsus$ focused heavily on data extortion, gaining initial access to networks by compromising personal or private accounts. This gave them access to look for additional credentials – ultimately giving them access to corporate systems. After gaining access to their targeted network, Lapsus$ exploits unpatched vulnerabilities on internally accessible servers. The threat actors also finds exposed credentials by searching code repositories and collaboration platforms.
Once Lapsus$ obtains the information they need, they threated to leak the information if they aren't paid a ransom. Lapsus$ has made an estimated $14 million in Bitcoin. As you can see, data extortion is not a new idea, but it may become a new trend amongst threat actors. Cutting out file encryption and holding data ransom has more of an impact when trying to extort organizations. Threat actors know that most would be willing to pay if there is a risk of sensitive data being leaked, making backups useless.
How Avertium is
Protecting Our CUSTOMERS
Even with anti-malware solutions installed, Karakurt is a great risk to organizations. Karakurt can go undetected by EDR, making organizations everywhere vulnerable to an attack. However, Avertium has advanced services that can help keep your organization safe:
Avertium's Recommendations
Implement MFA where possible to authenticate corporate accounts, with admin accounts being cross platformed and MFA enforced.



Have a robust crisis management and incidence response plan in place.



All internet-facing security and remote access appliances should be updated.



Don't store unprotected credentials in files and scripts on shared locations.



Using EDR across your cyber environment is a must (target at least 90% coverage of endpoints and workload visibility).



Admin accounts should only be used for administrative purposes and should never be connected to the network or to browse the internet.



Implement cyber security best practices against malware, such as patching, updating anti-virus software, whitelisting where feasible, and maintaining strict network egress policies.



Disable RDP on external-facing devices.



Maintain a robust and routine user-awareness training regimen for users of all systems.



Threat actors exploit older systems with existing vulnerabilities. Organizations should patch infrastructure to the highest available level.



Having a strong corporate password policy (that includes industry standards for password length and complexity) will help keep your organization safe.



When hunting for threat actor TTPs, include common "living off the land" techniques to proactively detect and respond to a cyber attack.
MITRE Map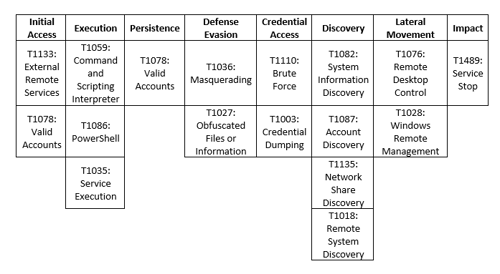 Indicators of Compromise (IoCs)
Mark[.]hubert1986[@]gmail[.]com

Karakurtlair[@]gmail[.]com

Personal[.]information[.]reveal[@]gmail[.]com

ripidelfun1986[@]protonmail[.]com

armada[.]mitchell94[@]protonmail[.]com

gapreappballye1979[@]protonmail[.]com

confedicial[.]datas[.]download[@]protonmail[.]com

hxxps://omx5iqrdbsoitf3q4xexrqw5r5tfw7vp3vl3li3lfo7saabxazshnead[.]onion

Rclone[.]exe

AnyDesk[.]exe

3e625e20d7f00b6d5121bb0a71cfa61f92d658bcd61af2cf5397e0ae28f4ba56

Msuxxx[.]dll

c33129a680e907e5f49bcbab4227c0b02e191770

030394b7a2642fe962a7705dcc832d2c08d006f5

0E50B289C99A35F4AD884B6A3FFB76DE4B6EBC14

3[.]bat

C[.]bat

Filter[.]txt

Rclone[.]conf

Dllhosts[.]exe

Msxsl[.]exe

8B516E7BE14172E49085C4234C9A53C6EB490A45

fdb92fac37232790839163a3cae5f37372db7235

7E654C02E75EC78E8307DBDF95E15529AAAB5DFF

4D7F4BB3A23EAB33A3A28473292D44C5965DDC95

10326C2B20D278080AA0CA563FC3E454A85BB32F

86366bb7646dcd1a02700ed4be4272cbff5887af

563BC09180FD4BB601380659E922C3F7198306E0CAEBE99CD1D88CD2C3FD5C1B

5E2B2EBF3D57EE58CADA875B8FBCE536EDCBBF59ACC439081635C88789C67ACA

712733C12EA3B6B7A1BCC032CC02FD7EC9160F5129D9034BF9248B27EC057BD2

bc1qfp3ym02dx7m94td4rdaxy08cwyhdamefwqk9hp

bc1qw77uss7stz7y7kkzz7qz9gt7xk7tfet8k30xax

bc1q8ff3lrudpdkuvm3ehq6e27nczm393q9f4ydlgt

bc1qenjstexazw07gugftfz76gh9r4zkhhvc9eeh47

bc1qxfqe0l04cy4qgjx55j4qkkm937yh8sutwhlp4c

bc1qrtq27tn34pvxaxje4j33g3qzgte0hkwshtq7sq

bc1q25km8usscsra6w2falmtt7wxyga8tnwd5s870g

bc1qta70dm5clfcxp4deqycxjf8l3h4uymzg7g6hn5

bc1qrkcjtdjccpy8t4hcna0v9asyktwyg2fgdmc9al

bc1q3xgr4z53cdaeyn03luhen24xu556y5spvyspt8

bc1q6s0k4l8q9wf3p9wrywf92czrxaf9uvscyqp0fu

bc1qj7aksdmgrnvf4hwjcm5336wg8pcmpegvhzfmhw

bc1qq427hlxpl7agmvffteflrnasxpu7wznjsu02nc

bc1qz9a0nyrqstqdlr64qu8jat03jx5smxfultwpm0

bc1qq9ryhutrprmehapvksmefcr97z2sk3kdycpqtr

bc1qa5v6amyey48dely2zq0g5c6se2keffvnjqm8ms

bc1qx9eu6k3yhtve9n6jtnagza8l2509y7uudwe9f6

bc1qtm6gs5p4nr0y5vugc93wr0vqf2a0q3sjyxw03w

bc1qqp73up3xff6jz267n7vm22kd4p952y0mhcd9c8
SUPPORTING DOCUMENTATION
The Karakurt Web: Threat Intel and Blockchain Analysis Reveals Extension of Conti Business Model (arcticwolf.com)
An In-Depth Look at Black Basta Ransomware (avertium.com)
Karakurt Rises from Its Lair | Accenture
RH-ISAC | Joint Federal Advisory on Karakurt Data Extortion Group Technical Details - RH-ISAC (rhisac.org)
Why backups aren't enough in the fight against ransomware | Kaspersky official blog
A Guide To Intrusion Prevention System In 6 Simple Points (jigsawacademy.com)
An In-Depth Look at Data Extortion Group, Lapsus$ (avertium.com)
Feds warn consumers against paying Karakurt hacker ransoms - Top Class Actions
Karakurt Extortion Group Connected to Conti Ransomware? (secureworld.io)
Karakurt Team hits North America and Europe with data theft and extortion (techrepublic.com)
Karakurt Data Extortion Group | CISA
CISA Warns of Karakurt Extortion Group | Decipher (duo.com)
APPENDIX II: Disclaimer
This document and its contents do not constitute, and are not a substitute for, legal advice. The outcome of a Security Risk Assessment should be utilized to ensure that diligent measures are taken to lower the risk of potential weaknesses be exploited to compromise data.

Although the Services and this report may provide data that Client can use in its compliance efforts, Client (not Avertium) is ultimately responsible for assessing and meeting Client's own compliance responsibilities. This report does not constitute a guarantee or assurance of Client's compliance with any law, regulation or standard.
COPYRIGHT: Copyright © Avertium, LLC and/or Avertium Tennessee, Inc. | All rights reserved.
Related Resource:
An In-Depth Look at Black Basta Ransomware