Executive Summary
Recently, there has been an uptick in activity from Iranian APTs and threat groups. In February 2022, CISA, the Federal Bureau of Investigation (FBI), the U.S. Cyber Command Cyber National Mission Force' (CNMF), the United Kingdom's National Cyber Security Centre (NCSC-UK), and the National Security Agency (NSA) released a joint statement regarding their observation of Iranian government-sponsored APT MuddyWater – an Iranian APT observed targeting the defense, oil and natural gas, local government, and telecommunications industries.
By August 2022, another Iranian APT named APT35 was seen using a data extraction tool called Hyperscrape to steal data from well-known email providers (Yahoo!, Google, etc.). The APT was seen attacking a wide range of targets, using a new strain of malware. Now, researchers have observed more Iranian threat actors and APTs scanning for and exploiting well known vulnerabilities.
CISA and the FBI recently warned that Iranian threat actors have been consistently improving their offensive cyber capabilities and their attacks are intended to cause physical consequences. Let's take a look at Iranian APT activity, recent attacks, as well as tactics and techniques.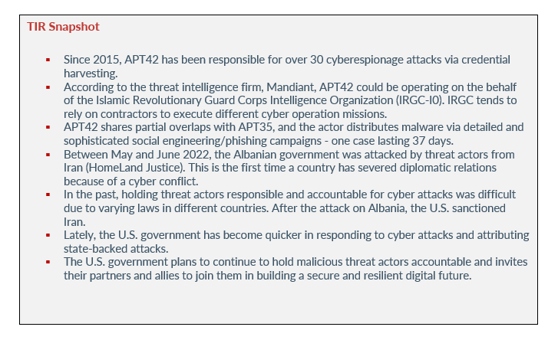 iranian apts - apt42 & homeland justice
Since 2015, APT42 has been responsible for over 30 cyberespionage attacks via credential harvesting. The threat actor has specifically targeted Australia, Europe, the Middle East, and the U.S. APT42 is known for deploying highly targeted spear phishing and surveillance operations in at least 14 countries.
According to the threat intelligence firm, Mandiant, APT42 could be operating on the behalf of the Islamic Revolutionary Guard Corps Intelligence Organization (IRGC-I0). IRGC tends to rely on contractors to execute different cyber operation missions.
Also, the threat actor has targeted corporate and personal email accounts to harvest credentials and infect Android devices with spyware. Parties within the U.S., Europe, Australia, and the Middle East have been targeted by APT42. Mandiant stated that APT42's operations appear to be focused on organizations and people of interest to the Iranian government for foreign policy, domestic politics, and regime stability purposes.
Additionally, APT42 shares partial overlaps with APT35. Mandiant's report on APT42 stated that that they can conclude with moderate confidence that the group operates on the behalf of the IRGC but originates from different missions based on their different targeting patterns, tactics, techniques, and procedures. The differences being the following:
APT 42 – Operations put more focus on organizations and people related to the Iranian government.

APT35 – Operations put more focus on long-term intensive operations targeting the Middle Eastern and U.S. military, government, media, energy, defense industrial bases, engineering, telecommunications, and business services.
Both APT42 and APT35 have used MAGICDROP (used to decrypt files from its .data section and writes them to the system's Temp directory) and BROKEYOLK malware (a .NET downloader, which downloads and executes malicious software or malware from the hardcoded address of an adversaries' C2 server), but the groups don't share similarities regarding C2 infrastructure or how the groups use the malware.
It is also important to note that both APT42 and APT35 have links to a threat cluster tracked as UNC2448 by Mandiant. Additionally, Microsoft and Secureworks disclosed APT42 as a Phosphorus subgroup deploying ransomware attacks for financial gain via BitLocker.
HomeLand Justice
Between May and June 2022, the Albanian government was attacked by threat actors from Iran. The attack was in response to an upcoming conference in Albania being hosted by the Iranian opposition group Mojahedin-e Khalqs. After the attacks, Albania had to shut down online access to several government services. The threat actors deployed ransomware onto the networks of the Albanian government – leaving an anti-Mujahideen message on all desktops.
Also, it was suspected that the attacks included an unknown backdoor called ChimneySweep and a ransomware tool called RoadSweep. Researchers at Mandiant discovered that on the day after the Albanian attacks, ZeroClear malware was uploaded to a public malware registry. This malware has previously been linked to Iranian hackers. At the time, researchers did not link these attacks to a particular threat group.
However, in June 2022, HomeLand Justice created a website and several social media profiles with anti-MEK messages. By July 2022, HomeLand Justice took responsibility for the cyber attacks on the Albanian government infrastructure. The attack destroyed sensitive government data and disrupted government services to the public. HomeLand Justice even posted videos of the attack on their website. Also, via social media, HomeLand Justice advertised Albanian government information for release in a .zip file or in a video of a screen recording of confidential documents. The advertisements continued into August 2022.
In September 2022, the Albanian government became the victim of, yet another cyber attack launched by Iranian threat actors – using similar tactics, techniques, and malware. These attacks were likely in response to severed diplomatic ties between Albania and Iran, and Albania asking all Iranian diplomats and embassy staff to leave the country after July's cyber attack. This is the first time a country has severed diplomatic relations because of a cyber conflict.
As a result of the attacks, the U.S. imposed sanctions on Iran's Ministry of Intelligence and its minister for allegedly engaging in other cyber activities against the U.S. and its allies (Albania).
"Iran's cyber attack against Albania disregards norms of responsible peacetime State behavior in cyberspace, which includes a norm on refraining from damaging critical infrastructure that provides services to the public," said Under Secretary of the Treasury for Terrorism and Financial Intelligence Brian E. Nelson. "We will not tolerate Iran's increasingly aggressive cyber activities targeting the United States or our allies and partners." - Brian E. Nelson – Under Secretary of the Treasury for Terrorism and Financial Intelligence (Treasury.gov)
apt42 tactics & techniques
Their main goal is to harvest credentials from email accounts, track Iranian government dissidents, and steal documents and research related to Iran. APT42's activity primarily focuses on the Middle East; however, they have targeted journalists, government officials that oppose the IRGC, and Western think tanks.
Targeting high-priority victims inside and outside of Iran, APT42 is a threat to foreign policy officials. The group's surveillance activity includes the surveillance of Iranian dual-nationals, dissidents inside Iran and those who fled Iran for their safety, as well as prior government officials. APT42's credential harvesting campaigns include detailed social engineering, with one case lasting 37 days. The threat actor masqueraded as a well-known journalist from a large U.S. media company and requested an interview from their target. The APT engaged the target for 37 days before directing them to a phishing landing page.
In addition to sophisticated social engineering tactics, APT42 collects multi-factor authentication (MFA) codes to bypass authentication. In May 2017, the group targeted an Iranian opposition group that operated out of Europe and North America. They sent the group's senior leadership spear-phishing emails that mimicked legitimate Google correspondence. The correspondence contained links to fake Google Books pages, which directed the victims to sign-in pages. The sign-in pages attempted to steal the victim's credentials and MFA authentication codes.
Another way APT42 exploits their targets is by information theft, such as keylogging and cookie stealing. Avertium's Cyber Threat Intelligence Team (CTI) was able to analyze two malware samples, Dostealer (aka winrarcontainer) and SilentUploader (a DLL). Dostealer is primarily used for credential theft in information stealing. Reverse engineering of the executable reveals several of the built-in functions of the malware, including:
Keylogger

Screen Shots

Cookie stealing (for several popular browsers)
Image 1: DoStealer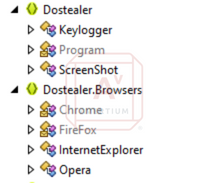 According to the CTI team, the cooker stealer functions rely on a splite DLL, which is dropped by the executable to ensure functionality. Below, you will find the malware checking to see if the sqlite3.dll file exists and writing if it does not.
Image 2: Checking for splite3.dll

Below, you'll find another code block that checks for and writes silentuploader, then sleeps to bypass antivirus detection before executing.
Image 3: Bypassing Antivirus Detection

APT42 also has custom backdoors and tools which include publicly available code copied directly from GitHub project. This likely means that the group may have limited in-house resources for developing malware. Some of the malware families utilized include the custom reconnaissance tool PowerPost and the PowerShell backdoor TameCat, as well as the VBA-based dropper TabbyCat. APT42 delivers the malware through malicious documents attached to spear-phishing emails. The Android malware used by APT42 is designed to monitor communications of victims and track their locations.
Image 4: Code for Keylogger Function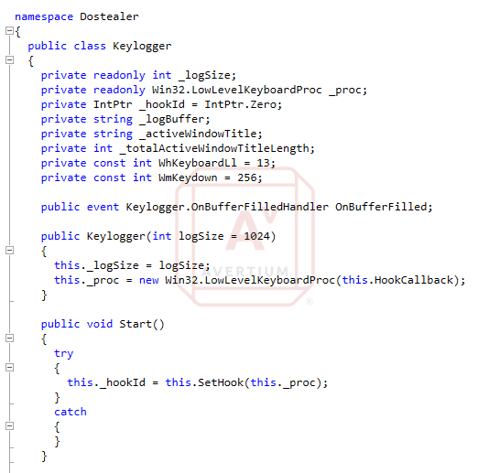 what this means for the u.s.
In the past, holding threat actors responsible and accountable for cyber attacks was difficult due to varying laws in different countries. In previous years, threat actors freely wreaked havoc on critical infrastructure in various countries, including the U.S. In December 2020, we saw the attack on SolarWinds – a widely used IT management software application leveraged by the U.S. government and by the security industry. Next, we witnessed DarkSide's cyber attack on Colonial Pipeline, followed by REvil's attack on Kaseya.
As a result of these devastating attacks, President Biden stated that one of his goals for 2021 was to strengthen the nation's cyber security and bring other countries together to combat cybercrime and improve law enforcement cooperation. An Executive Order was administered to tackle cybersecurity challenges facing the U.S. Therefore, it is not shocking that the U.S. has decided to sanction Iran for attacking an ally (Albania).
The sanctions that the U.S. has imposed upon Iran include freezing the assets of the targeted individuals and entities in the U.S., thus making it illegal for American citizens to do business with Iran. Nevertheless, Iran has rejected the sanctions and believes that they are politically motivated.
"Like previous illegal US sanctions against the Ministry of Intelligence, this new label will never be able to create the slightest hinder in the determination of the Iranian people's security servicemen in this proud institution," – Nasser Kanaani (Iran's Foreign Ministry spokesperson)
After Albania was attacked in July 2022, the U.S. government spent time working alongside private sector partners to help Albania mitigate and recover from the attack. Lately, the U.S. government has become quicker in responding to cyber attacks and attributing state-backed attacks.
In May 2022, the U.S. government was able to attribute a cyber attack on the satellite communications provider, Viasat, to the Russian government. In the summer of 2021, they were able to attribute Microsoft Exchange server attacks to Beijing in just three months. In 2017, it took the U.S. government a lengthy eight months to pin the malware to a specific threat actor.
"Iran's conduct disregards norms of responsible peacetime State behavior in cyberspace, which includes a norm on refraining from damaging critical infrastructure that provides services to the public. Albania views impacted government networks as critical infrastructure. Malicious cyber activity by a State that intentionally damages critical infrastructure or otherwise impairs its use and operation to provide services to the public can have cascading domestic, regional, and global effects; pose an elevated risk of harm to the population; and may lead to escalation and conflict." – The White House
The U.S. government plans to continue to hold malicious threat actors accountable and invites their partners and allies to join them in building a secure and resilient digital future. For every action, there is a reaction and cyber security professionals can only hope that Iranian state-backed actors won't retaliate due to the new sanctions.
How Avertium is
Protecting Our CUSTOMERS
Threat actors like APT42 and HomeLand Justice can gain unlimited access to networks and systems, furthering reconnaissance. Avertium is here to keep your organization safe and to mitigate any attacks caused by bad actors:
avertium's recommendations
General Recommendations
Tabletop Exercises: Have a good cyber incident response plan in place that has been tested with tabletop exercises.



Security Review: Be sure to review the plan and improve it every time it's tested on real cyber threats.



Risk Analysis: Prevent an attack by ensuring your organization has a detailed defense strategy based on a risk analysis approach.



Cybersecurity Education: Educate your employees on cyber security preparedness and the dangers of opening potentially malicious documents. Annual or quarterly training modules can help prevent threat actors from tricking employees into opening malicious email attachments.
Avertium & CISA Recommend the following when dealing with threat actors like HomeLand Justice:
Ensure anti-virus and anti-malware software is enabled and signature definitions are updated regularly and in a timely manner. Well-maintained anti-virus software may prevent use of commonly deployed cyber attacker tools that are delivered via spear-phishing.



Adopt threat reputation services at the network device, operating system, application, and email service levels. Reputation services can be used to detect or prevent low-reputation email addresses, files, URLs, and IP addresses used in spear-phishing attacks.



If your organization is employing certain types of software and appliances vulnerable to known Common Vulnerabilities and Exposures (CVEs), ensure those vulnerabilities are patched. Prioritize patching known exploited vulnerabilities.



Monitor for unusually large amounts of data (i.e. several GB) being transferred from a Microsoft Exchange server.



Check the host-based indications, including webshells, for positive hits within your environment.



Maintain and test an incident response plan.



Ensure your organization has a vulnerability management program in place and that it prioritizes patch management and vulnerability scanning of known exploited vulnerabilities. Note: CISA's Cyber Hygiene Services (CyHy) are free to all state, local, tribal, and territorial (SLTT) organizations, as well as public and private sector critical infrastructure organizations.



Properly configure and secure internet-facing network devices.

Do not expose management interfaces to the internet.

Disable unused or unnecessary network ports and protocols.

Disable/remove unused network services and devices.



Adopt zero-trust principles and architecture, including:

Micro-segmenting networks and functions to limit or block lateral movements.

Enforcing phishing-resistant multifactor authentication (MFA) for all users and VPN connections.

Restricting access to trusted devices and users on the networks.
MITRE Map
APT42

HomeLand Justice

Indicators of Compromise (IoCs)
HomeLand Justice
File Hashes
f116acc6508843f59e59fb5a8d643370dce82f492a217764521f46a856cc4cb5

e1204ebbd8f15dbf5f2e41dddc5337e3182fc4daf75b05acc948b8b965480ca0

bad65769c0b416bb16a82b5be11f1d4788239f8b2ba77ae57948b53a69e230a6

bb45d8ffe245c361c04cca44d0df6e6bd7596cabd70070ffe0d9f519e3b620ea

e67c7dbd51ba94ac4549cc9bcaabb97276e55aa20be9fae909f947b5b7691e6b

ac4809764857a44b269b549f82d8d04c1294c420baa6b53e2f6b6cb4a3f7e9bd

d1bec48c2a6a014d3708d210d48b68c545ac086f103016a20e862ac4a189279e

d145058398705d8e20468332162964dce5d9e2ad419f03b61adf64c7e6d26de5

1c926d4bf1a99b59391649f56abf9cd59548f5fcf6a0d923188e7e3cab1c95d0

fb49dce92f9a028a1da3045f705a574f3c1997fe947e2c69699b17f07e5a552b

45bf0057b3121c6e444b316afafdd802d16083282d1cbfde3cdbf2a9d0915ace

dfd631e4d1f94f7573861cf438f5a33fe8633238d8d51759d88658e4fbac160a

734b4c06a283982c6c3d2952df53e0b21e55f3805e55a6ace8379119d7ec1b1d

f8db380cc495e98c38a9fb505acba6574cbb18cfe5d7a2bb6807ad1633bf2df8

0b647d07bba697644e8a00cdcc8668bb83da656f3dee10c852eb11effe414a7e

7AD64B64E0A4E510BE42BA631868BBDA8779139DC0DAAD9395AB048306CC83C5

CAD2BC224108142B5AA19D787C19DF236B0D12C779273D05F9B0298A63DC1FE5

f116acc6508843f59e59fb5a8d643370dce82f492a217764521f46a856cc4cb5

63dd02c371e84323c4fd9a161a75e0f525423219e8a6ec1b95dd9eda182af2c9

7ad64b64e0a4e510be42ba631868bbda8779139dc0daad9395ab048306cc83c5

3c9dc8ada56adf9cebfc501a2d3946680dcb0534a137e2e27a7fcb5994cd9de6

45bf0057b3121c6e444b316afafdd802d16083282d1cbfde3cdbf2a9d0915ace
IP Addresses
144[.]76[.]6[.]34

148[.]251[.]232[.]252

148[.]251[.]233[.]231

176[.]9[.]18[.]143

185[.]82[.]72[.]111

216[.]24[.]219[.]65

216[.]24[.]219[.]64

46[.]30[.]189[.]66
APT42
File Hashes
00b5d45433391146ce98cd70a91bef08

04a6997f0a8021b773ebb49977bc625f

0a3f454f94ef0f723ac6a4ad3f5bdf01

335849d8fb13a4a189ba92af9bdf5d1d

34d37f64613f3fe00086ac8d5972db89

3c6302fb6bdb953e2073a54b928fad9c

3d67ce57aab4f7f917cf87c724ed7dab

60e6523d29e8a9b83f4503f2e7fd7e1d

63cd07e805bcd4135a8e3a29fa3ceebd

651d72776c0394693c25b1e3c9ec55d0

88df70a0e21fb48e0f881fb91a2eaade

8a847b0f466b3174741aac734989aa73

8e0eb3ceb1bbe736beaf64353dda1908

96444ed552ea5588dffca6a5a05298e9

9a1e09b7ce904eefb83dc8d7571826f9

9bd1caf6b79f6a69981a15d649a04c19

9d0e761f3803889dc83c180901dc7b22

9dd30569aaf57d6115e1d181b78df6b5

a04c2c3388da643ef67504ef8c6907fb

ae797446710e375f0fc9a33432d64256

afb5760c05db35a34c5dc41108ba72c2

b7bc6a853f160df2cc64371467ed866d

bdf188b3d0939ec837987b4936b19570

d30abec551b0fb512dc2c327eeca3c43

da7d37bfb899a0094995944d4c5e2f21

df02a8a7cb2afb80cc2b789d96f02715

f3d25b1cedf39beee751eb9b2d8d2376

03d7ffd758e98c9a2c8c4716c93f09687000e22e

03eadb4ab93a1a0232cb40b7d2ef179a1cd0174d

08270b049ae33f0bcd1d207ed77f999d51a09d94

08d2aea84d6c148ff2ad4653856fb080eb99abf2

1504da49f6fe8638c7e39d4bcb547fbb15376462

186f07279ac0f15cc7be5caf68addabb2091bc84

2374f5a9278b209563e8193847a76c25c12eec8f

280b64c0156f101eaad3f31dbe91f0c1137627dc

29175a0015909186f69f827630ef3fe2c1c5302c

3b9a2e34f5d603b55cf7fd223d4e5c784b805242

448e6d519a340845a55b4b1809488427c0d79cdd

470b850363677d3d54629a92ac8b5143f4584a09

6303907ec7d1d591efffe876720a0ab051bfd429

66d36d0b170cf1a0001cca16357961a2f28cba60

75b7db0597f234838e7c8431b57870411842775d

7649c554e87f6ea21ba86bb26ea39521d5d18151

8f2bc0d6adfb4cad43fdda9f3d732c859eb79e35

9624d9613fe8cdc6833888b9e68892565e3a5d11

aba938bf8dc5445df3d5b77a42db4d6643db4383

b66ae149bbdfc7ec6875f59ec9f4a5ae1756f8ba

c760adecea4dbb4dd262cb3f3848f993d5007b2e

d08982960d71a101b87b1896fd841433b66c7262

dbb64b0202bb4da6796279b5fa88262a6e31787e

e3712e3d818e63060e30aec2a6db3598cbf0db92

e45aeccb798f5cf6cb5d877821d1f4aa7f55cf6f

e8f50ecea1a986b4f8b00836f7f00968a6ecba4f

ecf9b7283fda023fa37ad7fdb15be4eadded4e06

003676e6240421426e5c0919eb40bdde52b383eb1c54596deb77218c3885cdc5

110c77f66a8d4d8ccc9dc468744302cf368efd071e3e4af39338b699f6bc7808

21c5661eb5e54d537c6c9394d7bd4accf53e06851978a36c94b649c4f404a42e

28de2ccff30a4f198670b66b6f9a0ce5f5f9b7f889c2f5e6a4e365dea1c89d53

2c33b1dd793ad5e59180719d078301ee7ebb6cf7465286c19b042accca6ac749

2c92da2721466bfbdaff7fedd9f3e8334b688a88ee54d7cab491e1a9df41258f

3cad59c65ee1e261658c2489dc45a7c6875d8ccb917d291d282e48bca1b74752

4bcc2ad5b577954a6bd23aff16566ce0784a71f9526a5ae849347ae766f4033f

5d3ff202f20af915863eee45916412a271bae1ea3a0e20988309c16723ce4da5

5ee98a677f58b897df3287448e63a1a781d312d2a951f438e1d7e4ab658fa4a0

6618051ea0c45d667c9d9594d676bc1f4adadd8cb30e0138489fee05ce91a9cb

734d9639fcfffef1a3c360269ccc1cda4f1d0e9dc857fa438f945e807b022c21

7a650d3b1e511a05d0441484c7c7df59a63003ce77cd4eb7081323fd79d2b9a3

7eb564f0afc23cc8186e67f8c0d7e6c80215b75c9f0c4b35f558a9e35743ca41

90e5fa3f382c5b15a85484c17c15338a6c8dbc2b0ca4fb73c521892bd853f226

9410963ede9702e7b74b4057fee952250ded09f85a4bb477d45a64f2352ec811

971c5b5396ee37827635badea90d26d395b08d17cbe9e8027dc87b120f8bc0a2

9f2bc9aebb3ee87cfbdef1716b5f67834db305cf400b41b278d5458800c5eeeb

a37a290863fe29b9812e819e4c5b047c44e7a7d7c40e33da6f5662e1957862ab
Supporting Documentation
PowerPoint Presentation (hivepro.com)
U.S. imposes sanctions on Iran over cyber activities, cyberattack on Albania | Reuters
Microsoft investigates Iranian attacks against the Albanian government - Microsoft Security Blog
Iranian APT Targets Email Credentials in Espionage Attacks | Decipher (duo.com)
Researchers Reveal New Iranian Threat Group APT42 - Infosecurity Magazine (infosecurity-magazine.com)
APT42 supported by Iranian terrorist group, report finds | SC Media (scmagazine.com)
Hackers deploy new ransomware tool in attacks on Albanian government websites - CyberScoop
CISA Alert AA22-264A - Iranian HomeLand Justice APT Group's TTPs (picussecurity.com)
Iranian APT42 Launched Over 30 Espionage Attacks Against Activists and Dissidents (thehackernews.com)
Iran Cyber Threat Overview and Advisories | CISA
Albania says Iranian hackers hit the country with another cyberattack - CyberScoop
Emerging Cyber Threats of September 2022 (picussecurity.com)
Treasury Sanctions Iranian Ministry of Intelligence and Minister for Malign Cyber Activities | U.S. Department of the Treasury
Evolving trends in Iranian threat actor activity – MSTIC presentation at CyberWarCon 2021 - Microsoft Security Blog
APT42 IOCs - AlienVault - Open Threat Exchange
Iranian APT Targets Email Credentials in Espionage Attacks | Decipher (duo.com)
Likely Iranian Threat Actor Conducts Politically Motivated Disruptive Activity Against Albanian Government Organizations | Mandiant
Iranian State Actors Conduct Cyber Operations Against the Government of Albania | CISA
USA imposes sanctions on Iran over Albania cyber attack | E&T Magazine (theiet.org)
Why Albania's cyberattacks matter to the U.S. (axios.com)
Statement by NSC Spokesperson Adrienne Watson on Iran's Cyberattack against Albania - The White House
APPENDIX II: Disclaimer
This document and its contents do not constitute, and are not a substitute for, legal advice. The outcome of a Security Risk Assessment should be utilized to ensure that diligent measures are taken to lower the risk of potential weaknesses be exploited to compromise data.

Although the Services and this report may provide data that Client can use in its compliance efforts, Client (not Avertium) is ultimately responsible for assessing and meeting Client's own compliance responsibilities. This report does not constitute a guarantee or assurance of Client's compliance with any law, regulation or standard.
COPYRIGHT: Copyright © Avertium, LLC and/or Avertium Tennessee, Inc. | All rights reserved.
Related Resource:
An In-Depth Look at APT35 aka Charming Kitten