Executive Summary
In previous years, cyber security threats centered around industries such as healthcare, retail, finance, and energy. Manufacturing was rarely included in the conversation, simply because there was a lack of understanding and communication within the industry. The manufacturing industry is different from other industries who have a direct connection with the outside world. Before technology evolved, manufacturing companies were only connected within a network of a single organization with limited internet – making it difficult to connect with organizations or people in general. Organizations within the medical and financial industries don't have the same barrier due to their public-facing nature. Additionally, the manufacturing companies didn't believe they were appealing to threat actors – they merely didn't believe they had much to offer.
However, technology has evolved, and the archaic ways of communicating within the manufacturing industry are obsolete. When communication channels change, so does the cyber threat landscape. Now that the manufacturing industry has no choice but to utilize internet connectivity in a variety of ways, they are faced with the harsh reality that they were unprepared to handle the security challenges that come with having so many vulnerable endpoints.
Also, the idea that the manufacturing industry didn't have much to offer threat actors is not true. In fact, companies within the industry have a vast amount of information that attackers are just waiting to use as extortion. Companies like Nissan and Norsk Hydro learned the hard way that the industry is not exempt from cyber attacks. Let's take a look at the top 5 cyber threats within manufacturing and how you can help prevent your organization from becoming another victim.
phishing
Although various industries fall victim to phishing attacks, phishing attacks within the manufacturing industry are very common and it's one of the industries that receives the most phishing attacks per year. Since 2020, threat actors have exploited several vulnerabilities for financial gain, and they have even exploited vulnerabilities for brand impersonation purposes.
Phishing attacks involve a target opening a malicious email attachment or spoofed website. The attachments and websites compromise the target's browser settings and use whatever data is available for financial gain. The main way the manufacturing industry falls victim to phishing attacks is through web-based malware downloads that contain trojans or other malicious content. Vulnerabilities are discovered on systems via the malware and the information is transferred to the attacker. The data that's collected by the threat actor is used to demand ransom or it's sold on the dark web.
Why is the manufacturing industry especially vulnerable to phishing attacks? There are several reasons.
Legacy Equipment – The manufacturing industry is known for using devices that are outdated or devices that were designed to maximize security. In order to compromise legacy equipment, attackers would not need to do much work.
Different IT Infrastructure - Different sets of technologies are used for manufacturing units that are in separate locations. Each kind of technology may have different hardware and software – causing security frameworks to become fragmented. This means that a single security framework will not work for all the systems.

Industrial Espionage

– If a manufacturer has government contracts, they are a prime target for threat actors who are motivated by cyber espionage. They know that there are certain sectors that will be greatly compromised if they can attack the suppliers and clients related to a particular industry.
Sizeable Financial Gain – As we mentioned earlier, the manufacturing industry used to believe that they didn't have much to offer attackers. However, that is not true. The manufacturing industry is vast and has a copious amount of sensitive data that can be used for financial gain (credit card information, bank details, data related to financial institutions, and social security numbers). Such data can be sold or used to compromise other networks for ransom.
Lack of Centralized Visibility - Not having one single platform to view data flow is a great entry point for a threat actor. There are many hidden loopholes and complexities within the fragmented framework that attackers can exploit.
Less Secure Encryption Techniques – Because the manufacturing industry primarily focuses on production and distribution, they are sometimes oblivious to cyber security issues. Threat actors know that the industry's focus isn't on them, so they take advantage of the sector's lack of complex encryption techniques and ignorance regarding phishing.


In 2018, Kaspersky Lab reported that more than 400 manufacturing companies became phishing targets. At the time, there was a phishing campaign geared toward stealing money from corporate accounts. The attackers used a variety of tools and standard phishing techniques to distribute harmful software via emails disguised as commercial offers. The threat actors also used legitimate software (TeamViewer or Remote Manipulator System) to orchestrate their attacks. The programs helped the threat actors gain access to devices, scan for information on current purchases and financial software. Additional tools were used to get higher-level permissions and steal data.
Kaspersky Lab observed that in some cases, the threat actors sent out malicious email attachments, but in others they sent their victim's links to sites. In both instances, the emails persuaded the target to download the tools used by the threat actors on his or her own initiative. The report acknowledged that using modern technology and educating staff about phishing exploits have kept organizations safe.
ransomware
In 2021, the manufacturing industry endured the brunt of cyber attacks in general. IBM published a report (X-Force Threat Intelligence Index) in 2021 and unveiled how ransomware and other vulnerabilities affected supply chains, with manufacturing being the most targeted industry. In the past, the financial services and insurance industry experienced the most ransomware attacks, but in 2021 manufacturing dethroned those industries and has become the most attacked industry via ransomware.
"For the first time in five years, manufacturing outpaced finance and insurance in the number of cyberattacks levied against these industries, extending global supply chain woes. Manufacturers have a low tolerance for downtime, and ransomware actors are capitalizing on operational stressors exacerbated by the pandemic. " IBM
Attackers relied on the ripple effect that takes place when manufacturing organizations have their production flow disrupted. The threat actors knew the attacks would cause their downstream supply chains to force them into paying a ransom. The report further stated that 47% of the attacks within the manufacturing industry were due to vulnerabilities that companies didn't patch – this highlights the need for all manufacturing companies to include vulnerability management in their security plans.
Avertium published a Threat Intelligence Report in April 2022 featuring Bridgestone Corp. In March 2022, Bridgestone Corp. notified the public that they were hit by a ransomware attack. Bridgestone is a tire supplier for Toyota vehicles. Initially, it was suspected that Pandora ransomware was behind the attack because it happened shortly after the gang attacked Denso Corp., (another car parts supplier) however, it turned out to be the work of LockBit ransomware.
Bridgestone's breach impacted several cities and plants were inoperable for days. LockBit gave Bridgestone a timeframe to pay their demanded ransom before they released the company's data. Like other ransomware groups, LockBit removed information from Bridgestone's systems and threatened to disclose the information to the public. Bridgestone was the second auto parts supplier attacked by a ransomware gang in a very short span of time.
intellectual property theft
Intellectual property (IP) theft is a type of information theft that can severely damage a company, yet it's often overlooked. Now that attackers have figured out new ways to infiltrate a network and move laterally within a system discreetly, the potential for IP theft has grown. Over time, threat actors can enter a system without being detected, move laterally, mine information, and leave a system before anyone even realizes they were there.
The data that is accessed by the attackers can be stolen or altered. You may not even realize anything happened until you see your company's trade secrets used elsewhere. This is particularly dangerous for the manufacturing industry because it can be difficult to protect company information that is needed to create products. Now that threat actors can transfer information in seconds, it would be easy for trade secrets, copyrighted information, and contracts to be stolen. Some manufacturing companies have contracts with government agencies and are at risk of APT (nation-state) attacks. The motivation for these attacks can be anything from pure cyber espionage or a desire to gain military secrets.
The Chinese government-linked hacking group named Winnti is an example of how APTs focus on stealing IP to further their goal of cyber espionage. The group runs a massive Chinese government-linked hacking operation that's worth billions of dollars. They specialize in stealing intellectual property and other data from the U.S. and foreign companies. The group has existed since 2010 and researchers believe they operate on behalf of Chinese state interests. In 2019, Winnti was able to infiltrate corporate computer networks within the technology and manufacturing industry – targeting companies in North America, East Asia, and Western Europe. So far, the group has stolen sensitive documents, blueprints, diagrams, formulas, and manufacturing-related data. They have also stolen source code and research and development documents.
Unfortunately, Winnti had years to conduct reconnaissance and identify valuable data due to the group not being discovered in company systems until 2021. As a result, the group was able to collect hundreds of gigabytes of information that could be used in future cyber attacks. The information stolen includes credentials, employee emails, network architecture, and customer data. The value of the stolen data was not mentioned, however Chinese cyber espionage in general costs the U.S. between $180 billion and $540 billion annually.
The motivation for an intellectual property theft attack has less to do with financial gain and more to do with stealing data. Also, IP theft is difficult for cyber security specialists to detect because the threat actors are simply stealing data as discreetly as possible with no plans for monetary gain. Ransomware attacks are much easier to detect because the threat actors are seeking to gain something financially – often leaving ransomware notes and other evidence that they were in their target's systems.
supply chain attacks
Supply chain attacks are a serious issue for security regardless of the industry, but in recent years, supply chain attacks within the manufacturing industry have become more prominent. A supply chain attack happens when threat actors access an organization's network via a third-party vendor or supplier. Access can be gained through viruses or malicious software, giving the attacker keys to sensitive information, customer records, and payment information.
Because a supply chain can be large in scope, the attack itself can be difficult to trace. Naturally, manufacturing organizations and businesses work with dozens of suppliers. Any disruption to the manufacturing process causes a ripple effect and severe delays. It's important for manufacturing organizations to protect their supply chain and make sure the companies they do business with are equally committed to security. There are three types of supply-chain attacks:
Software Supply Chain Attacks – this attack requires just one compromised application or piece of software in order to disrupt an entire supply chain. These attacks target an application's source code and delivers malicious code to a trusted app or software system.

Firmware Supply Chain Attacks – this attack inserts malware into a computer's boot record and takes one second to unfold. After the targeted computer boots up, the malware is executed, and an entire system is at risk. These attacks are quick, damaging, and sometimes undetectable.

Hardware Supply Chain Attacks

– this kind of attack depends on physical devices. Threat actors target devices they know will make its way through an entire supply chain to maximize its reach and the damage it will cause.
A great example of a successful supply attack against a manufacturer is February 2022's attack on Nvidia, the largest microchip manufacturer within the U.S. Avertium published a Threat Intelligence Report featuring Lapsus$' attack on the microchip giant. Lapsus$ attacked Nvidia and caused outages within their internal network, taking 1TB of schematics, driver and firmware code, documentation, and SDKs. Lapsus$ also leaked a 19GB archive of those files online. Lapsus$ also stole Nvidia's driver signing certificate, which can be used to sign malware.
Industrial Iot attacks
As we previously stated, for decades the manufacturing industry didn't believe threat actors were interested in targeting them. They assumed that the Industrial IoT (Internet of Things) devices that they use for daily operations and processes served no purpose for an attacker, therefore developers spent little time ensuring that their IoT devices had basic firewalls or other security controls. When you have little to no concern for security, exploits will happen.
In February 2020, three of the largest manufacturers had their Industrial IoT devices infected with malware. TrapX Security discovered a cryptocurrency miner on several IoT devices including a printer, a smart TV, as well as an automatic guided vehicle manufacturer (AGV). The attacks were a part of a campaign in which attackers embedded systems running Windows 7 with malware. At the time, Windows 7 had reached end-of-life, but millions of PCs worldwide still ran the operating system.
According to Security Week, the malware was a self-spreading downloader that ran on malicious scripts associated with a cryptocurrency miner named Lemon_Duck. The malware spread so quickly on the AGV manufacturing site that it disrupted vehicle communications. AGVs are used to deliver materials or execute certain tasks in a manufacturing plant. If the communications are disrupted or if the commands are generated by malware, it can cause the vehicle to go off track and cause physical damage to things or people.
The vulnerability also affected a smart TV that had a built-in PC running Windows 7. The smart TV was connected to a manufacturing network and the TV provided data to employees in charge of the production line. Because of the Windows 7 vulnerability, an attacker was able to install malware on the TV and deployed a crypto-miner several months prior. This kind of threat could have compromised the entire network, as well as other companies that had assets within the enterprise and manufacturing networks.
In the past, cybersecurity was primarily a critical focus for large enterprises, but things have changed. The engineers who design the devices for manufacturers need to implement strong cyber security features into the devices they design. Vulnerabilities on Industrial IoT devices are often related to issues that are introduced by the user during the operation or installation phase of the device.
Not changing default passwords, not enabling security features, and a lack of firewalls provide entry points for threat actors. Simply eliminating passwords and user controls that welcome weak security options can help keep manufacturing companies safe and help prevent the deployment of vulnerabilities.
How Avertium is
Protecting Our CUSTOMERS
The manufacturing industry has a lot of catching up to do when it comes to security. However, it's not too late for organizations within the industry to take action and start securing their cyber environments. Avertium has advanced services that can help keep your organization safe:
Avertium's Recommendations
Intellectual Property Theft

Identify the most valuable data and know what intellectual property you have and where it may be located.
Periodically review the user access to your IP and sensitive data.
Locate your cyber security gaps and weak spots by reviewing user access rights.
Establish a data security policy.
Monitor your employees continuously to make sure they are working securely within the corporate network.



Phishing Attacks

Have a layered approach to email security by consistently sending phishing simulations designed to evaluate an employee's familiarity with email phishing attacks.
Use role-based training to familiarize employees with digital threats.



Supply Chain Attacks

Investing in SOC analysts will ensure that your organization's cyber security infrastructure in examined and that problems are identified.
Utilize your organization's red and blue teams and create a fake supply chain attack that mimics a real threat. This will help you identify whether or not your current security practices are enough to stop a threat.
Password management platforms will help prevent supply chain attacks and will give IT admins insight into employee password practices. This will also enforce password security best practices across the whole organization.
Vendors should have limited access to your systems and should only have access to what they need to do their job.



IoT Theft

Each device should have a strong unique ID.
Disable unnecessary ports or services.
Monitor network activity to determine unauthorized use.
Update your software consistently.



Ransomware

Keep your data backed up and check to see that your backups are working properly on a consistent basis.
Using multi-factor authentication will keep attackers out of your systems and networks.
Update your software by patching. Not doing so will leave your systems and networks vulnerable to attackers looking to exploit weaknesses.
Having multiple security systems is ideal. Firewalls, anti-virus software, and spam filters will enable you to detect intrusions quickly.
Awareness training for your employees is important. They should know how to spot phishing emails to avoid compromising the organization.
MITRE Map(s)
Winnti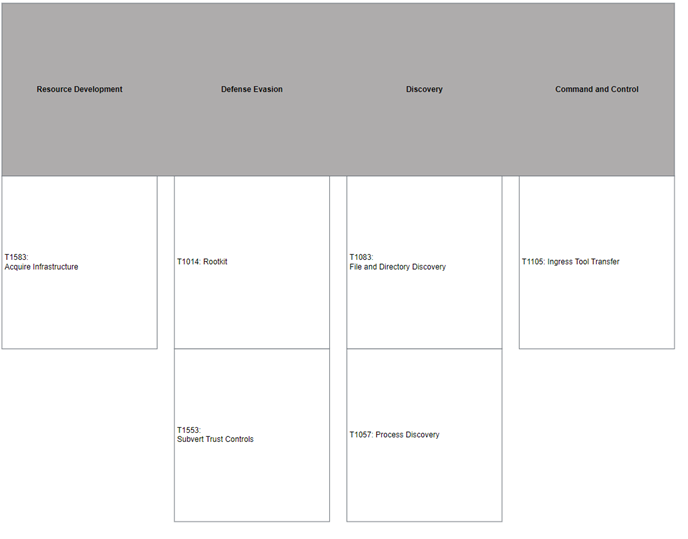 Lapsus$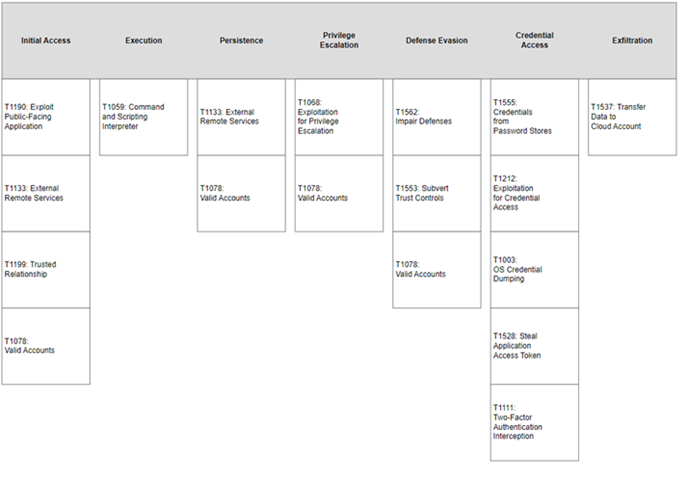 LockBit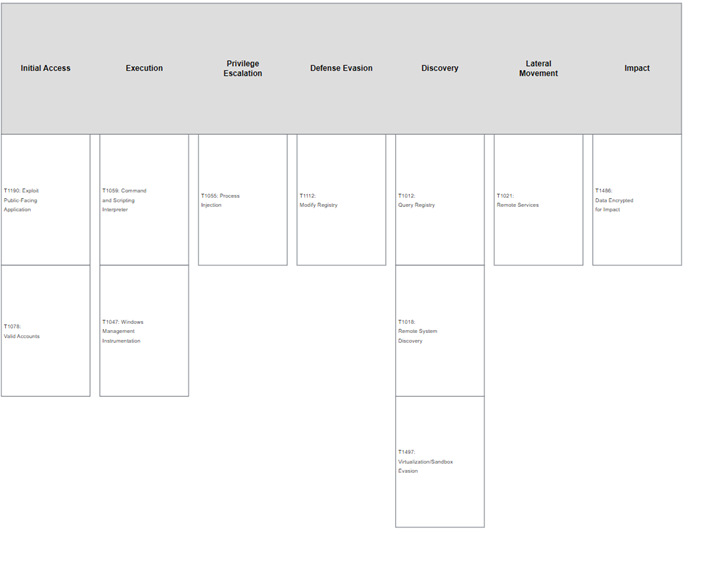 Indicators of Compromise (IoCs)
Winnti
0c605276ff21b5150365b7d1991f5904

152d5284b9ed6503b01a61ad6df78204

6a5bb8dd8e1f6bb18602fca0e309f0e2

7cae7510f67d0725d844cc528805780b

9dbf67fd22957a6066d08cb366e7c0c9

082dbca2c3ca5c5410de9951a5c681f0c42235c8

1275894d8231fe25db56598ddcf869f88df5ad8d

1316f715d228ae6cc1fba913c6cc309861f82e14

2d336978af261e07b1ecfaf65dc903b239e287a4

4d1b8791d0715fe316b43fc95bdc335cb31a82ca

9139c89b2b625e2ceee2cbf72aef6c5104707a26

9267fe0bb6d367fc9186e89ea65b13baa7418d87

a009a0f5a385683aea74299cbe6d5429c609f2d2

bb93ae0fee817fe56c31bdc997f3f7d57a48c187

f2d04fe529e2d8dab96242305255cfb84ce81e9c

f8d46895e738254238473d650d99bdc92c34ee44

714cef77c92b1d909972580ec7602b0914f30e32c09a5e8cb9cb4d32aa2a2196

720610b9067c8afe857819a098a44cab24e9da5cf6a086351d01b73714afd397

869165044402a5f82f4cb8ddd51663ebb05f86345f346f765dcc54b20706cf7c

b9d4ec771a79f53a330b29ed17f719dac81a4bfe11caf0eac0efacd19d14d090

e1e0b887b68307ed192d393e886d8b982e4a2fd232ee13c2f20cd05f91358596
Lapsus$
zip

2no[.co]

https://cdn.discordapp.com/attachments/879433223103459409/879433370159968306/Setup2[.exe]

https://cdn.discordapp.com/attachments/879422002287493133/879685414934417479/R24[.bmp]

https://cdn.discordapp.com/attachments/879422002287493133/879653243217670164/app24[.bmp]

https://cdn.discordapp.com/attachments/879422002287493133/879653242093600808/sfx_123_201[.bmp]

https://cdn.discordapp.com/attachments/879422002287493133/879653239560228884/help24[.bmp]

https://cdn.discordapp.com/attachments/879422002287493133/879653236993318933/Falioca24[.bmp]

https://cdn.discordapp.com/attachments/879422002287493133/879423887002206228/Passat[.bmp]

https://cdn.discordapp.com/attachments/879422002287493133/879423620030550088/Real231[.bmp]

https://cdn.discordapp.com/attachments/879422002287493133/879423245999276102/VerminateMechanize_2021-08-18_15-57[.bmp]

https://cdn.discordapp.com/attachments/873056123240972371/875681686568992788/E_PL_Client[.bmp]

https://cdn.discordapp.com/attachments/870454586861846551/870548989903274054/jooyu[.exe]

https://cdn.discordapp.com/attachments/928009932928856097/936319550855716884/Windows11InstallationAssistant[.zip]

https://t.me/[minsaudebr]

ip[.sb]

lapsusgroup@protonmail[.com]

0a7921d68d31d9d6cb23d0060daf018ead026c31069f8147c2127bd7a062578d

0c409e9c2ba44bc27e9d26e07deba2ba7372fa7ce4ca67da0696d4322c7e19d0

28d71a579fb75cb672af489ce602392b4504f895c3881691a12c51cea7719f4d

2c5d8cf9d86b78fdf3eb085e48b5e13989331ae2be1b9793204717f2da76f253

39772550650d897f50e3353a601d611e38bc65670e8883a60e0f9ac0a40b774c

41dba5cf17e66001306398b1117761d3bfdbf823807282edfa898d21ee08065a

42a888e2cf677ed57ea3e072c5ccdbe15492745c4cb14bb3f2d72f4db81a4756

57d417306e6d1d2f4943736a43e33818f87666b962107939395d56a500f26968

62d9bab3db42901422cbf4ffa5c2f6bd01f3e04f988ae54401216d294b1d5798

661913595df0ab71310fb9c3ab56af07c47a4fe9b5f25fb1da7ee0c83b199bca

666d848a4ecb284b4b6f70f0e6c8126fff9facb5427dabd0fe7b45502d70f0b2

67923efca1ac97b09b579dfd774399eb0327ffe25bf60ecb42a6d3d833639455

7b76caa7c924e3271e67f576f4f73b9338b93c579298d76375af493749d6cdbc

91922830b0dadc450c785a55789ecdbc801801eb76e029e1c35673ac0ba60f86

927965d51c202140e974ea473ed143e701e1ed3b6b34583200d5a8935457a36f

9a305e8a3616def77c4c7f18c0c91a7b67544fd4473c209d95b8b614c31a5790

ae9e7613eb86358cf0c50eb2753c82c605f170fcae1ada510506d037d2987e66

c33defdd2c60f2d74ebaabbe82805a7a36fa2428cda8c42fd202396b4eda28f6

d2e03bb72a530d14de71be2c7d4aa2275887113aa2ff6d57f53c57f4a8516365

f088dac66ed4630d674073125c7562aa3eb283a30bc4bcc162abf0d47458ce8f

http://81.4.105.174/Dlmfs[.jpg]

http://81.4.105.174/FileOne[.png]

http://81.4.105.174/InjectPersistenceF2[.log]

http://81.4.105.174/Ipqtn[.jpg]

http://81.4.105.174/Koqomwipj[.jpg]

http://81.4.105.174/Lavgimu[.jpg]

http://81.4.105.174/Liafandgotica[.png]

http://81.4.105.174/Mstst[.log]

http://81.4.105.174/Prwcwm[.jpg]

http://81.4.105.174/Qraqpk[.png]

http://81.4.105.174/Ribtcqqqb[.log]

http://81.4.105.174/SentinelInstaller[.png]

http://81.4.105.174/SentinelWiskonsinDam[.jpg]

http://81.4.105.174/Sifican[.log]

http://81.4.105.174/Vcdrpuc[.log]

http://81.4.105.174/VideoPublicAllocation[.log]

http://81.4.105.174/VirtualAlloc2[.log]
LockBit
215.113[.39]

60.160.[200]

190.143[.101]

100.11[.72]

138.62[.35]

182.193[.120]

162.143[.218]

38.235[.234]

227.255[.190]

80.147[.102]
Supporting Documentation
Top 7 Cyber Threats for Manufacturing Companies (bitlyft.com)
IBM Security X-Force Threat Intelligence Index | IBM
Inside the Ring: Report details massive Chinese IP theft - Washington Times
How manufacturers can protect IoT products from cyberattacks (designworldonline.com)
IoT Devices at Major Manufacturers Infected With Malware via Supply Chain Attack | SecurityWeek.Com
Five ransomware attacks in 2022 so far you should know about | Cyber Security Hub (cshub.com)
An In-Depth Look at Pandora Ransomware (avertium.com)
Phishing Attacks In The Manufacturing Industry: Why Is It A Lucrative Target For Phishers | PhishProtection.com
Manufacturing is the 'Most Targeted' Industry for Cyber Attacks | Datamation
400 manufacturing companies attacked using TeamViewer and RMS | Kaspersky official blog
What is a Supply Chain Attack? Solutions & Examples | Keeper (keepersecurity.com)
IT, healthcare and manufacturing facing most phishing attacks: report | ZDNet
2021 Manufacturing and Supply Chain Security Roundup (securityintelligence.com)
IBM Report: Manufacturing Felt Brunt of Cyberattacks in 2021 as Supply Chain Woes Grew - Feb 23, 2022
Manufacturers are bombarded with phishing attacks - Graphus
Why Manufacturing IP is So Susceptible to Cyber Theft - Security Boulevard
An In-Depth Look at Data Extortion Group, Lapsus$ (avertium.com)
An In-Depth Look at Pandora Ransomware (avertium.com)
IBM Report: Manufacturing Felt Brunt of Cyberattacks in 2021 as Supply Chain Woes Grew - Feb 23, 2022
Inside the Ring: Report details massive Chinese IP theft - Washington Times
What is Intellectual Property Theft and How to Prevent It | Ekran System
The Importance of Securing the Manufacturing Supply Chain (finextra.com)
APPENDIX II: Disclaimer
This document and its contents do not constitute, and are not a substitute for, legal advice. The outcome of a Security Risk Assessment should be utilized to ensure that diligent measures are taken to lower the risk of potential weaknesses be exploited to compromise data.

Although the Services and this report may provide data that Client can use in its compliance efforts, Client (not Avertium) is ultimately responsible for assessing and meeting Client's own compliance responsibilities. This report does not constitute a guarantee or assurance of Client's compliance with any law, regulation or standard.
COPYRIGHT: Copyright © Avertium, LLC and/or Avertium Tennessee, Inc. | All rights reserved.
Related Resource:
[Threat Report] The Top 5 Cyber Threats in the Healthcare Industry