Executive Summary
As the world continues to watch the physical war between Russia and Ukraine, cyber security professionals are watching the cyber war between the two countries. Since our last Threat Intelligence Report regarding the wiper-like worm "WhisperGate", we have seen Russia and Ukraine go back and forth with cyber attacks.
Since January 2022, the world has watched threat actors like Conti and Anonymous declare their allegiance to either Russia or Ukraine, as well as make consistent threats. Let's take another look into the cyber war between Russia and Ukraine, and how it could potentially affect the U.S.
russia vs. ukraine - the wipers
WhisperGate
In January 2022, we published a flash notice detailing Microsoft's discovery of a destructive malware (DEV-0586/WhisperGate) used to corrupt the systems of organizations in Ukraine. A few days prior to Microsoft's discovery, 70 Ukrainian government websites were defaced by groups that were allegedly associated with the Russian secret service. The malware is a wiper and impacted the Ukrainian Foreign Ministry, the Ministry of Education and Science, and other state services.
At the time, the wiper was deployed just as Russia was threatening to invade Ukraine. However, Microsoft couldn't find any notable links between WhisperGate and Russia despite the timely coincidence. Russia denied defacing the websites, but the Ukrainian Digital Transformation Ministry stated that all evidence pointed back to Russia. Microsoft's discovery was just the beginning of a slew of cyber attacks that would affect both countries.
Cyclops Blink & HermeticWiper
In February 2022, Avertium published a flash notice regarding a new sandworm malware named Cyclops Blink. The malware was identified by the United Kingdom's (UK) National Cyber Security Centre, the Cyber Security and Infrastructure Security Agency (CISA), the National Security Agency (NSA), and the Federal Bureau of Investigation (FBI). The threat actor Sandworm (also known as Voodoo Bear) is behind Cyclops Blink, as well as the 2017 malware, NotPetya. Sandworm was previously linked to the Russian General Staff Main Intelligence Directorate – Russia's military intelligence division.
Cyclops Blink has been in the wild since 2019 and targets network devices - deploying malware that uses a modular structure, allowing operators to deploy second-stage payloads to infected devices. How the malware is deployed, or the details regarding the second-stage module capabilities, is still unknown. CISA described the malware as sophisticated, and deployment appears to be indiscriminate and widespread – affecting WatchGuard devices.
Not long after the deployment of Cyclops Blink, a data wiper named HermeticWiper was deployed on Ukraine's computer networks. The wiper was discovered by ESET and Broadcom's Symantec, who believed the attack may have been in the works for almost two months. HermeticWiper is also very similar to WhisperGate.
HermeticWiper abuses legitimate drivers from EaseUS Partition Master software to corrupt data before finally rebooting the computer. When ESET analyzed one of the victims, they observed that the wiper was dropped via the default (domain policy) GPO – indicating the threat actors took control of the Active Directory server. At the time, the Ukrainian government didn't confirm or deny the cyber attack, but the attack came at a time when the tension between Russia and Ukraine was at an all-time high.
IsaacWiper, HermeticWizard, & HermeticRansom
By the end of February 2022, ESET discovered three new cyber attacks that were deployed against Ukraine which included three wipers: IsaacWiper, HermeticWizard, and HermeticRansom. HermeticWizard spreads HermeticWiper (aka DriveSlayer) across local networks via WMI and SMB. ESET observed that HermeticWizard is a worm that was deployed on a Ukrainian system on February 23, 2022. The malware starts by trying to find other machines on a local network before gathering known local IP addresses using these Windows functions:
DNSGetCacheDataTable

GetIpNetTable

WNetOpenEnumW(RESOURCE_GLOBALNET, RESOURCETYPE_ANY)

NetServerEnum

GetTcpTable

GetAdaptersAddresses
ESET stated that after HermeticWizard finds a reachable machine, it drops the WMI spreader onto a disk and creates a new process with the following command line: <current folder>\<6 random letters>.ocx #1 -s <path to HermeticWizard> – i <target IP>. According to ESET, like HermeticWiper, HermeticWizard was signed by a code-signing certificate assigned to Hermetica Digital Ltd, which was issued on April 13th, 2021. ESET requested the issuing CA (DigiCert) to revoke the certificate, which it did on February 24th, 2022.
Reuters issued a report stating the Hermetica Digital certificate was stolen by threat actors from Hermetica Digital, which is a Cypriot company. The Hermetica owner from Cyprus didn't know that his certificate was being used in a malicious malware attack against Ukraine. The owner is a 24-year-old game designer who runs his business from a house next to a Cypriot church on the outskirts of Nicosia – never expecting to wind up in a global crisis. Reuters believes that the attackers impersonated the Cypriot company to get the certificate from DigiCert.
HermeticRansom (aka PartyTicket) was also discovered by ESET, which is ransomware written in Go. It's currently being used at the same time as the HermeticWiper campaign but has a much smaller deployment. ESET believes that the ransomware was deployed at the same time to hide the HermeticWiper's actions, as it doesn't use obfuscation mechanisms.
In addition to HermeticWizard and HermeticRansom, ESET detected IsaacWiper on February 24, 2022, and it's suspected that the threat actors used tools, like Impacket, to move laterally within networks and systems. ESET also observed a remote access tool called RemCom being deployed at the same time as IsaacWiper.
At this point during the conflict, Russia and Ukraine were clearly at odds but the three wipers were not attributed to Russia and the attackers remained unknown.
RURansom vs. CaddyWiper
By March 2022, Ukraine and Russia were not only in a physical war, but in a cyber war as well. CaddyWiper and RURansom took center stage and it became clear that this was the beginning of retaliation between the two countries.
CaddyWiper, a data wiping malware, targeted Ukraine's networks, while RURansom, which is also a wiper despite its name, targeted Russian networks. RURansom is a .NET- based wiper which targeted entities in Russia. The malware encrypts files on their victim's computers and spreads like a worm within the network or through USB devices. It then leaves a wiper note in the victim's machine.
Because RURansom causes irreversible destruction to encrypted files, it can't be called ransomware. The note that is left behind is more of a declaration than a ransomware note. Also, ransomware infections demand a ransom for decryption keys but RURansom's keys are random and aren't stored anywhere. How do we know that the malware's primary target is Russia? According to researchers from Cyble, RURansom is hard coded to only affect computers with Russian IP addresses.
CaddyWiper, the third wiper discovered by ESET, was observed on March 14, 2022 – just a couple of weeks after RURansom was discovered. CaddyWiper was compiled just two hours before its deployment and has targeted a few dozen systems within the governmental and financial sectors in Ukraine. Although CaddyWiper's code is not similar to HermeticWiper or IsaacWiper, the goal is still the same – erase user data and partition information from attached drives to render systems unusable.
WhisperKill & DoubleZero - Under the Radar
Unlike other cyber attacks, the goal for Russia and Ukraine is not financial gain, but destruction. Since January 2022, we have seen a total of seven wipers between the countries, including WhisperKill and DoubleZero which flew under the radar in January 2022.
According to the State Service of Special Communication and Information Protection of Ukraine (SSSCIP), WhisperKill is a malicious software designed to permanently erase files by overwriting their contents with 1MB of 0xCC character sequence. After further research, analysts discovered that WhisperKill is more than 80% similar to WhiteBlackCrypt ransomware – a ransomware which was active in March 2021.
Similar to WhisperGate, WhiteBlackCrypt masquerades as ransomware but is really a wiper designed to erase systems. Additionally, the wiper contains a bogus encryptor and the AES key is not saved, making it impossible for encrypted files to be recovered. Also, the ransom note WhisperKill leaves behind contains Ukraine's coat of arms (a trident), but also contains the same Bitcoin addresses WhiteBlackCrypt used when it targeted Russian organizations in 2019. Two email addresses pointing back to WhiteBlackCrypt were left in the ransom note as well (Whiteblackgroup002@gmail[.com] and Wbgroup022@gmail[.com]).
Researchers believe that the threat actors put a trident on the ransom note in an attempt to imply that Ukraine is responsible for their own cyber attack. Cyber security researchers are calling the wiper a "false flag".
"In addition, the author of the Telegram publication inexplicably (except for the trident and the anti-Russian activities of the extortioner) connects the hacker group Encrpt3d and the Special Operations Forces of the Armed Forces of Ukraine.
Thus, the deliberate use of the WhisperKill malware on January 13-14, 2022, which is morphologically similar to the WhiteBlackCrypt malware and manipulatively associated with the Special Operations Forces of the Armed Forces of Ukraine, is an attempt to provoke and distort reality to accuse Ukraine of the attacks in question." - SSSCIPU
On March 17, 2022, another wiper named DoubleZero was seen targeting Ukrainian enterprises as Russia invaded the country. The wiper is a .Net-based implant that destroys files, as well as registry keys and trees on infected endpoints. According to Cisco Talos, DoubleZero begins by checking if the current endpoint is one of the domain's controllers. Once the endpoint's name is found, the wiper stops executing. The following privileges are obtained on the endpoint:
SeTakeOwnershipPrivilege

SeRestorePrivilege

SeBackupPrivilege

SeShutdownPrivilege
DoubleZero's goal is to overwrite files in drives by destroying them – excluding a specific list of locations hardcoded in the wiper. It also seeks to destroy non-system files first before destroying system-related files. If system related files are destroyed while the overwriting of other files is pending, it will lead to instability and bricking the system. In these cases, it's possible to recover the files from the disks that aren't overwritten yet. After DoubleZero destroys, it then shuts down the system by using ExitWindowsEx API call. These actions render all machines inoperable.
AcidRain
On February 4, 2022, Viasat, a global communications company, suffered a cyber attack which rendered their KA-SAT modems inoperable in Ukraine. As a result, there was spillover from the attack which affected 5,800 Enercon wind turbines in Germany. The turbines were unable to communicate for remote monitoring control. According to Sentinel Labs, the turbines themselves were not rendered inoperable, but the remote monitoring and control of the wind turbines was inoperable due to satellite communications issues.
The timing of the attack happened when Russia invaded Ukraine and there was suspicion that Russia was attempting to take out Ukrainian military command-and-control capabilities by impeding satellite connectivity. On March 30, 2022, Viasat released a statement alluding to a cyber attack, but didn't officially confirm it until March 31, 2022, during an interview with journalists at BleepingComputer.com. Viasat stated the attack happened in two phases:
Phase 1: DDoS attack from "several SufBeam2 and SurfBeam2+ modems" located in Ukraine – temporarily knocked KA-SAT modems offline.

Phase 2: Gradual disappearance of modems from Viasat service. Eutalsat provides the service, but the service is administered by Skylogic (an Italian company) as part of a transition plan.
Also, the attackers exploited a misconfigured VPN appliance to gain access to the trust management segment of the KA-SAT network. They then moved laterally and executed targeted management commands on a number of residential modems at the time. Sentinel Labs was not sure how legitimate commands could disrupt modems or how the commands could enable a DoS attack and render the devices unusable but not permanently bricked.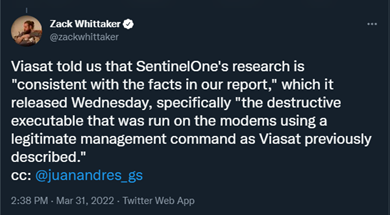 Image 1: Tweet Regarding Viasat's Cyber Attack
Sentinel Labs believes that the threat actors behind the Viasat attack used the KA-SAT management mechanism in a supply-chain attack to push a wiper that would wipe modems and routers. The wiper would overwrite key data in the modem's flash memory, making the modem inoperable and ultimately in need of being replaced.
Source: Twitter.com
On March 15, 2022, Sentinel Labs noticed that a MIPS ELF binary was uploaded to VirusTotal from Italy with the name "urop". It's suspected that the name is shorthand for "ukr"aine "op"eration, which is the acronym for the Ukrainian Association of Patriots, or a Russian slur for Ukrainians "ykpon". However, only Viasat would be able to confirm if the malware was used in this particular case. The malware is now known as AcidRain.
According to Sentinel Labs, AcidRain is a straightforward wiper that performs an initial recursive overwrite and deletes non-standard files in the filesystem. After deleting the files, AcidRain attempts to destroy the data in several storage device files:
| | |
| --- | --- |
| Targeted Device(s) | Description |
| /dev/sd* | A generic block device |
| /dev/mtdblock* | Flash memory (common in routers and IoT devices) |
| /dev/block/mtdblock* | Another potential way of accessing flash memory |
| /dev/mtd* | The device file for flash memory that supports fileops |
| /dev/mmcblk* | For SD/MMC cards |
| /dev/block/mmcblk* | Another potential way of accessing SD/MMC cards |
| /dev/loop* | Virtual block devices |
According to Sentinel Lab's case study, AcidRain iterates device file identifiers, opens the device file, and overwrites it with up to 0x40000 bytes of data or uses the following to erase: MEMGETINFO MEMUNLOCK, MEMERASE, and MEMWRITEOOB. To ensure the writes have been committed, AcidRain runs fsync syscall. After the wiping processes are complete, the device is rebooted.
Image 2: Attempt to Reboot Device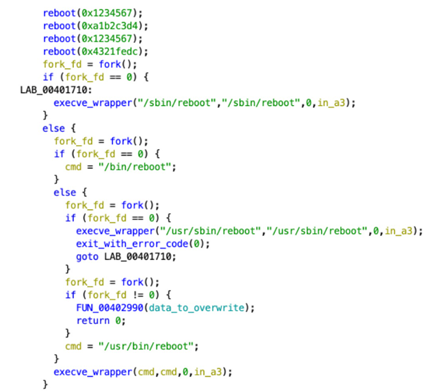 Source: Sentinel Labs
Although Sentinel Labs has not attributed the Viasat attacks to a threat actor, they did notice that AcidRain had developmental and code overlaps with a VPNFilter plugin that has been attributed to the Russian APT, Sandworm. As we stated earlier, Sandworm was responsible for 2017's NotPetya and Cyclops Blink. Sentinel Labs noticed that both the VPNFilter and AcidRain shared binaries using the MEMGETINFO, MEMUNLOCK, and MEMERASE IOCTLS to erase device files.
In a statement to SearchSecurity, Viasat said it didn't view the cyber incident as a supply chain attack or vulnerability, but the company is still investigating and will share more details when the investigation is complete.
Image 3: Malware Wipers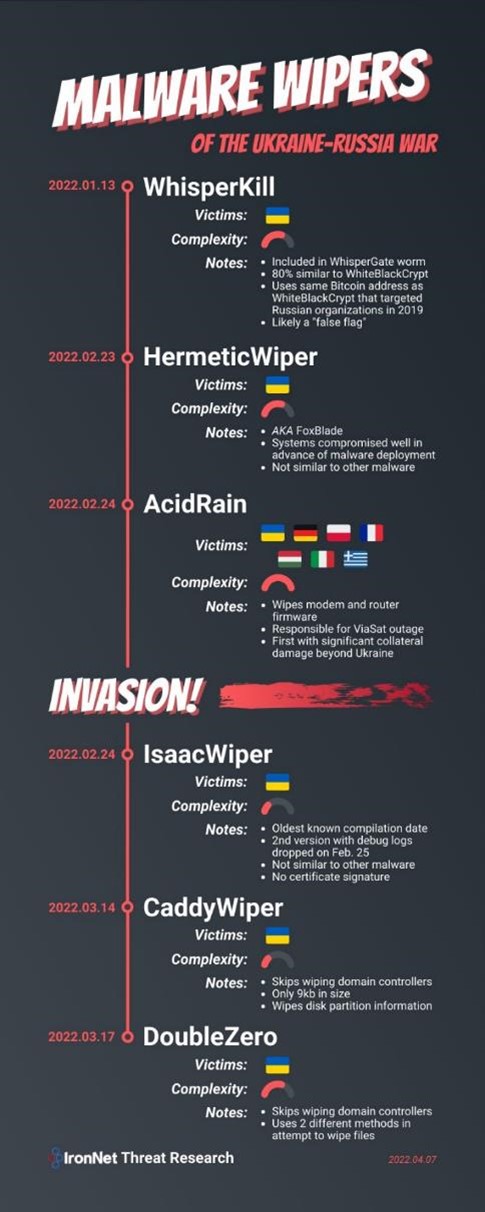 Source: IronNet Threat Research
Conti's Leaked Ransomware Source code & NB65
Just when we thought things couldn't get any more interesting, they did. In April 2022, files were leaked by threat actors linked to Anonymous – NB65. The threat actor stole files from the Russian space agency, Roscosmos and stated that Russian President, Vladimir Putin, "no longer had control over spy satellites". NB65 shared Roscosmos' server information on Twitter to prove they had the space agency's files.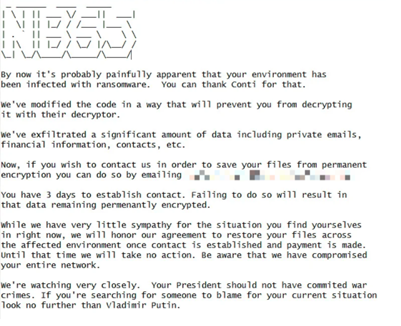 Image 4: NB65 Ransom Note
The curve ball is that 66% of the source code for one of the files matched Conti's leaked ransomware source code – turning out to be a modified version. The group stated that their encryptor is based on the first Conti source code leak and is modified for each victim, making existing decryptors unusable. In a previous Threat Intelligence Report, we discussed Conti's chat logs that were leaked by a Ukrainian researcher and patriot who chose to stay in Ukraine and fight for his country. This took place just after Conti took a strong stance and sided with Russia regarding the war against Ukraine.
Source: RedPacketSecurity
Conti is the threat actor behind some of the most devastating cyber attacks in history. They are a Russian-speaking RaaS organization that uses RaaS to deploy disruptive ransomware attacks that target critical infrastructure, like hospitals and government organizations. They specialize in double extortion operations of simultaneous data encryption and data exfiltration for financial gain.
Now, we see that the threat actor's source code is being used against them by NB65, who is associated with Anonymous. According to the NB65's Twitter account, they are only attacking Russian organizations and they won't stop until Russia stops attacking Ukraine. They also stated that payments received from their ransomware attacks will be donated to humanitarian efforts in Ukraine.
Image 5: A Tweet from NB65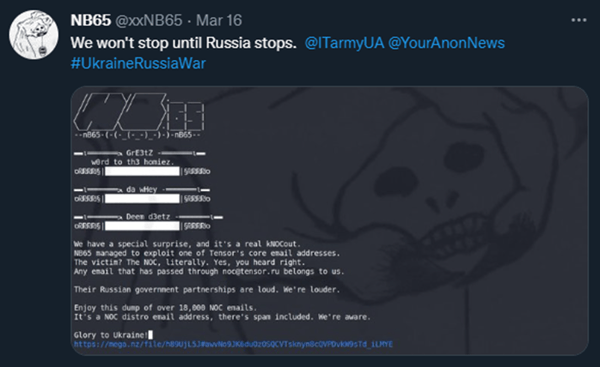 Source: Twitter.com
Image 6: A Tweet from NB65

Source: Twitter.com
It's not unusual for ransomware gangs to target companies and encrypt their data, but it is unusual for Russian organizations to be attacked in the same manner. The reason why Russian hackers steer clear of attacking Russia is because they believe that if they don't attack Russian interests, then Russia will overlook their cyber attacks on other countries. NB65 has now changed that narrative, as they have breached Russian organizations for the past month – including document management operator, Tensor, and VGTRK, a state-owned Russian Television and Radio broadcaster. NB65 successfully stole 786.2 GB of data (9,000 emails and 4,000 files) from VGTRK, Russia's largest state-owned media corporation. The only way Russian organizations will be able to decrypt is to contact NB65. So far, the threat actors have not received any communications from their Russian victims and the group does not expect them to reach out.
anonymous
When the war started, Anonymous sided with Ukraine and made various threats against Russia and companies who do business with Russia. So far, they have followed through on several of those threats. In February 2022, Anonymous took down several Russian government websites and hacked Russian state television channels in order to broadcast what they stated are "the true events" of the war. By March 1, 2022, Anonymous leaked the database of the Ministry of Economic Development of Russia.
Image 7: Tweet from Anonymous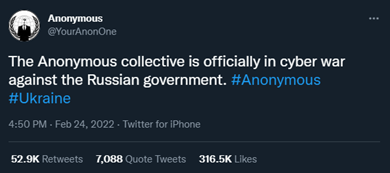 Source: Twitter.com
Image 8: Tweet from Anonymous

Source: Twitter.com
Lisa Forte, a partner at the security firm Red Goat, stated that although Anonymous' attacks have been basic, they are creative and difficult to execute. She believes that most of the attacks have been DDoS attacks – a simple but effective way to flood networks and take websites offline. In addition to attacking Russian companies, Anonymous has also stolen the personal information of 120,000 Russian soldiers – the information stolen includes addresses, passport numbers, dates of birth, and unit affiliations. The group has also hacked hundreds of surveillance cameras in Russia, releasing messages against the invasion of Ukraine.
Image 9: Tweet from Anonymous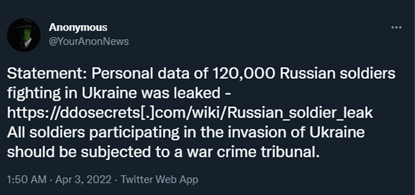 Source: Twitter.com
The group has no plans on slowing down and they have continued to threaten Russia on an almost daily basis via Twitter. Additionally, Ukraine's Secretary of Digital Affairs, Mykhailo Fedorov, declared on Twitter that the country is creating an IT army and they would need digital talents – anyone is welcome to join via Telegram. The group has reached more than 300,000 members.
Image 10: Tweet from Anonymous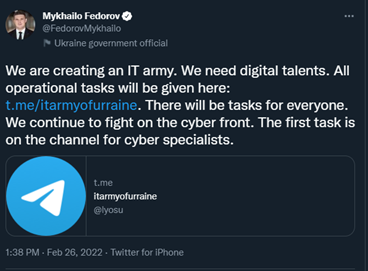 Source: Twitter.com
Because Anonymous isn't a structured organization, anyone interested in joining can do so if they simply claim to be a part of the group. When an Anonymous associated Twitter account with thousands of followers was asked if it was the official Twitter account for the group, the account stated that they are all a team and there isn't an official Anonymous Twitter account. As long as you are willing to take on the values of Anonymous, you can join.
government funded Apts
Hacktivists like Anonymous have been known as cyberspace "justice warriors" and thus earn the respect of the hacker community, as well as the general public. Anonymous' signature Guy Fawkes mask, which was used in the movie V for Vendetta, is dramatic and appealing to the current generation looking to carry out cyber attacks without revealing themselves. Because the members of Anonymous are unknown, their members are interchangeable. No one knows if a country's secret services have been involved in hacktivism in order to cover up an attack, but government funded hacker groups do exist – they're known as APTs.
We've seen it happen in 2017 when the Russian group Voodoo Bear attacked Ukraine with NotPetya. What was supposed to be a targeted attack, ended up spreading across the globe. Voodoo Bear also attacked telecommunications networks under the name "F Society" – a fictional cyber activist group from a TV series called Mr. Robot.
Adam Meyers from CrowdStrike stated that was the first time Voodoo Bear executed a false-flag attack. In 2007, Estonia's digital infrastructure was under attack when authorities moved a Soviet monument to a less-visible part of the city of Tallinn. The attacks came from hundreds of personal computers located in dozens of countries, but NATO believed that Moscow was behind the attack. The Kremlin denies responsibility.
The APT MuddyWater is also a government sponsored APT that has targeted several government and private sector organizations in the defense, oil and natural gas, local government, and telecommunications industries.
how does this affect the u.s.?
At the end of March 2022, President Biden warned the U.S. that Russian cyberattacks may very well be a possibility and that the country will use every tool to prevent and respond to those attacks. Because the U.S. has imposed sanctions on Russia, it's possible that Moscow could act in retaliation. According to President Biden, the U.S. believes that the Russian government is exploring their options and U.S. companies should accelerate their efforts to protect they cyber environments.
"If you have not already done so, I urge our private sector partners to harden your cyber defenses immediately by implementing the best practices we have developed together over the last year. You have the power, the capacity, and the responsibility to strengthen the cybersecurity and resilience of the critical services and technologies on which Americans rely. We need everyone to do their part to meet one of the defining threats of our time — your vigilance and urgency today can prevent or mitigate attacks tomorrow." – President Biden – Whitehouse.gov
Since tensions started rising between Russia and Ukraine, the cyber security world has been on edge, bracing themselves for either an attack on the U.S. or spill over from an attack on Ukraine. NotPetya was a Russian cyber attack that cyber security analysts suspected was to primarily affect Ukraine. However, the attack ended up having a global impact (spill over) and cost $10 billion global dollars. The attack left giant multinational corporations and government agencies unable to function. If an organization had any sort of business with Ukraine, they were affected by NotPetya.
How Avertium is
Protecting Our CUSTOMERS
As we continue to watch the war between Russia and Ukraine, it's important to remain vigilant and secure our cyber environments. As mentioned above, there is no telling how this will affect the U.S. and cyber warfare can easily spiral out of control. In times of crisis, it is tempting to seek a "silver bullet" that will protect against a new threat. It is important to remember the basics of cyber hygiene. Avertium offers the following services to help keep your organization safe:
Avertium's Recommendations
The wipers we mentioned in our report have the potential to cause significant and widespread damage to critical infrastructure if deployed. Avertium urges you to implement the following recommendations per CISA:
Regularly Review Your Cyber Hygiene
Validate that all remote access to the organization's network and privileged or administrative access requires multi-factor authentication.

Ensure that software is up to date, prioritizing updates that address known exploited vulnerabilities identified by CISA.

Confirm that the organization's IT personnel have disabled all ports and protocols that are not essential for business purposes.

If the organization is using cloud services, ensure that IT personnel have reviewed and implemented strong controls outlined in CISA's guidance.

Sign up for CISA's free cyber hygiene services, including vulnerability scanning, to help reduce exposure to threats.
Quickly Detect a Potential Intrusion
Ensure that cybersecurity/IT personnel are focused on identifying and quickly assessing any unexpected or unusual network behavior.

Enable logging in order to better investigate issues or events.

Confirm that the organization's entire network is protected by antivirus/antimalware software and that signatures in these tools are updated.

If working with Ukrainian organizations, take extra care to monitor, inspect, and isolate traffic from those organizations; closely review access controls for that traffic.
Prepare to Respond if an Intrusion Occurs
Designate a crisis-response team with main points of contact for a suspected cybersecurity incident and roles/ responsibilities within the organization, including technology, communications, legal, and business continuity.

Assure availability of key personnel; identify means to provide surge support for responding to an incident.

Conduct a tabletop exercise to ensure that all participants understand their roles during an incident.
Maximize Your Organization's Resilience to a Destructive Cyber Incident
Test backup procedures to ensure that critical data can be rapidly restored if the organization is impacted by ransomware or a destructive cyberattack; ensure that backups are isolated from network connections.

If using industrial control systems or operational technology, conduct a test of manual controls to ensure that critical functions remain operable if the organization's network is unavailable or untrusted.
MITRE Mapping
[T1059.003] Command and Scripting Interpreter: Windows Command Shell

[T1059.001] Command and Scripting Interpreter: PowerShell

[T1542.003] Pre-OS Boot: Bootkit

[T1485] Data Destruction

[T1561] Disk Wipe

[T1041]

Exfiltration Over C2 Channel

WhisperGate

WhisperGate

WhisperGate

IsaacWiper

WhisperKill

CaddyWiper

HermeticWiper

HermeticWiper

HermeticWiper

HermeticWizard

DoubleZero

Cyclops Blink

RURansom

Cyclops Blink

WhisperGate

WhisperGate

AcidRain

HermeticWiper

AcidRain

Cyclops Blink

IsaacWiper

RURansom

AcidRain
| | | | | |
| --- | --- | --- | --- | --- |
| [T1571] Non-Standard Port | [T1036] Masquerading | [T1584] Compromise Infrastructure | [T1083] File and Directory Discovery | [T1595] Active Scanning |
| Cyclops Blink | Cyclops Blink | RURansom | WhisperGate | RURansom |
| | WhisperGate | WhisperGate | | |
| | HermeticWiper | HermeticWiper | | |
| | WhisperKill | CaddyWiper | | |
| | | Cyclops Blink | | |
Indicators of Compromise (IoCs)
WhisperGate
159.135[.233]
1AVNM68gj6PGPFcJuftKATa4WLnzg8fpfv
14c8482f302b5e81e3fa1b18a509289d
5481d3c166d06f7a29e429880a558c87
5d5c99a08a7d927346ca2dafa7973fc1
78c855a088924e92a7f60d661c3d1845
7c8cb5598e724d34384cce7402b11f0e
b3370eb3c5ef6c536195b3bea0120929
e0f11b2047ecc48343d427e8955bc8c7
e61518ae9454a563b8f842286bbdb87b
16525cb2fd86dce842107eb1ba6174b23f188537
189166d382c73c242ba45889d57980548d4ba37e
82d29b52e35e7938e7ee610c04ea9daaf5e08e90
b2d863fc444b99c479859ad7f012b840f896172e
34ca75a8c190f20b8a7596afeb255f2228cb2467bd210b2637965b61ac7ea907
35feefe6bd2b982cb1a5d4c1d094e8665c51752d0a6f7e3cae546d770c280f3a
923eb77b3c9e11d6c56052318c119c1a22d11ab71675e6b95d05eeb73d1accd6
9ef7dbd3da51332a78eff19146d21c82957821e464e8133e9594a07d716d892d
a196c6b8ffcb97ffb276d04f354696e2391311db3841ae16c8c9f56f36a38e92
dcbbae5a1c61dbbbb7dcd6dc5dd1eb1169f5329958d38b58c3fd9384081c9b78
111.111[.111]
3031417f8bd82b8a4204ae8f114fa41d45467028
7e7d9ed69af1faa628884f409065b34e078716ae
f831fff298ca8205ced4ae6a00cf4ad8de0fb8a7
RURansom
01ae141dd0fb97e69e6ea7d6bf22ab32
191e51cd0ca14edb8f06c32dcba242f0
6cb4e946c2271d28a4dee167f274bb80
8fe6f25fc7e8c0caab2fdca8b9a3be89
9c3316a9ff084ed4d0d072df5935f52d
fe43de9ab92ac5f6f7016ba105c1cb4e
0bea48fcf825a50f6bf05976ecbb66ac1c3daa6b
27a16e1367fd3e943a56d564add967ad4da879d8
a30bf5d046b6255fa2c4b029abbcf734824a7f15
c35ab665f631c483e6ec315fda0c01ba4558c8f2
c6ef59aa3f0cd1bb727e2464bb728ab79342ad32
fbeb9eb14a68943551b0bf95f20de207d2c761f6
107da216ad99b7c0171745fe7f826e51b27b1812d435b55c3ddb801e23137d8f
1f36898228197ee30c7b0ec0e48e804caa6edec33e3a91eeaf7aa2c5bbb9c6e0
610ec163e7b34abd5587616db8dac7e34b1aef68d0260510854d6b3912fb0008
696b6b9f43e53387f7cef14c5da9b6c02b6bf4095849885d36479f8996e7e473
8f2ea18ed82085574888a03547a020b7009e05ae0ecbf4e9e0b8fe8502059aae
979f9d1e019d9172af73428a1b3cbdff8aec8fdbe0f67cba48971a36f5001da9
013addcf6e3f3a2e7ff441ccdc0433ce
318d857c4b4c12b1b5d67f37fad616e9
4ecd4debe942f6a5e45732d8d073b5ec
5028a73d50a0a2bd0abe6a24c660cb65
84e5cf74ecbed6caa3e88b1e00e1dc0d
94a65c7f033faf7efb1348df4a79f498
9d298f3eaff0db4fb1f5b3160911e3ee
a6988a9060278741c0ba3e9028de1f97
a938dbd999f4a1ba7d537c9181c8d902
e09183041930f37a38d0a776a63aa673
e5e98aa9efcd4bd83245524ff430b28e
05c63ce49129f768d31c4bdb62ef5fb53eb41b54
06c6dc34a9728f67038a7d41bcbe2372a9c4e6e4
085b697d49b103c4a42b20aa8b2f5c4730212653
34b9694fe6f5adb63f58217f80b4abb53c48e320
5104c127b4d56ffe93016582401c250630f6d274
8746ab9039ad88ebf8aa822473fa2f9947131d19
97dae0c8fc302b6cbbc2e31c756909a16630d9c5
b1261722dd055dc6a5e2d2f3839a91390eac24e8
dd2a120b485cbf9ff7dd7435ee1d1a3fc4596862
df4a28bdd8b743c16d2c9917c6d39030c07f2c09
ed2b4ef1c2f1814c40326a094f8874c683dec68b
009ce5fcce062d699db46559badcf259eb925fcfcf374c0bdea8eb13d5750edf
2548ad9263dd94109ab22393a08f77364d96c48b0b96640cb530818adb9c08f0
26e75390015ba36c2723d35ed7a227064892979ad331e0a728e39673feaa24c2
70e8a9b39aa7dd91c461c32ddfeb090b3699e5984beb610787c92afd24ad546b
7c935dcd672c4854495f41008120288e8e1c144089f1f06a23bd0a0f52a544b1
a932b37f6ebadfca08beb990cf784ac247317abbc42c72a9961f8d4a1fe7e1fb
ae00bb69f06936ac9afb0475d4b3ddf592e4c61e68327be2051211533a57d919
ceebcd4472623db39026ae89dc0737d0cdec631cd763d9717d0f4a822a3a2085
d02ede8735c319012923efc6d4befa78f39fcb6c4ce40cb37a45b419a2efc923
e0c4021b38f4d2f1e13d0a8374c8ef081be458fc3031e7ad49795a65a013cb43
fb4f3d9421cf8d35de950ad52ff4dca3a0c3e84c3c770c09c3cf6bbcc540e9d4
CaddyWiper
98b3fb74b3e8b3f9b05a82473551c5a77b576d54
a294620543334a721a2ae8eaaf9680a0786f4b9a216d75b55cfd28f39e9430ea
98b3fb74b3e8b3f9b05a82473551c5a77b576d54
AcidRain
20ea405d79b4de1b90de54a442952a45
ecbe1b1e30a1f4bffaf1d374014c877f
261d012caa96d3e3b059a98388f743fb8d39fbd5
86906b140b019fdedaaba73948d0c8f96a6b1b42
47f521bd6be19f823bfd3a72d851d6f3440a6c4cc3d940190bdc9b6dd53a83d6
9b4dfaca873961174ba935fddaf696145afe7bbf5734509f95feb54f3584fd9a
Cyclops Blink
bf24ade7-1a90-54a5-8664-fa993256e66f
50e5c6d8-f1ee-593a-bf2c-b99c8c2d6a10
512e379a-2b3b-5f97-8dd2-03519971c66f
9d16715a-9e88-5305-8e67-110b4dde6848
d87d5a66-05df-56c4-9311-6e2af3fde2e8
a8174e4e-7b98-5c0a-9dff-7e6485ed9adc
a8174e4e-7b98-5c0a-9dff-7e6485ed9adc
/usr/bin/cpd
/var/tmp/a.tmp
rootfs_cfg
43.220[.]234
80.68[.]193
152.254[.]170
81.37[.]50
62.153[.]174
230.110[.]137
63.245[.]175
103.208[.]182
255.126[.]65
134.89[.]167
4.177[.]118
199.247[.]222
99.163[.]162
71.147[.]186
159.248[.]137
155.38[.]210
57.80[.]18
0.169[.]250
202.147[.]10
234.179[.]113
82.169[.]99
51.177[.]66
15.113[.]188
153.75[.]103
192.30[.]125
HermeticWiper
912342F1C840A42F6B74132F8A7C4FFE7D40FB77
61B25D11392172E587D8DA3045812A66C3385451
Win32/KillDisk[.NCV] trojan 6/n
HermeticRansom (also known as PartyTicket)
4dc13bb83a16d4ff9865a51b3e4d24112327c526c1392e14d56f20d6f4eaf382
HermeticWizard and IsaacWiper
6983f7001de10f4d19fc2d794c3eb534
bdf30adb4e19aff249e7da26b7f33ead
d57f1811d8258d8d277cd9f53657eef9
0e84aff18d42fc691cb1104018f44403c325ad21
23873bf2670cf64c2440058130548d4e4da412dd
379ff9236f0f72963920232f4a0782911a6bd7f7
3c54c9a49a8ddca02189fe15fea52fe24f41a86f
61b25d11392172e587d8da3045812a66c3385451
6b5958bfabfe7c731193adb96880b225c8505b73
736a4cfad1ed83a6a0b75b0474d5e01a3a36f950
87bd9404a68035f8d70804a5159a37d1eb0a3568
912342f1c840a42f6b74132f8a7c4ffe7d40fb77
ac5b6f16fc5115f0e2327a589246ba00b41439c2
ad602039c6f0237d4a997d5640e92ce5e2b3bba3
b33dd3ee12f9e6c150c964ea21147bf6b7f7afa9
e9b96e9b86fad28d950ca428879168e0894d854f
f32d791ec9e6385a91b45942c230f52aff1626df
23ef301ddba39bb00f0819d2061c9c14d17dc30f780a945920a51bc3ba0198a4
2c7732da3dcfc82f60f063f2ec9fa09f9d38d5cfbe80c850ded44de43bdb666d
3c2fe308c0a563e06263bbacf793bbe9b2259d795fcc36b953793a7e499e7f71
DoubleZero
d897f07ae6f42de8f35e2b05f5ef5733d7ec599d5e786d3225e66ca605a48f53
8dd8b9bd94de1e72f0c400c5f32dcefc114cc0a5bf14b74ba6edc19fd4aeb2a5
3b2e708eaa4744c76a633391cf2c983f4a098b46436525619e5ea44e105355fe
30b3cbe8817ed75d8221059e4be35d5624bd6b5dc921d4991a7adc4c3eb5de4a
WhisperKill
b4a5e03e11767a026227c40b316112b9
acb50d48ca3fa765fe254f80a6075ab08ee724f1
420960a10e3f3730ab124bfefceedc032ef06c7b38fa014b2b59462365a5f08d
14c8482f302b5e81e3fa1b18a509289d
178b0739ac2668910277cbf13f6386e8
20bb6aec6889f9135d29ad40f4a25c23
3907c7fbd4148395284d8e6e3c1dba5d
3d00076c999de471d8e966e6465d9474
5d5c99a08a7d927346ca2dafa7973fc1
78e941e780adc1a159fdc7090194c96d
833cd8302870af5a50b3a09af0420297
8842acb150e1625ff20a84190073ece6
9fe8203b06c899d15cb20d2497103dbb
b3370eb3c5ef6c536195b3bea0120929
e4aca1b6ea6ec906ad40e63a5d309f96
e61518ae9454a563b8f842286bbdb87b
eecaecd170ef3d7a5976d435f6d03ef8
fd4de6bb19fac13487ea72d938999fbd
11eeade0c1a40abece43f6c1381d80584fdb3ed1
16525cb2fd86dce842107eb1ba6174b23f188537
189166d382c73c242ba45889d57980548d4ba37e
374c9059fce14f0d61945ecb7d9a96d6ef0ea31b
4d303e08764073ff13b6f439ff861d22ee387a39
55048b1d190cd90d16329d3a40daefe09dc282f6
56f526a838ae6dc1b8c7daf5a844aaf4115a3fd5
7509dac85f4d2e984b949e5bb92d66778f9c0fb9
82d29b52e35e7938e7ee610c04ea9daaf5e08e90
833d60a91f1726411898ecb4af0352cf47d24712
9cd8a786572a7ee8713492302555fe4ce3432911
a67205dc84ec29eb71bb259b19c1a1783865c0fc
b2d863fc444b99c479859ad7f012b840f896172e
b8857f5a1c26d2573bd04d0d8e87df37bae59318
e6494106d23212dfd1708a856d46abc02e95634b
081b548f9e06488d367497b02de972394b0da10b473a245bdf0c026e6406b86b
276ac9b9fe682d76382ec6e5bc3d1d045ce937438f92949c23453468eb62a143
320d091b3f8de8688ce3b45cdda64a451ea6c22da1fcea60fe31101eb6f0f6c2
34ca75a8c190f20b8a7596afeb255f2228cb2467bd210b2637965b61ac7ea907
3590dd881d094b020fe4b93bb6894e768b878ebcda7f03589da6671db2c652e5
35feefe6bd2b982cb1a5d4c1d094e8665c51752d0a6f7e3cae546d770c280f3a
6f21dde5cf5394eebf779451d45494dfeb22c2eebbb4af1aa3f779724dadf8af
75f728fa692347e096386acd19a5da9b02dca372b66918be7171c522d9c6b42d
7ee8cfde9e4c718af6783ddd8341d63c4919851ba6418b599b2f3c2ac8d70a32
839170c51d75bd1dc77f17b957846ace0caa19a83de837277d7294a47e5023b3
8831eb86996d4778be526a6fd281c98d624b155940aae463b45dda1c5f979f1c
923eb77b3c9e11d6c56052318c119c1a22d11ab71675e6b95d05eeb73d1accd6
9ef7dbd3da51332a78eff19146d21c82957821e464e8133e9594a07d716d892d
a196c6b8ffcb97ffb276d04f354696e2391311db3841ae16c8c9f56f36a38e92
a82cb2076b7274179d5f7246f8db274eda47a89392875b3c700f2fa15d70ab2e
aa07ab7dba1aeb41c57bcdcbca54cefb85afb6f8927d33bf88aef5c19878ba92
bdb4f98bf2bed83b09278bcf7b85771688fb1292612d6c82ad0eb8d7e3256fa1
cbc7f2afe334bc160b741dde2e857ff26e01925744b9f0668a826aa4a1437ab8
db5a204a34969f60fe4a653f51d64eee024dbf018edea334e8b3df780eda846f
dcbbae5a1c61dbbbb7dcd6dc5dd1eb1169f5329958d38b58c3fd9384081c9b78
e8207e8c31a8613112223d126d4f12e7a5f8caf4acaaf40834302ce49f37cc9c
edecec2c413770fa929937c04ecf889e5c58d562c6e08ef0bfcd65ce482d397c
8003659902[.site]
8003659902[.space]
Allowance[.stc]
smm2021[.net]
perfection.zanulor[.ru]
perfection.zanulor[.ru]
bicyclelist.telefar[.ru]
energy.lortova[.ru]
allows.telefar[.ru]
salary.nemoiti[.ru]
deserts.coagula[.online]
sundabokun[.ru]
temp.swtest[.ru]
NB65
· f5346a7d2508fd5976d3449f3afc971d
· f746ea39c0c5ff9d0a1f2d250170ad80
· dac28369f5a4436b2556f9b4f875e78d5c233edb
· 7f6dbd9fa0cb7ba2487464c824b6d7e16ace9d4cd15e4452df4c9a9fd6bd1907
· f173674f89069f2d9f7378b16f9cc1f5bfcd829b6bd43f6a3a0cae8158092832
Supporting Documentation
AcidRain | A Modem Wiper Rains Down on Europe - SentinelOne
TIR-20211004 An In-Depth Look at Ransomware Gang, Conti (avertium.com)
Anonymous vows to continue cyber war against Russia | Fortune
Ukrainian government calls out false flag operation in recent data wiping attack - The Record by Recorded Future
NB65 Threat Group Uses Conti's Leaked Ransomware Source Code to Attack Russian Entities - AlienVault - Open Threat Exchange
Anonymous: Army of thousands of hackers threatens Russia with constant attacks | Science & Tech | EL PAÍS English Edition (elpais.com)
Cisco Talos Intelligence Group - Comprehensive Threat Intelligence: Ukraine Campaign Delivers Defacement and Wipers, in Continued Escalation
Conti ransomware offshoot targets Russian organizations - RedPacket Security
What You Need to Know About Russian Cyber Escalation in Ukraine (socradar.io)
CISA Insights Implement Cybersecurity Measures Now to Protect Against Potential Critical Threats
Statement by President Biden on our Nation's Cybersecurity | The White House
Russia Gets Hit With A Cyberattack Using Its Own Ransomware (ladbible.com)
Biden: Russia 'exploring' US cyber-attacks - BBC News
Information on the possible provocation (cip.gov.ua)
Hacktivist group Anonymous launches series of cyberattacks against Russia - News WWC
Hackers use Conti's leaked ransomware to attack Russian companies (bleepingcomputer.com)
Cisco Talos Intelligence Group - Comprehensive Threat Intelligence: Threat Advisory: DoubleZero
New 'AcidRain' malware may be connected to Viasat attack (techtarget.com)
Ukrainian government calls out false flag operation in recent data wiping attack - The Record by Recorded Future
An In-Depth Look at Iranian APT "MuddyWater" (avertium.com)
Ukrainian enterprises hit with the DoubleZero wiper - AlienVault - Open Threat Exchange
APPENDIX II: Disclaimer
This document and its contents do not constitute, and are not a substitute for, legal advice. The outcome of a Security Risk Assessment should be utilized to ensure that diligent measures are taken to lower the risk of potential weaknesses be exploited to compromise data.

Although the Services and this report may provide data that Client can use in its compliance efforts, Client (not Avertium) is ultimately responsible for assessing and meeting Client's own compliance responsibilities. This report does not constitute a guarantee or assurance of Client's compliance with any law, regulation or standard.
COPYRIGHT: Copyright © Avertium, LLC and/or Avertium Tennessee, Inc. | All rights reserved.
Related Resource:
[Flash Notice] New Malware - CISA Warns of Renewed Russian Threat as New Activity is Seen in Ukraine